OPPO, a leading global smart device brand, is set to expand its popular A-series with the launch of OPPO A11K in Pakistan. This high-performance entry-level smartphone is a testament to OPPO's vision of offering exciting functions at a convincing price to improve the smartphone experience and the style quotient of consumers overall.
OPPO A11K is available in a powerful combination of 2GB RAM + 32GB ROM with expandable memory up to 256GB and is powered by a 4230mAh battery that gives users longer hours of content consumption. The device is equipped with a 13MP + 2MP AI dual rear view camera, with which clearer and sharper pictures can be taken.
The smartphone is equipped with a variety of amazing functions, such as B. the fingerprint sensor in the back and the face release, which offer a safe smartphone experience, while Dirac Smart sound effects offer the best sound effect when playing, listening to music and video streaming.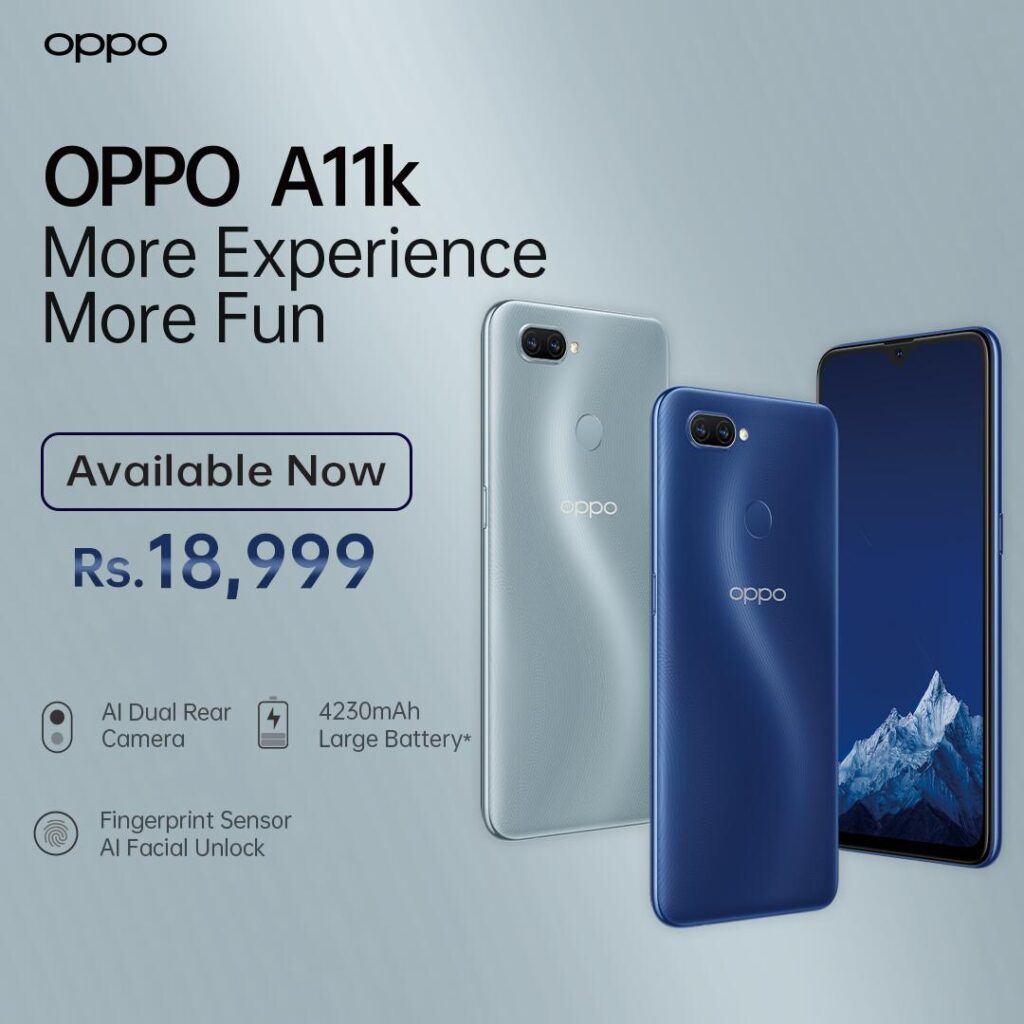 Smoother Experience, More Fun
With the help of a dedicated 3-card slot, the new OPPO A11K is definitely a hit. OPPO A11K is powered by a 4230 mAh battery and supports 17 hours of online video streaming, 8 hours of online gaming and 63 hours of audio playback.
OPPO A11K is powered by the MediaTek Helio P35 octa-core processor, which offers a lag-free gaming and video streaming experience. This way, users can easily multitask, resulting in a smooth smartphone experience.
The device is equipped with ColorOS 6.1 based on Android 9 and offers a fresh visual experience that is slimmer, more refined and more comfortable even after long use. OPPO A11K has a driving mode that allows users to focus on the road by blocking unimportant calls and notifications to ensure road safety.
The Smart Assistant offers a one-stop portal for various services and displays the most important information as maps on the start screen for easy access, so that users no longer have to go through the apps individually. In addition, the Smart Sidebar is a productivity tool that allows users to reply to messages in another app, switch and transfer information between different apps.
OPPO A11K also offers Dirac – an intelligent sound effect that intelligently switches to the best sound effect setting and takes the gaming, audio and video experience to the next level.
AI-Powered Photography and Video Tools to Capture Beauty in Life
OPPO A11K is equipped with a 13MP + 2MP AI-operated dual rear view camera. The 13MP main camera enables users to take high-resolution images with greater clarity and sharpness. The device has a 6x digital zoom and a burst mode.
The 6x digital zoom allows users to make good quality zoom shots more precise, while the burst mode allows the user to take numerous pictures quickly in a row. The 2MP depth camera offers an enhanced bokeh effect and allows users to take great portraits. OPPO A11K also offers two special features:
Portrait Styles: Portrait Styles enables users to create quality visual content and reflects evolving consumer tastes regarding portrait or cinematic photos.
Dazzle Colour Mode: This effect works wonders when images are taken in a natural environment in poor lighting conditions producing more saturated and vibrant colors. Dazzle Colour Mode is equipped with a pixel-grade color-mapping algorithm, which creates more vibrant and natural colors in an image.
The 5 megapixel front camera with the AI beautifying algorithm from OPPO optimizes and improves the selfie experience in an intelligent way. The AI beautification automatically detects skin quality, age, gender and skin tone and creates tailor-made solutions for different groups to reinforce the beautiful elements of your own self.
The smartphone is also equipped with the Soloop Smart Video Editor, which allows you to create professional-quality videos with cinema filters in very simple steps.
Sleek and Secure
The OPPO A11K has a lightweight design that increases its aesthetic value and takes the smartphone experience to a whole new level with its remarkable functions. The ergonomically shaped OPPO A11K with its elegant, curved body has a weight of only 165 grams and a thickness of 8.3 mm. It fits perfectly in your hand and bag without feeling bulky. The device also has a 6.22-inch water drop eye protection with a resolution of 1520 × 720.
The blue light filter protects the user's eyes from overload, regardless of whether they are watching videos or playing games. In addition, the screen is protected by Corning Gorilla® Glass 3 and offers an impressive experience with a screen to body ratio of 89% and an aspect ratio of 19: 9. The device is also equipped with a rear fingerprint unlock and a face unlock, which unlocks the phone almost as quickly as you activate the screen.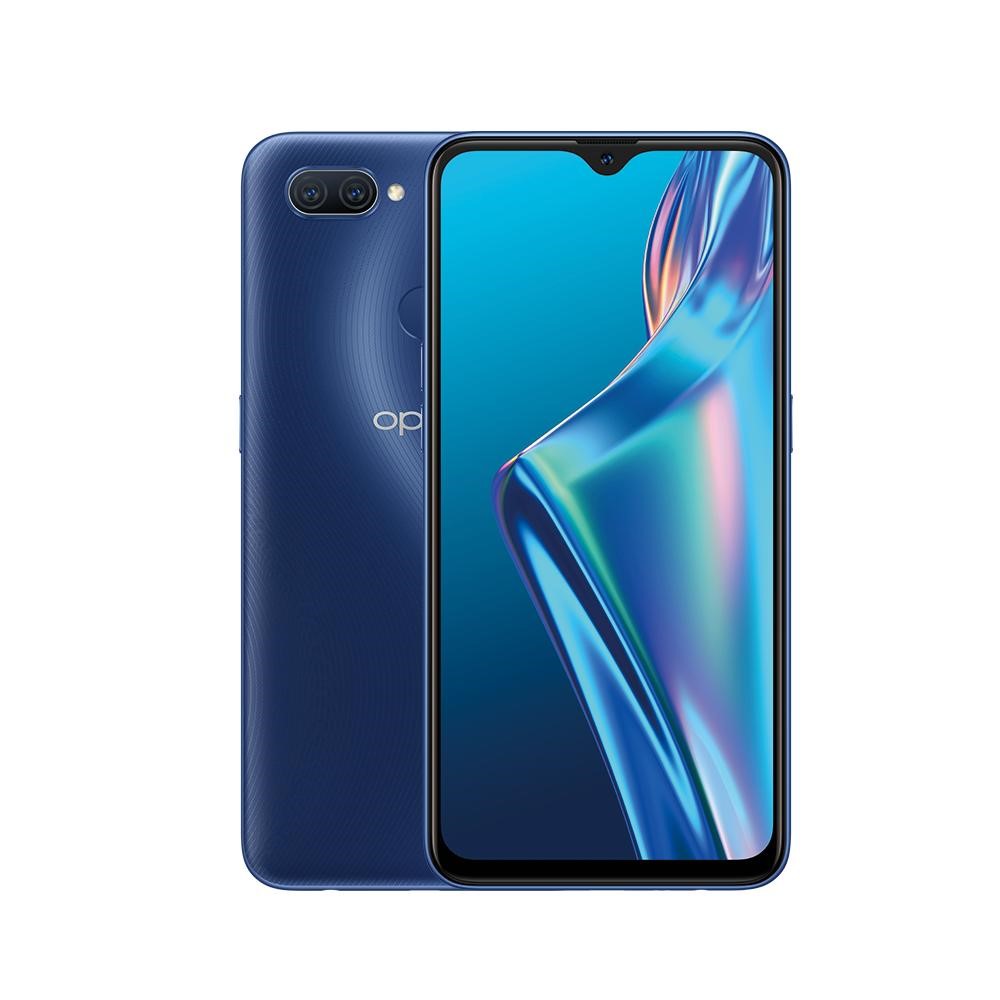 Market Availability
OPPO A11K has been available in offline stores and on leading e-commerce platforms including the official OPPO website since July 2, 2020. OPPO A11K costs 18,999 PKR and is available in two stunning color options: Flowing Silver and Deep Blue.
OPPO Enco W11 True Wireless Headphones
Shortly after the start of A11K, OPPO also starts OPPO Enco W11. This product is part of OPPO's mission to "provide amazing user experiences to Pakistani users through innovative, high quality products". Since entering the IoT business, the OPPO Enco W11 headphones have been OPPO's true wireless audio product, embedded in the industry's highly dynamic speakers that provide a detailed and powerful audio experience.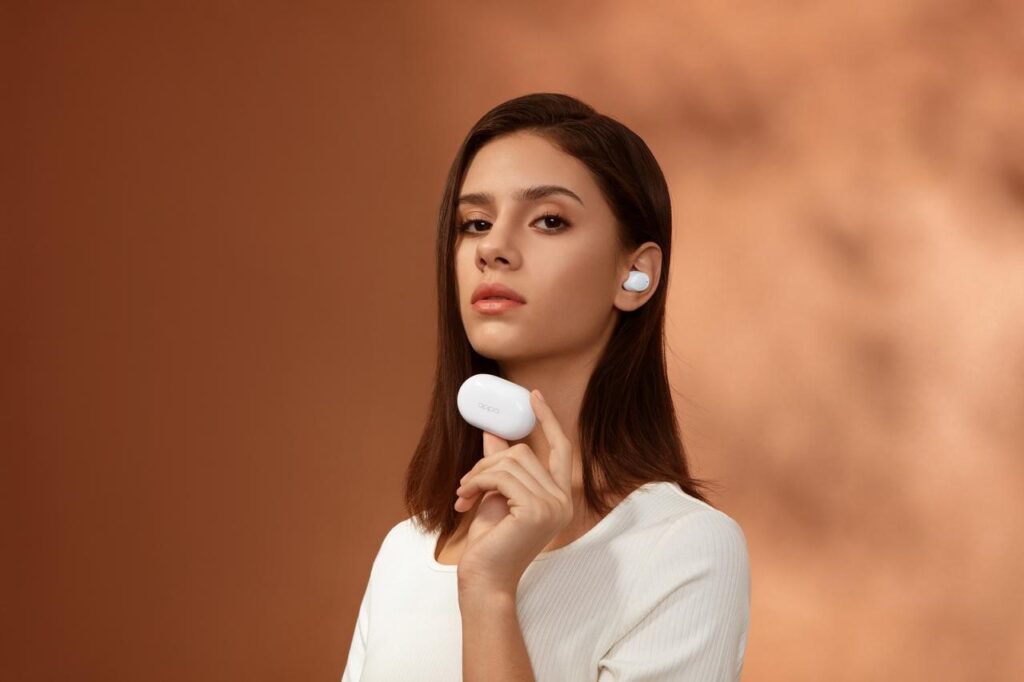 The OPPO Enco W11 has a binaural simultaneous Bluetooth® gearbox, improved bass, a battery life of 20 hours and IP55 dust and water resistance, so you can enjoy your music anywhere and anytime. OPPO Enco W11 will be available from July 4, 2020 and costs PKR 5,999.
اوپو نے اوپو اے 11 کے – ایک بجٹ فرینڈلی اسمارٹ فون لانچ کر دیا
معروف عالمی سمارٹ ڈیوائس برانڈ او پو ، پاکستان میں اوپو اے 11 کے کے آغاز سے اپنی مقبول اے سیریز کو بڑھانے کے لئے تیار ہے۔ بجلی سے بھرے انٹری لیول کا یہ اسمارٹ فون صارفین کے مجموعی تجربے اور اسٹائل کواٹی کو بڑھانے کے لئے مجبور قیمت پر دلچسپ خصوصیات فراہم کرنے کے لئے او پی پی او کے وژن کی گواہی ہے۔
یہ 256 جی بی تک میموری کے وسعت کے ساتھ 2 جی بی ریم پلس 32 جی بی روم کے ایک زبردست مجموعہ میں دستیاب ، او پی پی او اے 11 کے ایک 4230 ایم اے ایچ بیٹری کے ذریعہ تقویت یافتہ ہے جو صارفین کو مواد کی کھپت کے اوقات میں توسیع فراہم کرتا ہے۔ ڈیوائس میں 13 ایم پی ای آئی 2 ایم پی ڈوئل ریئر کیمرا لگایا گیا ہے جو واضح اور تیز تصاویر پر قبضہ کرنے کی صلاحیت رکھتا ہے۔
یہ اسمارٹ فون ریئر فنگر پرنٹ سینسر اور فیس انلاک جیسی حیرت انگیز خصوصیات سے آراستہ ہے جس میں اسمارٹ فون کا ایک محفوظ تجربہ ہوتا ہے جبکہ ڈائریکٹ اسمارٹ ساؤنڈ ایفیکٹ گیمنگ ، میوزک سننے اور ویڈیو اسٹریمنگ کے دوران بہترین صوتی اثر مہیا کرتا ہے۔
او پو اے 11 کے میڈیٹیک ہیلیو پی 35 آکٹہ کور پروسیسر کے ساتھ طاقتور ہے جو تعطل سے آزاد گیمنگ اور ویڈیو اسٹریمنگ کا تجربہ فراہم کرنے میں معاون ہے۔ یہ صارفین کو آسانی سے ملٹی ٹاسک کرنے کے قابل بناتا ہے جس کے نتیجے میں اسمارٹ فون کا ہموار تجربہ ہوتا ہے۔
اسمارٹ اسسٹنٹ مختلف خدمات کو ون اسٹاپ پورٹل فراہم کرتا ہے اور گھریلو اسکرین پر آسانی سے رسائی کے لیے کارڈ کے طور پر انتہائی متعلقہ معلومات پیش کرتا ہے ، جس سے صارفین کو ایک دوسرے کے ذریعہ ایپس سے گزرنے میں پریشانی ہوتی ہے۔ مزید یہ کہ اسمارٹ سائڈبار ایک پیداوری ٹول ہے جو صارفین کو کسی اور ایپ میں رہتے ہوئے پیغامات کا جواب دینے ، مختلف ایپس کے مابین معلومات کو تبدیل اور منتقلی کرنے کی سہولت دیتا ہے۔
اے 11 کے لانچ کے قریب ہی ، او پی پی او نے او پی پی او اینکو ڈبلیو 11 کو بھی لانچ کیا۔ یہ مصنوعہ اوپپو کے مشن کا ایک حصہ ہے کہ "جدید ، اعلی معیار کی مصنوعات کے ذریعے پاکستانی صارفین کے لئے حیرت انگیز صارف کے تجربات لائے جائیں"۔ او پی پی او اینکو ڈبلیو 11 ہیڈ فون او پی پی او کا حقیقی وائرلیس آڈیو پروڈکٹ ہے کیونکہ آئی او ٹی کاروبار میں اس کے داخلے کے بعد صنعت میں الٹرا متحرک اسپیکر شامل ہیں ، جو ایک تفصیلی اور طاقتور آڈیو تجربہ کرتے ہیں۔