Today Samsung announced its Galaxy S20 Tactical Edition. The company calls it a "ready-to-use solution that is tailored to the special needs of operators in the Federal Government and the Ministry of Defense". The Galaxy S20 TE has highly customized software that works with the existing tactical equipment along with the DualDAR architecture and offers two levels of encryption.
Samsung Galaxy S20 Tactical Edition Specs:
Display: 6.2-inch Dynamic AMOLED 3200 x 1440 px QHD+; 60Hz or 120Hz
Chipset: Qualcomm Snapdragon 865
Memory: 12GB/128GB; expandable up to 1TB via microSD
Network: LTE Cat 20 w/ support for sub-6 5G
Software: Android 10 with One UI 2.0
Dimensions and weight: 68.6 x 152.4 x 7.6mm; 162g
Camera: 12MP f/1.8 main camera; 64MP 3X zoom, f/2.0; 12MP ultra wide f/2.2
Front camera: 10MP f/2.2
Video recording: 4K up to 60fps front and rear; 8K @ 24fps
Battery: 4,000 mAh; "super-fast" charging and wireless fast charging
With the Galaxy S20 TE, several forms of communication can be carried out, including 5G, Wi-Fi 6, private SIM and CRBS radio, to cover all bases in the field. Hardware features include a night vision mode, a carry mode, which allows you to unlock the screen in landscape mode, and a 'stealth mode', which is a cool way to describe airplane mode.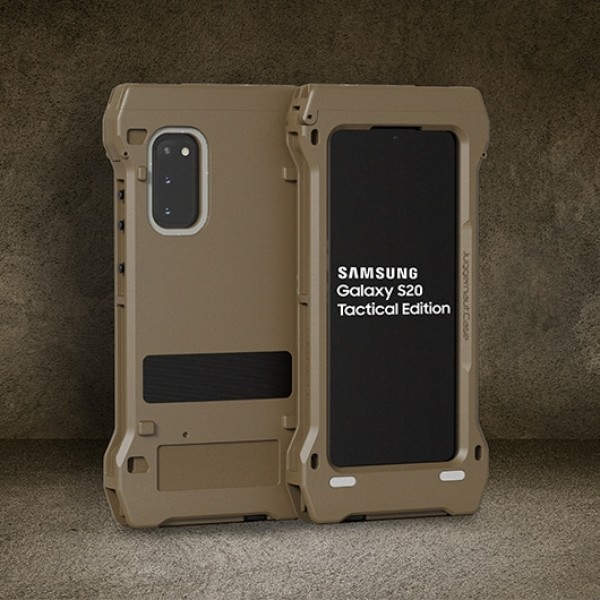 The Galaxy S20 TE also has features of the flagship Standard Edition, including the DeX interface, the Qualcomm Snapdragon 865 chipset and 12 GB of RAM.
Samsung has had its "active" versions of the flagship of the Galaxy S since the Galaxy S4. These were AT&T exclusive products up to the Galaxy S8, when T-Mobile started selling the Galaxy S8 Active in the USA. With the Galaxy S9 and S10, there were no robust active versions of the phone, but there was a Tactical Edition Galaxy S9.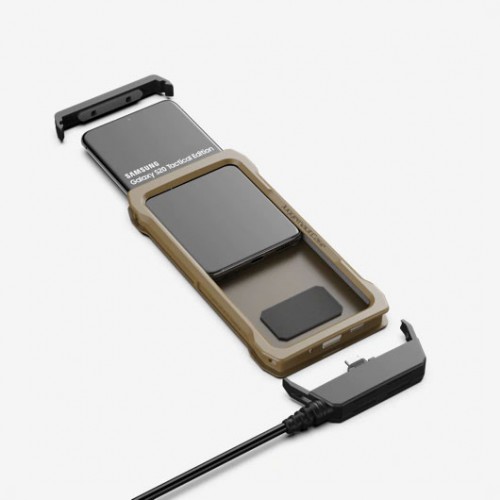 The Samsung Galaxy S20 Tactical Edition will be available sometime in the third quarter of 2020 through authorized IT channels.
سیمسنگ گیلیکسی ایس 20 ٹیکٹیکل ایڈیشن
آج ، سیمسنگ اپنے گلیکسی ایس 20 ٹیکٹیکل ایڈیشن کا اعلان کر رہا ہے۔ کمپنی اسے وفاقی حکومت اور محکمہ دفاع میں آپریٹرز کی انوکھی ضروریات کے مطابق ایک مشن کے لئے تیار حل قرار دیتی ہے۔ گلیکسی ایس 20 ٹی نے دوہری ڈی آرکیٹیکچر کے ساتھ موجودہ تاکتیکی سامان کے ساتھ اتحاد میں کام کرنے کے لئے انتہائی تخصیص کردہ سافٹ ویئر بنایا ہے ، جس میں خفیہ کاری کی دو پرتیں پیش کی گئی ہیں۔
گیلکسی ایس 20 کے ساتھ مواصلات کی متعدد شکلیں انجام دی جاسکتی ہیں جن میں فیلڈ میں موجود تمام اڈوں کا احاطہ کرنے کے لئے 5 جی ، وائی فائی 6 ، نجی سم ، اور سی آر بی ایس ریڈیو شامل ہیں۔ ہارڈ ویئر کی خصوصیات میں نائٹ ویژن موڈ ، باڈی پہننے کا ایک موڈ شامل ہے جو آپ کو سکرین کو زمین کی تزئین کی حالت میں انلاک کرنے دیتا ہے ، اور "اسٹیلتھ موڈ" جو ہوائی جہاز کے انداز کو بیان کرنے کا ایک عمدہ طریقہ ہے۔
گلیکسی ایس20 ٹی ای میں معیاری ایڈیشن فلیگ شپ کی خصوصیات بھی شامل ہیں جن میں ڈی ایکس انٹرفیس ، کوالکوم اسنیپ ڈریگن 865 چپ سیٹ ، اور 12 جی بی ریم شامل ہیں۔