The playoffs for the Pakistan Super League are expected to begin on November 14th. The four participating teams have announced their roster for the remainder of the tournament. PSL has been postponed due to the Covid-19 pandemic and PCB announced last month that the rest of the games will be played in a bio-safe environment in mid-November.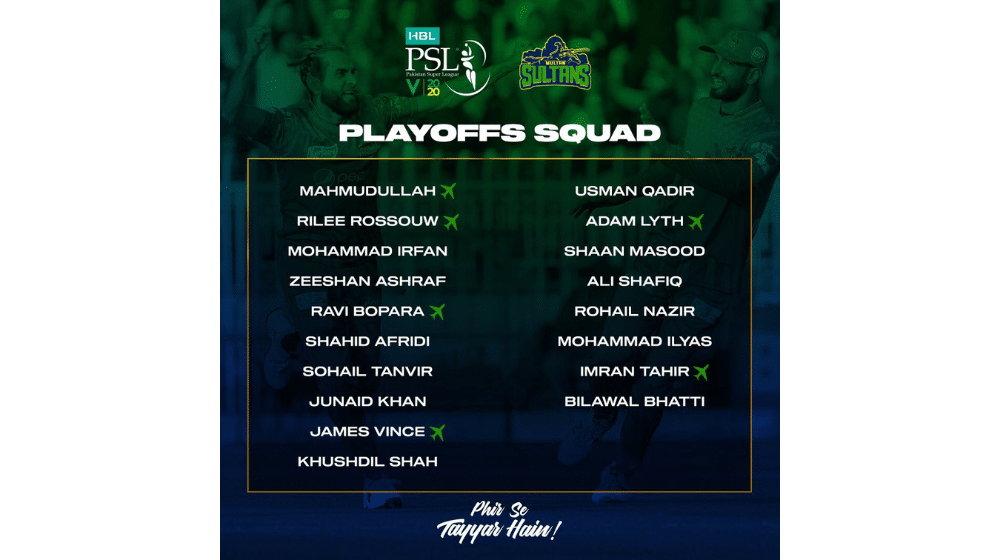 There were doubts about the participation of foreign players due to the planning, but those doubts were dispelled when all teams revealed their squads.
Multan Sultans have announced Rilee Rossouw (RSA), Mahmudullah (Ban), Ravi Bopara (Eng), Imran Tahir (RSA), James Vince (Eng) and Adam Lyth (Eng) as their overseas players for the playoffs.
Karachi Kings revealed Alex Hales (Eng), Chadwick Walton (WI), Mitch Mccleneghan (NZ), Cameron Delport (RSA) and Sherfane Rutherford (WI) as their overseas players.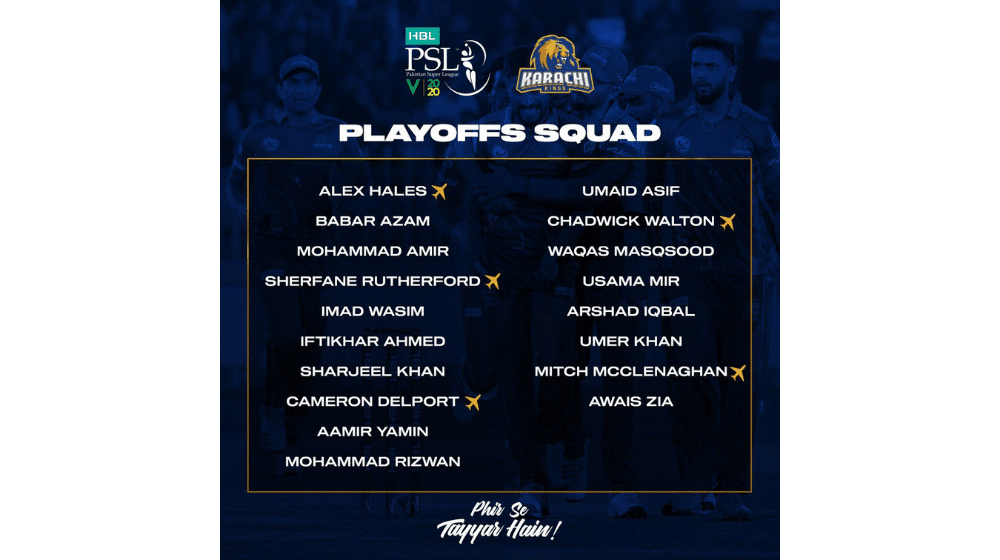 Tamim Iqbal (Ban), David Wiese (RSA), Samit Patel (Eng), Ben Dunk (Aus) and Dane Vilas (RSA) have been announced as part of the Lahore Qalandars squad.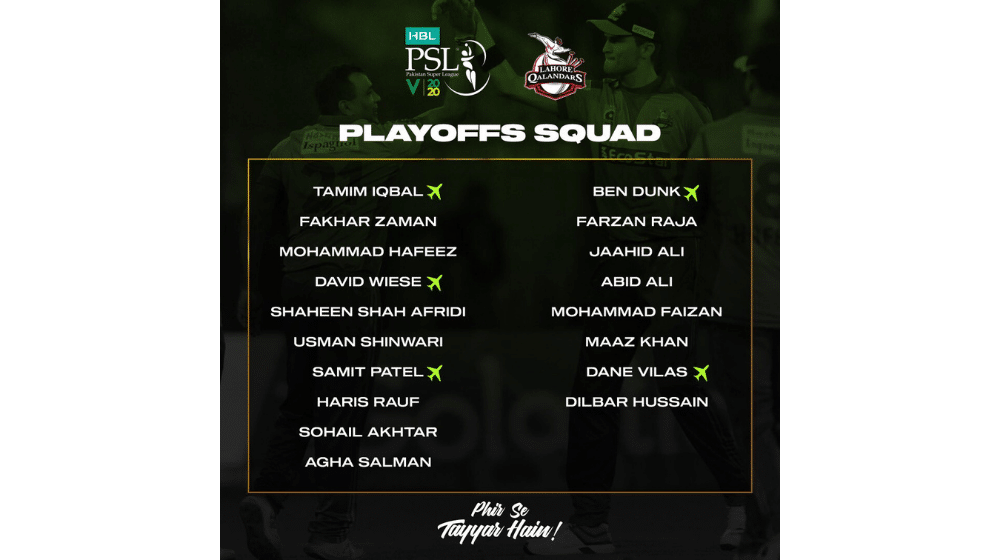 Peshawar Zalmi has announced the biggest name in the overseas playoff squad, former South African captain Faf Du Plessis. Together with Faf, the West Indian duo Darren Sammy and Carlos Braithwaite, the South African Hardus Viljoen and the English batsman Liam Livingstone will be part of their squad.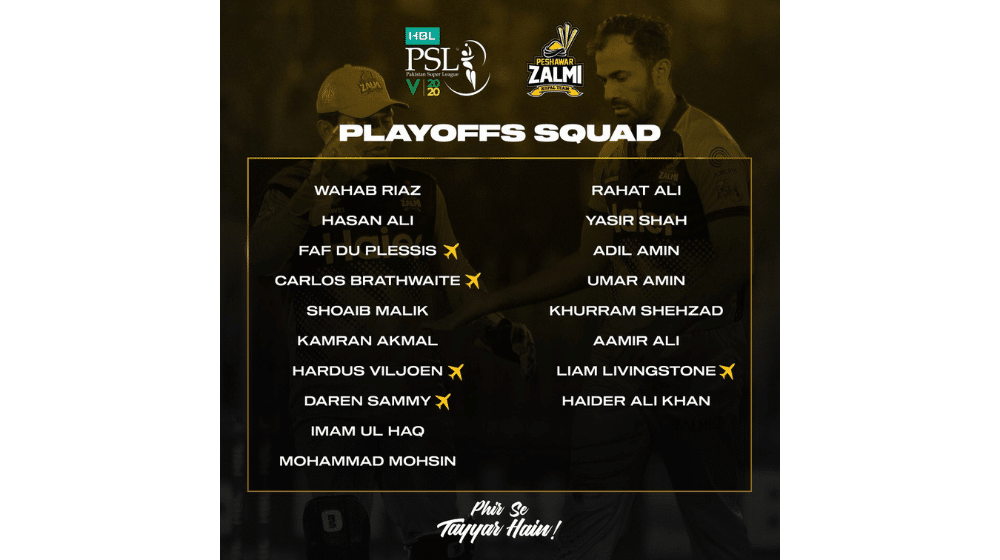 پاکستان سپر لیگ کے پلے آفس 14 نومبر سے شروع ہونگے اور شریک چاروں ٹیموں نے بقیہ ٹورنامنٹ کے لئے اپنی ٹیموں کا اعلان کیا ہے۔ پی ایس ایل کو کوڈ 19 وبائی بیماری کی وجہ سے ملتوی کردیا گیا تھا اور پی سی بی نے گذشتہ ماہ اعلان کیا تھا کہ باقی میچ نومبر کے وسط میں جیو محفوظ ماحول میں کھیلے جائیں گے۔
شیڈولنگ کی وجہ سے غیر ملکی کھلاڑیوں کی شرکت کے بارے میں شکوک و شبہات تھے ، لیکن ان شکوک و شبہات کو روک دیا گیا ہے کیونکہ تمام ٹیموں نے اپنے اسکواڈ کا انکشاف کیا ہے۔
ملتان سلطانز نے ریلی روسو (آر ایس اے) ، محمود اللہ (بان) ، روی بوپارہ (انج) ، عمران طاہر (آر ایس اے) ، جیمز ونس (انج) اور ایڈم لیتھ (انج) کو پلے آف میں اپنے بیرون ملک کھلاڑی قرار دیا ہے۔
کراچی کنگز نے ایلیکس ہیلز (انجنیئر) ، چڈوک والٹن (ڈبلیو) ، مِچ میکلنگن (این زیڈ) ، کیمرون ڈیلپورٹ (آر ایس اے) اور شیرفین رودر فورڈ (ڈبلیو) کو اپنے بیرون ملک کھلاڑیوں کے طور پر انکشاف کیا۔
تمیم اقبال (بان) ، ڈیوڈ ویز (آر ایس اے) ، سمت پٹیل (انجینئر) ، بین ڈنک (اوس) اور ڈین ولاس (آر ایس اے) کو لاہور قلندرز اسکواڈ کا حصہ بننے کا اعلان کیا گیا ہے۔
پشاور زلمی نے پلے آف اسکواڈ کے سب سے بڑے بیرون ملک نام ، جنوبی افریقہ کے سابق کپتان فاف ڈو پلیسیس کا اعلان کیا ہے۔ فاف کے ساتھ ساتھ ویسٹ انڈین جوڑی ڈیرن سیمی اور کارلوس بریتھویٹ ، جنوبی افریقہ کے ہارڈس ویلجین اور انگلش بلے باز لیام لیونگ اسٹون ان کی ٹیم کا حصہ ہوں گے۔