The Huawei Nova 8 Special Edition has been seen in leaks lately, with most of the reports talking about expected specs and an alleged launch date. The speculation about the launch date can finally be brought to a standstill, as an official announcement has now been confirmed by Huawei itself.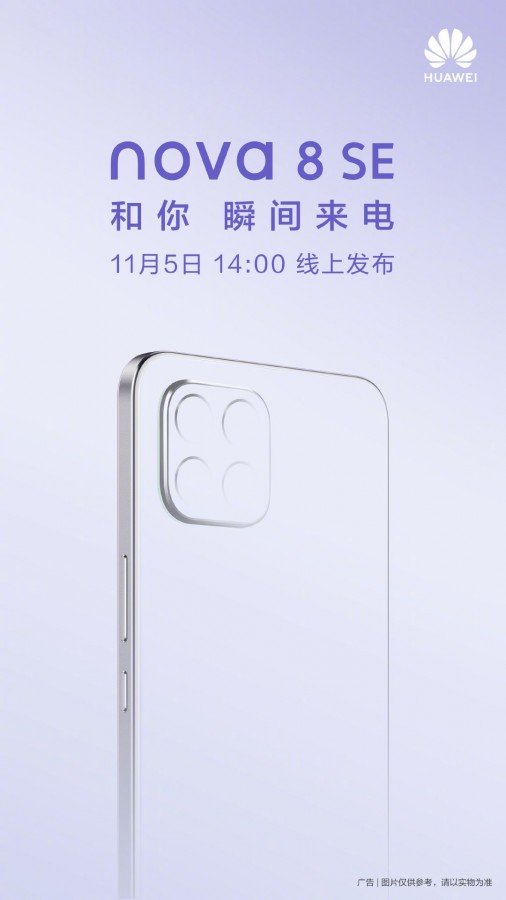 The Huawei Nova 8 SE will officially break cover on November 5th at 11 a.m. The official poster with the start date also shows part of the device design.
The Nova 8 SE is going to be a pretty slim phone with a square quad camera on the back. The power button and volume down button are on the right side of the device.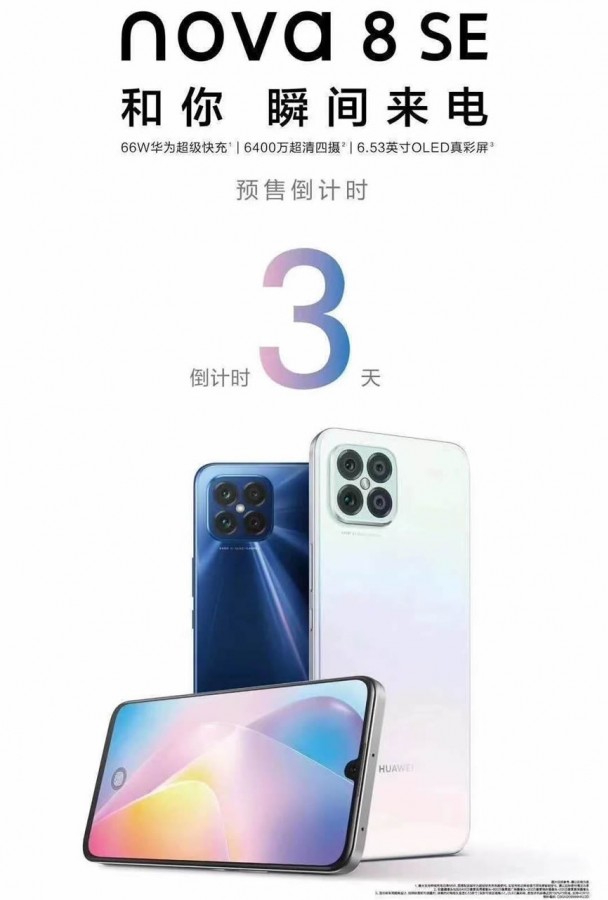 Another poster shows the design of the device as well as some color options. It also talks about some of its specs.
According to this poster, the upcoming Nova 8 SE will have a 6.53-inch OLED display, 64-megapixel camera and super-fast 66W charge. A water drop notch with small bezels around it can be seen on the front camera display. The 64-megapixel camera on the back is expected to be combined with an 8-megapixel ultrawide and two 2-megapixel shooters.
Other rumored specifications are a 60 Hz FHD + display and two different chipset variants, namely Dimensity 720 and Dimensity 800U. The battery capacity is 3,800 mAh.
ہواوے نووا 8 اسپیشل ایڈیشن عام طور پر لیک میں اکثر دیکھا گیا ہے جس میں زیادہ تر اطلاعات متوقع تصریحات اور افواہوں کے آغاز کی تاریخ کے بارے میں بات کرتی ہیں۔ لانچ کی تاریخ کے آس پاس کی قیاس آرائیوں کو بالآخر آرام دیا جاسکتا ہے کیونکہ اب ایک سرکاری اعلان کی تصدیق خود ہواوے نے خود کردی ہے۔
ہواوے نووا 8 ایس ای 5 نومبر ، 11 بجے کو باضابطہ طور پر لانچ ہو گا۔ آفیشل پوسٹر جو لانچ کی تاریخ کو ظاہر کرتا ہے اس میں ڈیوائس کے کچھ ڈیزائن بھی دکھائے جاتے ہیں۔
نووا 8 ایس ای ایک پتلا فون ہوگا جس کی پشت پر مربع سائز کا کواڈ کیمرا سیٹ اپ ہوگا۔ آلہ کے دائیں جانب بجلی اور حجم کے بٹن دیکھے جاسکتے ہیں۔
ایک اور پوسٹر میں آلے کے ڈیزائن کے ساتھ ساتھ کچھ رنگوں کے اختیارات بھی پوری طرح سے ظاہر کیے گئے ہیں۔ یہ اپنی کچھ خصوصیات کے بارے میں بھی بات کرتا ہے۔
اس پوسٹر کے مطابق ، آئندہ نووا 8 ایس ای میں 6.53 انچ کا او ایل ای ڈی ڈسپلے ، ایک 64 ایم پی کیمرا ، اور 66 ڈبلیو سپر فاسٹ چارجنگ ہوگی۔ سامنے والے کیمرے کے لئے ڈسپلے میں واٹرڈروپ نوچ دیکھا جاسکتا ہے جس میں آس پاس کے چھوٹے بیزلز ہیں۔ توقع ہے کہ پچھلے حصے میں موجود 64 ایم پی کیمرا کی الٹرا وائیڈ اور 2 2 ایم پی کے دو شوٹرس کے ساتھ جوڑ بنائے جائیں گے۔
دیگر افواہوں پر روشنی ڈالی جانے والی دیگر خصوصیات میں 60 ہ ہرٹز ایف ایچ ڈی + ڈسپلے اور دو مختلف چپ سیٹ کی مختلف حالتیں ہیں ، یعنی ڈیمنسٹی 720 اور ڈیمینسٹی 800 یو۔ بیٹری کی گنجائش 3،800 ایم اے ایچ ہوگی۔