Rumors about Cubot P40 have been circulating on the Internet for some time. For the uninitiated, Cubot Mobile is an OEM founded in 2012 and based in Shenzhen. The relatively new company is at least initially considered a niche manufacturer. However, over the years, several decent smartphones have been successfully launched.
The company recently launched the Cubot P40 for the upper entry-level market with extremely aggressive prices.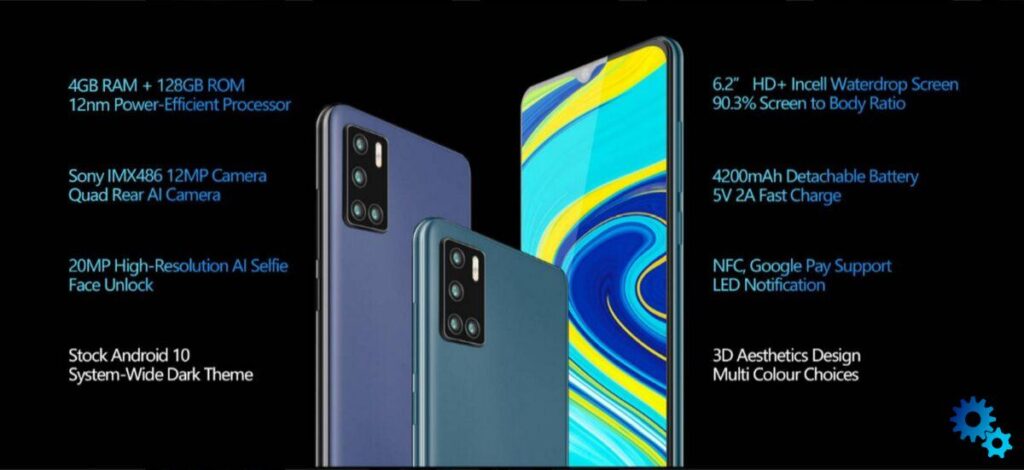 Design and Display
Following the trend towards rectangular camera movements, the Cubot P40 has a matt back and is built around a 6.2-inch water drop display with a resolution of 720p and a screen-to-body ratio of 90.3%.
The design of the device does not match the price. In contrast to an entry-level model, the phone looks like a real budget handset.
The phone lacks a fingerprint sensor, but given the price, this is not a deal breaker. The device is available in three color options: black, green and blue.
Internals and Storage
As for the innards, the Cubot P40 is powered by a 1.8 GHz quad-core MediaTek Helio A22 chipset with 4 GB of RAM and 128 GB of onboard memory. This makes it ideal for users who don't need to do CPU or GPU-intensive tasks but need a lot of media space.
The software side is managed by standard Android 10 with functions such as system-wide dark mode, data protection control and much more.
Cameras
Incredibly, the smartphone is equipped with a quad sensor rear view camera setup with a Sony IMX486 12 MP primary lens, a 5 MP macro lens and two other 2 MP sensors. For selfies, a 20 MP single sensor is included in the notch that supports AI face detection.

Battery and Pricing
This entry-level smartphone has a replaceable 4100 mAh battery. Considering the low-end CPU and the 720p screen, the battery life should be very good. It will be available for sale on June 6th and will be available at AliExpress at a starting price of $ 89.99.
Cubot P40 Specifications
CPU: Quad core (1.8 GHz, ARM Cortex-A53)
GPU: IMG PowerVR GE-class
Chipset: MediaTek Helio A22
OS: Android 10.0
Networks: 2G, 3G, 4G LTE;
Display: LCD capacitive touchscreen, 6.2 inches, 720 x 1340 pixels resolution
Memory:

RAM: 4 GB
Internal: 128 GB

Camera:

Primary: 12 MP + 5 MP + 2 MP + 2 MP
Secondary: 20 MP

Connectivity: LTE, USB Type-C, GPS, Wi-Fi, Bluetooth 5.0,
Fingerprint scanner: No
Battery: 4100 mAh
Price: $89.99
کیوبٹ پی 40 بہترین انٹری لیول فون صرف 90 ڈالر میں
کیوبٹ پی 40 کی افواہیں کچھ عرصے سے انٹرنیٹ پر چکر لگارہی ہیں۔ بلاتفریق کے لئے ، کیبوٹ موبائل ایک شینزین پر مبنی ہے جو 2012 میں قائم کیا گیا تھا۔ نسبتا نئی کمپنی کو اب تک کم از کم ایک خاص کارخانہ دار سمجھا جاتا ہے۔ تاہم ، سالوں کے دوران ، اس نے کئی اچھے اسمارٹ فون تیار کرنے میں کامیاب رہا ہے۔
کمپنی نے حال ہی میں انتہائی جارحانہ قیمتوں کے ساتھ اوپری داخلہ سطح کے بازار کا مقصد کیوبٹ پی 40 لانچ کیا ہے۔
ڈیزائن اور ڈسپلے
آئتاکار کیمرہ گلیارے کے رجحان کے بعد ، کیوبٹ پی 40 میں میٹ فینش بیک کی خصوصیات دی گئی ہے اور اس میں 6.2 انچ کے واٹروڈروپ نوچ ڈسپلے کے ارد گرد بنایا گیا ہے جس میں 720 پی ریزولوشن اور 90.3٪ اسکرین ٹو باڈی ریشوئیوئل ہے۔
ڈیوائس کا ڈیزائن اس کی قیمت کے ٹیگ سے مماثل نہیں ہے ، فون کسی داخلہ کی سطح کے برخلاف مناسب بجٹ ہینڈسیٹ کی طرح لگتا ہے۔
اگرچہ فون میں فنگر پرنٹ سینسر کا فقدان ہے ، لیکن قیمت پر غور کریں تو یہ معاہدہ توڑنے والا نہیں ہے۔ یہ آلہ سیاہ ، سبز اور نیلے رنگ کے تین رنگوں اختیارات میں دستیاب ہے۔
انٹرنل سٹوریج
جہاں تک اندرونی علاقوں کی بات کی جائے تو کیوبٹ پی 40 کو 1.8 گیگا ہرٹز کواڈ کور میڈیا ٹیک ہیلیو اے 22 چپ سیٹ 4 جی بی ریم اور 128 جی بی جہاز والے اسٹوریج کے ساتھ ٹاپ رکھا ہے۔ یہ ان صارفین کے لئے مثالی بن جاتا ہے جنہیں کسی بھی سی پی یو یا جی پی یو کے انتہائی کام کو چلانے کی ضرورت نہیں ہوتی ہے لیکن میڈیا کے لئے کافی اسٹوریج چاہتے ہیں۔
سافٹ ویر سائیڈ اسٹاک اینڈروئیڈ 10 کے ذریعہ سسٹم وسیع ڈارک موڈ ، پرائیویسی کنٹرول فیچر ، اور بہت کچھ جیسے خصوصیات کے ساتھ نمٹا جاتا ہے۔
کیمرے
حیرت انگیز طور پر ، اسمارٹ فون کواڈ سینسر کے پیچھے کیمرہ سیٹ اپ سے لیس ہے جس میں سونی آئی ایم ایکس 486 12 ایم پی پرائمری لینس ، 5 ایم پی میکرو لینس ، اور 2 دیگر ایم پی سینسر ہیں۔ سیلفیز کے لیے یہ نوچ میں 20 ایم پی سنگل سینسر کے ساتھ آتا ہے جو اے ون کے چہرے کی شناخت کی حمایت کرتا ہے۔
بیٹری اور قیمتوں کا تعین
اس اندراج کی سطح کا اسمارٹ فون ایک 4100 ایم اے ایچ کی ہٹنے والا بیٹری پیک کرتا ہے۔ کم اختتامی سی پی یو اور 720 پی اسکرین پر غور کرتے ہوئے ، بیٹری کی زندگی بہت اچھی ہونی چاہئے۔ یہ 6 جون تک فروخت کے لئے دستیاب ہوگا۔ اسکی قیمت 99.99 ڈالر ہے۔