The Chief Executive Officer (CEO) of Toyota Indus Motor Company (IMC), Ali Asghar Jamali, announced that the Corolla Cross will be officially launched in Pakistan by the end of 2020. Jamali added that some of the vehicles have already been imported and will be tested on Pakistani roads and in local traffic conditions.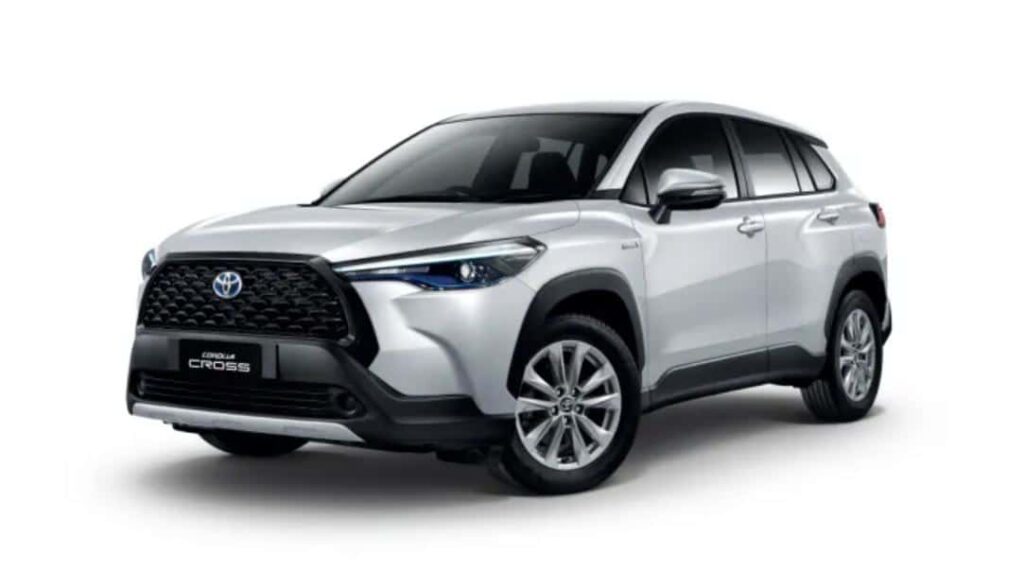 The Corolla Cross is classified as a subcompact crossover SUV, which means its direct competitors are most likely the Honda Vezel / HR-V, Nissan Juke, Suzuki Vitara, and Toyota C-HR.
A few months ago it was unofficially announced in an IMC briefing that the automaker would be introducing the Corolla Cross in Pakistan and as a Complete Built-up Unit (CBU) from Thailand.
Performance
The Corolla Cross reportedly has two versions of the company's 1.8-liter four-cylinder engine in the international market. One has a standard gasoline engine with a naturally aspirated engine that generates 140 hp and 175 Nm of torque. The other has a hybrid powertrain that produces 98 hp and 142 Nm of torque.
Although the hybrid assistant significantly increases this output, the electric motor provides an additional 72 hp and 163 Nm of torque.
Both engines are connected to a 7-speed CVT automatic transmission that only transfers power to the front wheels. Although there are two main variants of the vehicle, it is not yet known which one will arrive in Pakistan.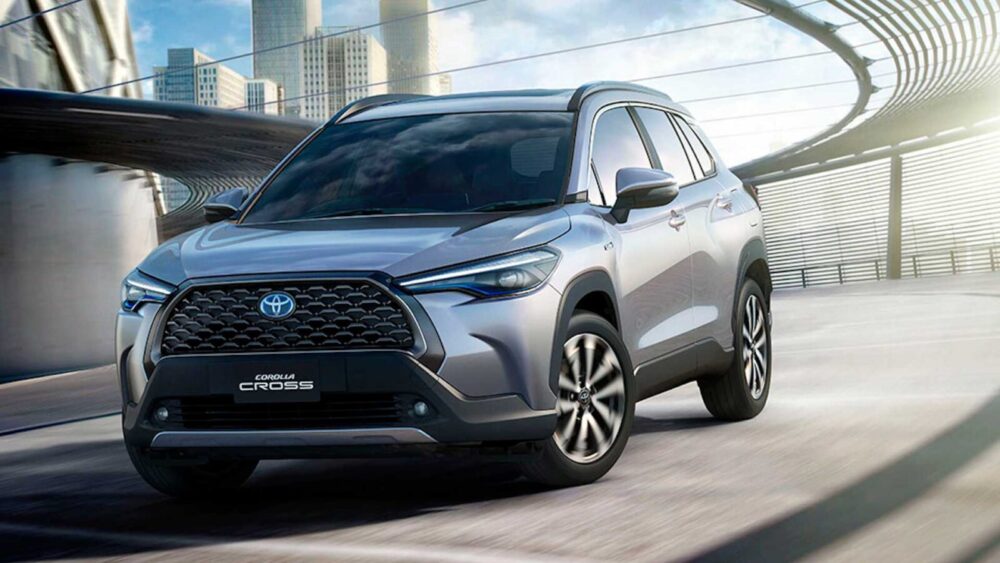 Features
All Corolla Cross variants reportedly come standard with seven airbags, vents on the rear seats, 9.0-inch infotainment with Apple CarPlay and Android Auto, a push-button start proximity button and adjustable rear seats. Further equipment features include LED headlights, two-zone air conditioning, additional exterior lighting, built-in navigation, leather seats with adjustable and heated front seats, a sunroof, a larger 7.0-inch instrument display, 18-inch alloys, interior lighting, an automatically dimming interior mirror and an electric tailgate.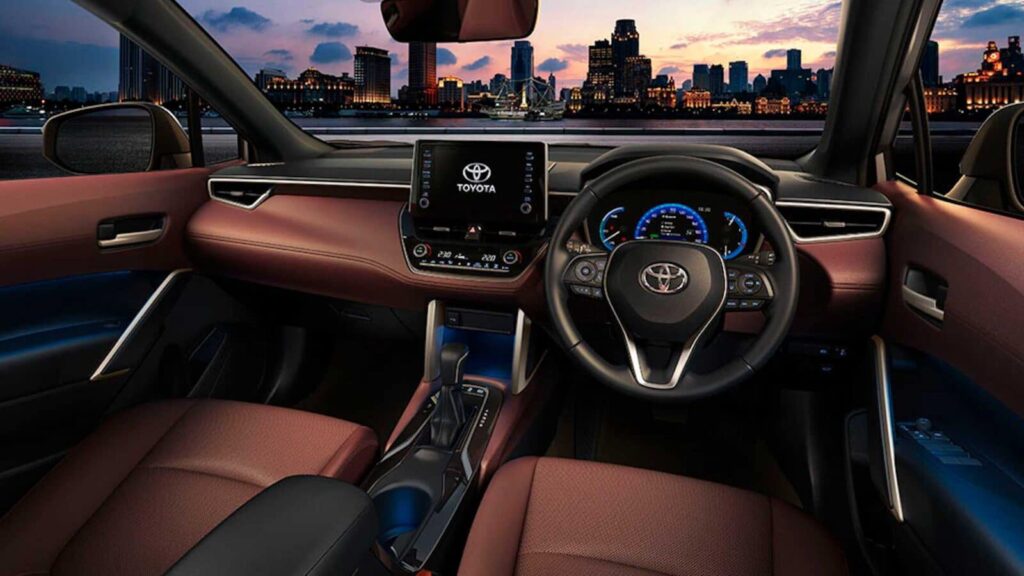 These functions are now available in the international market version. It remains to be seen whether or not the Pakistani version will get everyone. Given its price, the Corolla Cross seems like a hard sell in Pakistan. There are many options on the market, either at the same price or at a much lower price that would make more sense than a practically slightly raised Corolla station wagon. Only time will tell how successful the Corolla Cross will be in the market at this price.
ٹویوٹا انڈس موٹر کمپنی (آئی ایم سی) کے چیف ایگزیکٹو آفیسر (سی ای او) ، علی اصغر جمالی نے انکشاف کیا کہ کرولا کراس کو باضابطہ طور پر پاکستان میں 2020 کے آخر میں شروع کیا جائے گا۔ جمالی نے مزید کہا کہ کچھ گاڑیاں پہلے ہی درآمد کی جا چکی ہیں۔ پاکستانی سڑکوں پر اور مقامی ٹریفک حالات میں ٹیسٹ کیا جائے۔
کرولا کراس کو ایک سب کومپیکٹ کراس اوور ایس یو وی کی درجہ بندی میں درجہ بندی کیا گیا ہے جس سے یہ ظاہر ہوتا ہے کہ اس کے براہ راست مقابلہ کرنے والوں کا زیادہ تر امکان ہونڈا ویزیل / ایچ آر-وی ، نسان جوک ، سوزوکی ویٹارا ، اور ٹویوٹا سی ایچ آر ہے۔
یہ غیر سرکاری طور پر دو ماہ قبل آئی ایم سی کی طرف سے ایک بریفنگ میں انکشاف کیا گیا تھا کہ گاڑی بنانے والا پاکستان میں کرولا کراس متعارف کرائے گا اور تھائی لینڈ سے بنے ہوئے ایک مکمل بلٹ اپ یونٹ (سی بی یو) کے طور پر متعارف کرایا جائے گا۔
کارکردگی
کرولا کراس نے مبینہ طور پر بین الاقوامی مارکیٹ میں کمپنی کے 1.8 لیٹر فور سلنڈر انجن کے دو ورژن پیش کیے ہیں۔ کسی میں ایک معیاری ، قدرتی خواہش مند ، پیٹرول سے چلنے والا انجن ہے جو 140 ایچ پی اور 175 این ایم ٹارک پیدا کرتا ہے۔ دوسرے میں ہائبرڈ پاور ٹرین ہے جو 98 ایچ ہی اور 142 این ایم ٹورک پیدا کرتا ہے۔
اگرچہ ہائبرڈ اسسٹ کافی حد تک اس طاقت کے اعداد و شمار کو سامنے لاتا ہے ، لیکن برقی موٹر ایک اضافی 72 ایچ پی اور 163 این ایم ٹارک تیار کرتی ہے۔
خصوصیات
اطلاعات کے مطابق ، کرولا کراس کے تمام ایپلی کیشنز میں سات ایر بیگ ، عقبی نشست کے ہوائی وینٹ ، ایپل کارپلے اور اینڈروئیڈ آٹو کے ساتھ 9.0 انچ کی انفوٹینمنٹ ہے ، اور ایک پش بٹن اسٹارٹ کے ساتھ قربت والی کلید ہے ، اور عقبی نشستوں کو معیار کے مطابق جوڑنا ہے۔ دیگر خصوصیات میں ایل ای ڈی ہیڈلائٹس ، ڈبل زون آب و ہوا کا کنٹرول ، اضافی بیرونی روشن کام ، انبیلٹ نیویگیشن ، بجلی سے متعلق ایڈجسٹ اور گرم فرنٹ والے چمڑے کی سیٹیں ، ایک سنروف ، ایک 7.0 انچ کا ایک بڑا ڈسپلے ، 18 انچ آلوے ریم ، محیط داخلہ کی روشنی ، ایک خودکار مدھم داخلہ کا آئینہ ، اور پاور ٹیلگیٹ۔
ابھی تک ، یہ خصوصیات بین الاقوامی مارکیٹ کے ورژن میں موجود ہیں۔ ابھی یہ دیکھنا باقی ہے کہ پاکستانی ورژن ان سب کو مل جائے گا یا نہیں۔ اس کی قیمت کو دیکھتے ہوئے ، لگتا ہے کہ پاکستان میں کرولا کراس کی سخت فروخت ہوگی۔ مارکیٹ میں یا تو ایک ہی قیمت پر یا اس سے کہیں کم قیمت کے بہت سے اختیارات ہیں جو عملی طور پر تھوڑا سا اٹھایا ہوا کرولا اسٹیشن ویگن سے کہیں زیادہ معنی رکھتے ہیں۔ مارکیٹ میں قیمت کے اس مقام پر کرولا کراس کتنا کامیاب ہوگا کچھ ایسا ہی ہے جو صرف وقت ہی بتائے گا۔