According to a recent report, a technology market analyst firm, the iPhone 11 was the top-selling smartphone in the third quarter of 2020. The iPhone SE is in second place with a margin of nearly 6 billion units.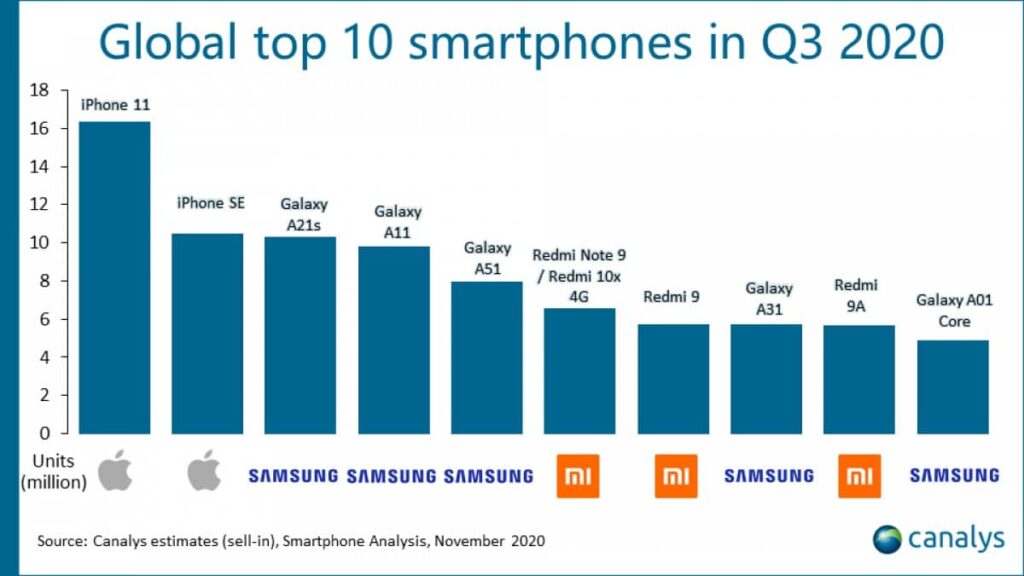 The iPhone 11 was miles ahead of its competitors with nearly 16 million units sold. The iPhone SE is rounded off by 10 million units. This makes sense because the smartphone is the cheapest new iPhone with a great feature set that is great value for money.
The report goes on to say that the iPhone 11 accounted for nearly 40 percent of Apple's global volume in the second quarter, followed by the iPhone SE, which made up 28 percent of the volume. Since its release, the iPhone 11 has taken first place in the top 10 table for four quarters in a row.
In other smartphones, the Samsung Galaxy A21 and the Samsung A11 round off the top 4 with a dismal lead. In fifth place is the Samsung Galaxy A51, followed by Redmi Note 9 (Redmi 10x 4G), Redmi 9, Samsung Galaxy A31, Redmi 9A and Samsung Galaxy A01 Core.
It's surprising to see that none of the 5G smartphones released in 2020 made it into the top 10. In addition, Huawei smartphones are nowhere to be seen.
ٹیکنالوجی مارکیٹ کے تجزیہ کار فرم کینالیز کی حالیہ رپورٹ کے مطابق ، آئی فون 11 کیو 32020 میں سب سے زیادہ فروخت ہونے والا اسمارٹ فون تھا۔ آئی فون ایس ای تقریبا 6 ارب یونٹوں کے فرق سے دوسرے نمبر پر ہے۔
آئی فون 11 اپنے حریفوں سے میل دور کھڑا تھا ، تقریبا 16 ملین یونٹ فروخت ہوئے تھے۔ آئی فون ایس ای کے اس بہن بھائی نے 10 ملین یونٹوں کا مقابلہ کیا ، اس سے یہ معنی آتا ہے کہ اسمارٹ فون ایک بہترین خصوصیت والا سیٹ والا نیا سستا آئی فون ہے جو پیسوں کے لئے بہترین قیمت پیش کرتا ہے۔
رپورٹ میں مزید تفصیلات میں بتایا گیا ہے کہ کیو 2 میں ، آئی فون 11 نے ایپل کے عالمی حجم کا تقریبا 40 فیصد تشکیل دیا ہے ، اس کے بعد آئی فون ایس ای ، جس کا حجم کا 28 فیصد ہے۔ اس کی رہائی کے بعد سے ہی ، آئی فون 11 نے سیدھے چار حلقوں کے لئے ٹاپ 10 چارٹ میں نمبر ون جگہ حاصل کی ہے۔
جہاں تک دوسرے اسمارٹ فونز کا تعلق ہے تو ، سام سنگ گلیکسی اے 21 اور سام سنگ اے 11 بلیک مارجن کے ساتھ ٹاپ فور میں شامل ہیں۔ پانچویں نمبر پر بیٹھے ہوئے سیمسنگ گلیکسی اے 51 ہے ، اس کے بعد ریڈمی نوٹ 9 (ریڈمی 10 ایکس 4 جی) ، ریڈمی 9 ، سیمسنگ گلیکسی اے 31 ، ریڈمی 9 اے ، اور سیمسنگ گلیکسی اے01 کور ہے۔