Facebook will no longer allow you to use WhatsApp if you refuse to share your data with the company.
The social media giant has notified people around the world of an update to its Terms of Use and Privacy Policy that will go into effect from February. The update in the privacy policy expands the "Information you provide" section to include details about what data Facebook collects from WhatsApp users and how it is shared with other Facebook products and third parties.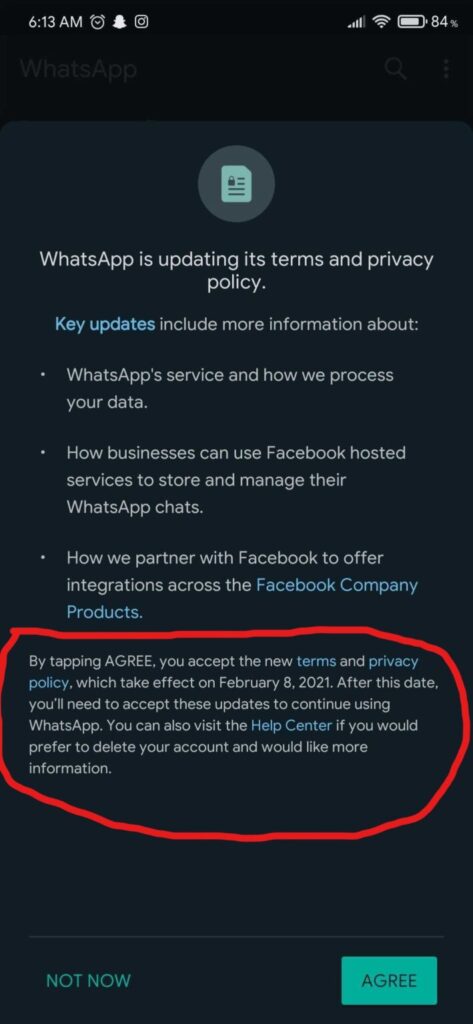 The updated policy also explains "Automatically Collected Information," which is a variety of information that WhatsApp collects about its users. Some of this information collected includes your phone's hardware model, operating system information, battery level, signal strength, app version, browser information, cellular network, connection information (including phone number, cellular operator or ISP), language, and time zone. IP address, information on device operation and identifiers.
Even if you do not use our location-related features, we use IP addresses and other information like phone number area codes to estimate your general location (e.g., city and country).
In any case, all of this would be acceptable if users could choose whether or not to share their data, as was originally the case with WhatsApp. According to the new policy, people who do not agree to these terms will lose access to their accounts, according to Facebook in the notification recently sent to everyone.
اگر آپ کمپنی کے ساتھ اپنا ڈیٹا شیئر کرنے سے انکار کرتے ہیں تو فیس بک آپ کو اب واٹس ایپ استعمال نہیں کرنے دے گا۔
سوشل میڈیا کا ایک بڑا ادارہ پوری دنیا کے لوگوں کو اپنی سروس کی شرائط اور رازداری کی پالیسی کے بارے میں تازہ کاری کے بارے میں آگاہ کرتا رہا ہے جو فروری سے شروع ہوگا۔ رازداری کی پالیسی میں اپ ڈیٹ "آپ کی فراہم کردہ معلومات" سیکشن پر توسیع کرتا ہے جس میں اس بات کی تفصیلات ہوتی ہیں کہ فیس بک واٹس ایپ صارفین سے کونسا ڈیٹا اکٹھا کرتا ہے اور اسے فیس بک کے دیگر مصنوعات اور تیسرے فریق کے ساتھ کس طرح شیئر کیا جاتا ہے۔
تازہ ترین پالیسی میں "خود کار طریقے سے جمع کی گئی معلومات" کی بھی وضاحت کی گئی ہے جس میں واٹس ایپ اپنے صارفین پر جمع کرنے والی وسیع قسم کی معلومات پر مشتمل ہے۔ اس میں سے کچھ جمع کردہ معلومات میں آپ کے فون کا ہارڈ ویئر ماڈل ، آپریٹنگ سسٹم کی معلومات ، بیٹری کی سطح ، سگنل کی طاقت ، ایپ ورژن ، براؤزر کی معلومات ، موبائل نیٹ ورک ، کنکشن کی معلومات (فون نمبر ، موبائل آپریٹر یا آئی ایس پی بھی شامل ہے) ، زبان اور ٹائم زون شامل ہیں۔ آئ پی ایڈریس ، آلہ کے آپریشن کی معلومات ، اور شناخت کنندہ۔
کسی بھی صورت میں ، یہ سب قابل قبول ہوگا اگر صارف اپنے ڈیٹا کو بانٹنے یا نہ کرنے کا انتخاب کرسکتے ہیں ، جو اصل میں واٹس ایپ کے معاملے میں ہوا تھا۔ تاہم ، نئی پالیسی کے مطابق ، ان شرائط سے اتفاق کرنے میں ناکام ہونے والے افراد کے اکاؤنٹس تک رسائی ختم ہوجائے گی۔