Vivo's V-series is known for its innovation in Pakistan. Every new phone offers futuristic functions at the best prices. V19 will be the newest member of the family and will focus on important functions such as the Super Night Mode, the Dual iView Display and the Aura Screen Light.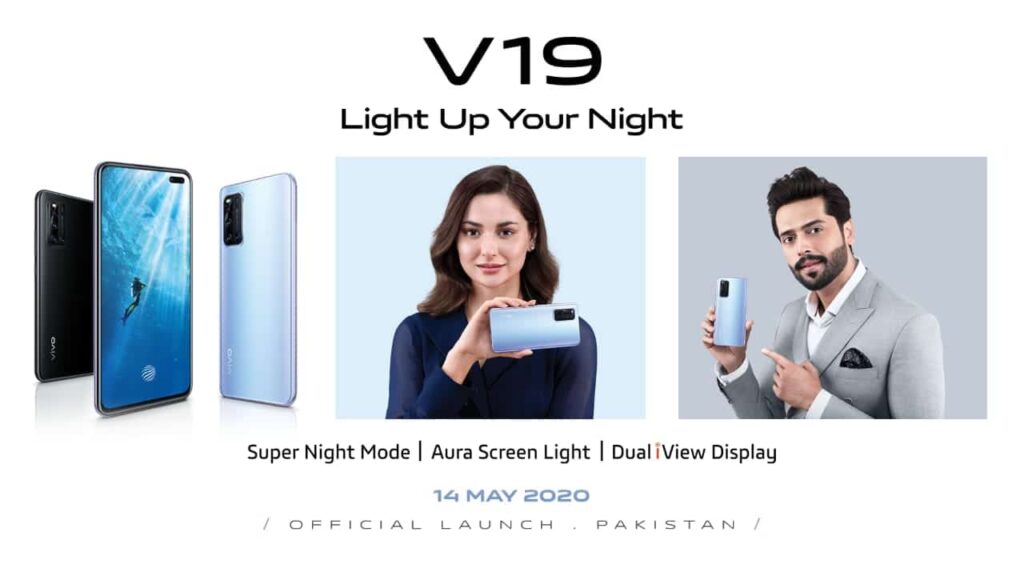 Vivo is a globally recognized innovative smartphone brand known for its star-studded launch events in Pakistan. In vivo, however, there is no regular kick-off event in the middle of the pandemic crisis in Pakistan. This time a short digital broadcast will be used to make the announcement on May 14, 2020.
Price and pre-order details are currently kept secret and will be announced on the day of launch. The warm-up campaign with the brand ambassadors for vivo V19, Fahad Mustafa and Hania Amir, is currently in full swing. Vivo also offers its fans a lot of gifts on social media platforms.
What's Best About vivo V19?
Vivo V19 will be an affordable smartphone with flagship features. Here are some to look forward to:
6.44-inch Super AMOLED FHD+ Dual iView Display
3D Glass Design with SCHOTT Xensation® Up Protection
32MP Dual Front Camera with Super Night Selfie and Aura Screen Light (105-degree wide Selfie) Image Stabilization for Selfie Video
Rear 48MP main camera, 8MP super Wide-Angle Camera, 2MP macro camera and 2MP bokeh camera. Super Night Portrait, Art Portrait.
Featuring Ultra Stable Video and Art Video Modes for Live Bokeh and Color Change.
Qualcomm Snapdragon 712 2.3GHz octa-core SoC, 8GB RAM, 128GB UFS 2.1 Fastest Storage, up to 512GB microSD card support, Triple SIM slot.
33W vivo FlashCharge 2.0 & 4500mAh (70% Charge in 40 minutes), Type-C port
In-Display Fingerprint Scanning, Dual 4G LTE, Bluetooth 5.0
Copper Tube Liquid Cooling, Multi-Turbo 3.0 with Ultra Game Mode
AI Noise Cancelling for Video & Voice Calls
Funtouch OS 10 based on Android 10
ویوو وی سیریز کا اسمارٹ فون وی 19 پاکستان میں 14 مئی کو لانچ ہوگا
ویو وی-سیریز پاکستان میں اپنی جدت طرازی کے لئے مشہور ہے ہر ایک نیا فون انتہائی سستی قیمتوں پر سیٹ تیار کرتا ہے۔ وی 19 فیملی میں جدید ترین اضافے کا حامل ہے ، جس میں مرکزی خصوصیات پر فوکس کرتے ہوئے سپر نائٹ موڈ ، ڈوئل آئی ویو ڈسپلے اور آورا اسکرین لائٹ شامل ہیں۔
ویوو عالمی سطح پر تسلیم شدہ جدید اسمارٹ فون برانڈ ہے جو پاکستان میں اپنے اسٹار اسٹڈیڈ لانچ ایونٹ کے لئے مشہور ہے۔ تاہم ، ویوو باقاعدہ لانچ ایونٹ کا انعقاد نہیں کرے گا کیونکہ پاکستان میں وبائی بیماری پیدا ہوچکی ہے اور اس بار 14 مئی 2020 کو اعلان کرنے کے لئے ایک مختصر ڈیجیٹل نشریات کا استعمال کیا جائے گا۔
قیمتوں کا تعین اور پری آرڈر کی تفصیلات فی الحال لپیٹے کے نیچے رکھی جارہی ہیں اور لانچ کے دن انکشاف ہوں گی۔ ویوو 19 کے برانڈ سفیروں فہد مصطفی اور ہانیہ عامر پر مشتمل ، وارم اپ مہم اس وقت زوروں پر ہے۔ ویوو اپنے مداحوں کو سوشل میڈیا پلیٹ فارم کے ذریعہ بہت سے تحائف بھی پیش کررہا ہے۔