Pakistan International Airlines (PIA) has lowered fares for all domestic flights for the second time in a week.
According to a PIA spokesman, the national airline has set the one-way fare to Rs. 11,525 including taxes for all local destinations.
PIA has made this decision to make it easier for passengers and the new tariffs apply immediately.
On June 30, PIA had set the one-way ticket at Rs. 12,000 for all domestic destinations against the previous tariff of Rs. 16,500.
Action Against Airlines
The Civil Aviation Authority (CAA) has decided to take strict action against airlines that violate the agency's SOPs to curb the spread of COVID-19.
In this context, Deputy DG CAA wrote a letter to all airport managers expressing disappointment with repeated cases of SOP violations for international, chartered and private flights.
All concerned airport managers are directed to liaise with respective chairman AOC's to ensure probe into negligence in this regard and streamline the implementation of the SOPs.
Here is the letter: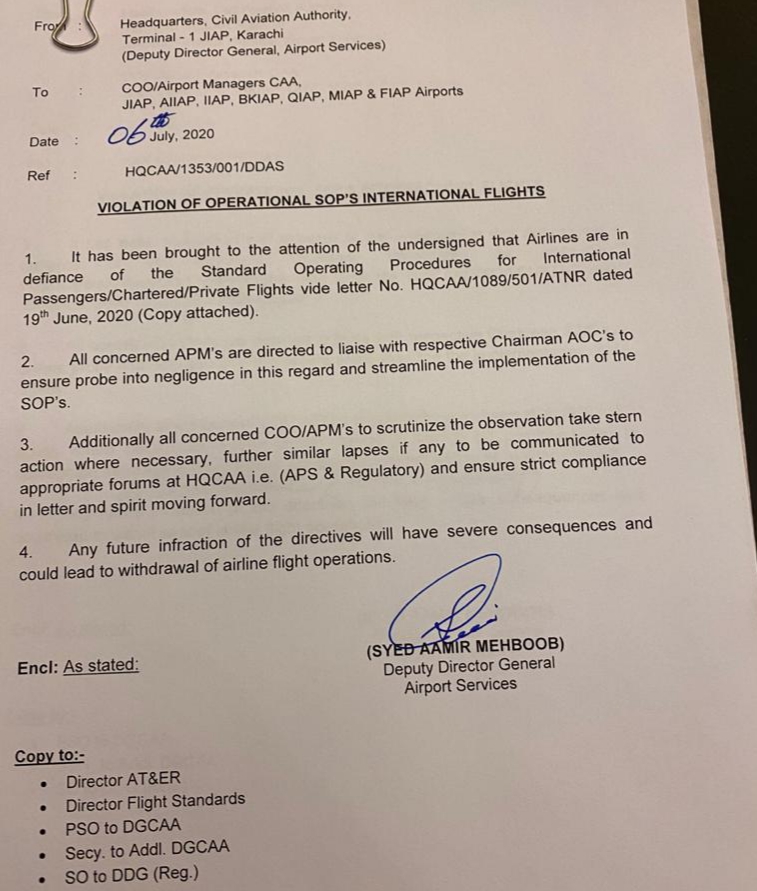 Deputy DG CAA has warned all airlines that future violations of the latest guidelines will be handled in accordance with the law and may result in suspension of the airline's operating license.
پی آئی اے نے مقامی کرایے کو ایک بار پھر کم کر دیا
پاکستان انٹرنیشنل ایئر لائن (پی آئی اے) نے ایک ہفتے میں دوسری بار تمام گھریلو پروازوں کے کرایوں میں کمی کی ہے۔
پی آئی اے کے ترجمان کے مطابق ، قومی پرچم کیریئر نے ایک طرفہ کرایہ 11،525 روپے بشمول تمام ٹیکس مقرر کر دیا ہے۔
پی آئی اے نے یہ فیصلہ مسافروں کی سہولت کے لئے لیا ہے اور نئے کرایے فوری طور پر لاگو ہوں گے۔
جون 30 کو ، پی آئی اے نے ون وے ٹکٹ 40 روپے میں طے کیا تھا۔ گذشتہ کرایہ کے مقابلے میں تمام گھریلو منزلوں کے لئے 12،000 روپے ہے۔
اس سلسلے میں ، ڈپٹی ڈی جی سی اے اے نے تمام ہوائی اڈے کے منتظمین کو ایک خط لکھا ہے ، جس میں بین الاقوامی ، چارٹرڈ ، اور نجی پروازوں کے لئے ایس او پیز کی خلاف ورزی کرنے والی ایئر لائنز کی بار بار مثالوں پر مایوسی کا اظہار کیا گیا ہے۔