Facebook is the worldwide popular social media platform, where millions of people all over the world have maintained their accounts and they shared the things, which they like. If you have your account on Facebook and you want to change the Facebook page name, you need to know the complete process. How to Change Facebook Page Name.
Open Facebook page and click on About
Click on edit, which is next to 'Name'
Window 'request for new page name' will appear
Type new page name and click on continue
Click on Request change to complete the process
If your business has good following, you want to rebrand your business. You think about the social media presence like changing the Facebook page name. You need to edit the general name on Facebook page if you want to change your Facebook page name. you need to keep some elements in your mind and choose such new name for the Facebood book, which is according to the terms and conditions.
Page Names on Facebook Can't Have
Abusive names, terms or phrases
Offensive words or phrases or violation of rights of someone
The word 'official', if it is not the official page of any brand or the organization
The improper capitalization (tHe best ClotHing bRand)
Symbols or the punctuation, which do not need
Description or slogans.
Variation of word "Facebook".
When you choose the proper name, you need to start the edition of the page name. Now you know how to make the change through the desktop and / or mobile phone.
Changing Page Name via Desktop
Open web browser and type facebook.com
Log into your account
Go to your page
You will see 'About' option on left side of the page and click on it
Click on edit button next to "Name"
New window will appear "Request new page name" and write the new page name and click on continue.
Click on request change to complete the process. Facebook will review name name and will approve it in case it does not violate guidelines of Facebook page name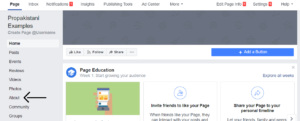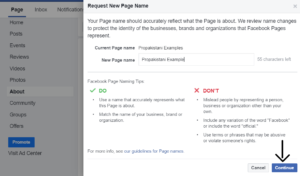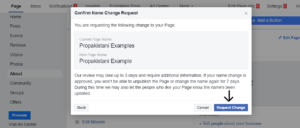 Changing Page name via Mobile
Open Facebook mobile app and go to your page
Tap 'About', which is at top of your page.
Tap on 'Edit Page Info'
You will see 'Update page info' screen. You will see major categories like name, description and category on this screen.
Tap the name field and type new name of page.
Facebook will review it again and you will be informed within a day or two.
To See Your Role
Go to your Facebook
Click on settings, who are present on top right of your screen
Click on Page Role and see if you are admin of your page or not
فیس بک پیج کا نام کیسے بدلا جائے
فیس بک دنیا بھر میں مقبول سوشل میڈیا پلیٹ فارم ہے ، جہاں پوری دنیا کے لاکھوں افراد نے اپنے اکاؤنٹس سنبھال رکھے ہیں اور انہوں نے چیزیں شیئر کیں ، جو انہیں پسند ہے۔ اگر آپ کا اکاؤنٹ فیس بک پر ہے اور آپ فیس بک پیج کا نام تبدیل کرنا چاہتے ہیں تو آپ کو مکمل عمل جاننے کی ضرورت ہوگی۔ فیس بک پیج کا نام کیسے بدلا جائے۔
فیس بک پیج کھولیں اور اس کے بارے میں کلیک کریں
ترمیم پر کلک کریں ، جو 'نام' کے ساتھ ہے۔
ونڈو 'نئے صفحے کے نام کی درخواست' نمودار ہوگی
نئے صفحے کا نام ٹائپ کریں اور جاری پر کلک کریں
عمل کو مکمل کرنے کے لئے درخواست کی تبدیلی پر کلک کریں
اگر آپ کے کاروبار میں اچھی پیروی ہے تو ، آپ اپنے کاروبار کو دوبارہ نامزد کرنا چاہتے ہیں۔ آپ سوشل میڈیا کی موجودگی کے بارے میں سوچتے ہیں جیسے فیس بک پیج کا نام تبدیل کرنا۔ اگر آپ اپنا فیس بک پیج کا نام تبدیل کرنا چاہتے ہیں تو آپ کو فیس بک کے صفحے پر عام نام میں ترمیم کرنے کی ضرورت ہے۔ آپ کو اپنے ذہن میں کچھ عناصر رکھنے کی ضرورت ہے اور فیس بوڈ کتاب کے لئے ایسا نیا نام منتخب کرنے کی ضرورت ہے ، جو قواعد و ضوابط کے مطابق ہو۔
فیس بک پر صفحہ کے نام نہیں ہو سکتے ہیں
گالی دینے والے نام ، اصطلاحات یا فقرے
اشتعال انگیز الفاظ یا جملے یا کسی کے حقوق کی خلاف ورزی
لفظ 'آفیشل' ، اگر یہ کسی برانڈ یا تنظیم کا آفیشل پیج نہیں ہے
(نامناسب کیپیٹلائزیشن (ٹی ہاٹ کلاٹ ہنگ بی آرینڈ
علامتیں یا اوقاف ، جن کی ضرورت نہیں ہے
تفصیل یا نعرے۔
لفظ "فیس بک" کی تبدیلی۔
جب آپ مناسب نام کا انتخاب کرتے ہیں تو ، آپ کو صفحہ کے نام کا ایڈیشن شروع کرنے کی ضرورت ہوتی ہے۔ اب آپ جانتے ہو کہ ڈیسک ٹاپ اور / یا موبائل فون کے ذریعہ کس طرح تبدیلی کرنا ہے۔
ڈیسک ٹاپ کے ذریعہ پیج کا نام تبدیل کرنا
ویب براؤزر کھولیں اور فیس بک ڈاٹ کام ٹائپ کریں
آپ کے اکاؤنٹ میں لاگ ان کریں
اپنے صفحے پر جائیں
آپ کو صفحے کے بائیں جانب 'کے بارے میں' آپشن نظر آئے گا اور اس پر کلک کریں گے
نام کے ساتھ والے ترمیم کے بٹن پر کلک کریں
نئی ونڈو "نئے صفحے کے نام کی درخواست" ظاہر ہوگی اور نئے صفحے کا نام لکھے گی اور جاری پر دبائیں۔
عمل کو مکمل کرنے کے لئے درخواست کی تبدیلی پر کلک کریں۔ فیس بک نام کے نام پر نظرثانی کرے گا اور اگر فیس بک کے صفحے کے نام کے رہنما خطوط کی خلاف ورزی نہیں کرتا ہے تو اس کی منظوری دے گی
موبائل کے ذریعہ پیج کا نام تبدیل کرنا
فیس بک موبائل ایپ کھولیں اور اپنے پیج پر جائیں
'کے بارے میں' ٹیپ کریں ، جو آپ کے صفحے کے سب سے اوپر ہے۔
'صفحے کی معلومات میں ترمیم کریں' پر ٹیپ کریں
آپ کو 'اپ ڈیٹ پیج کی معلومات' اسکرین نظر آئے گی۔ آپ کو اس سکرین پر نام ، تفصیل اور زمرہ جیسی بڑی قسمیں نظر آئیں گی۔
نام فیلڈ پر ٹیپ کریں اور صفحہ کا نیا نام ٹائپ کریں۔
فیس بک اس کا دوبارہ جائزہ لے گا اور ایک یا دو دن میں آپ کو آگاہ کردیا جائے گا۔