A few days ago, a bank director (credit department) in Islamabad was seen on viral video molesting a woman in the capital's F-10 sector. The incident took place in a branch of Faysal Bank.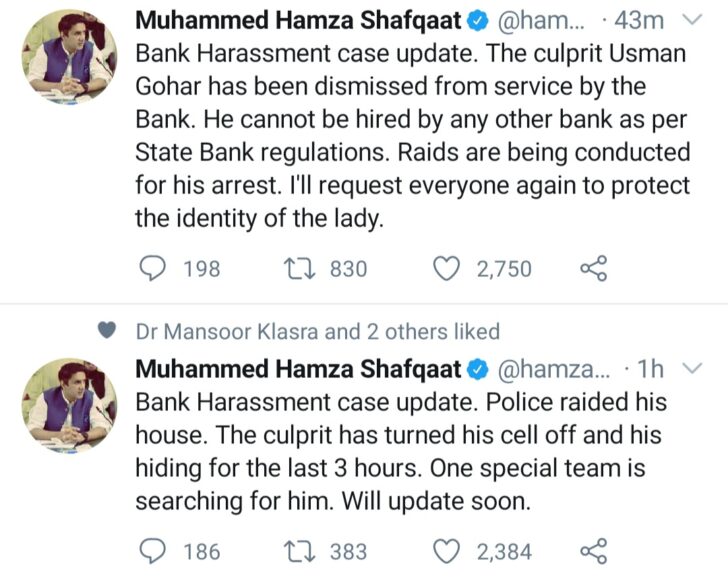 Following the efforts, police managed to arrest the man after footage of the incident went viral on social media.
It seems that the culture of harassment of women has become a norm in our society. There have been numerous reports of women across the country being teased, molested, and sometimes molested. This alarming trend has become a regular occurrence recently as housewives, young college students, working class women, and even celebrities are targeted.
Most of these incidents go unreported as there is not much evidence against the culprits. Fortunately for a woman in Islamabad, the perpetrator was caught on camera.
Faysal Bank Official Statement: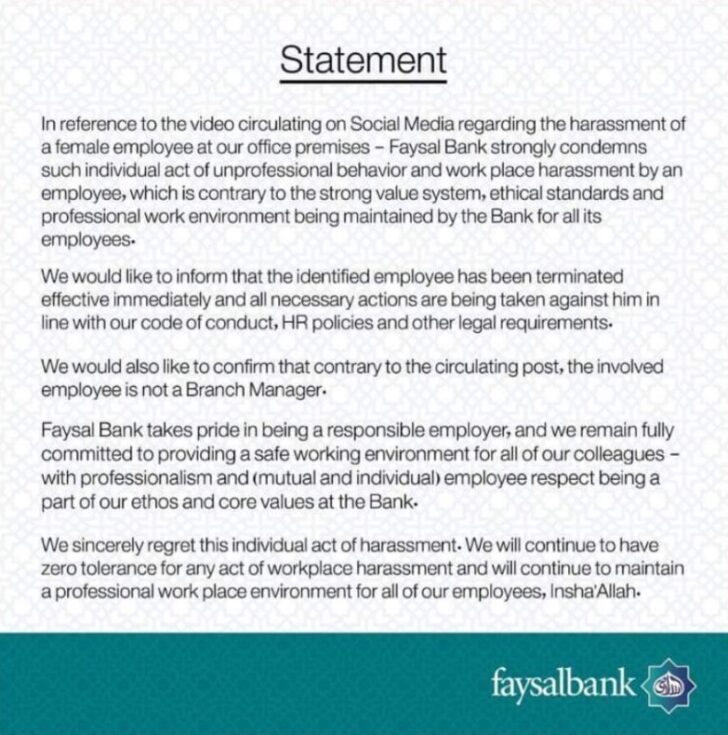 کچھ دن پہلے ہی ، اسلام آباد میں ایک بینک منیجر (محکمہ کریڈٹ) کو ایک وائرل ویڈیو میں دارالحکومت کے ایف -10 سیکٹر میں ایک خاتون کو ہراساں کرتے ہوئے دیکھا گیا تھا۔ یہ واقعہ فصیل بینک کی ایک شاخ میں پیش آیا۔
کوششوں کے بعد ، واقعہ کی فوٹیج سوشل میڈیا پر وائرل ہونے کے بعد پولیس اس شخص کو پکڑنے میں کامیاب ہوگئی ہے۔
ایسا لگتا ہے کہ ہمارے معاشرے میں خواتین کے خلاف ہراساں کرنے کا کلچر ایک معمول بن گیا ہے۔ ملک بھر میں خواتین کو چھیڑا جانے ، ہراساں کرنے اور بعض اوقات ان کے ساتھ بدسلوکی کی اطلاع ملی ہے۔ گھریلو خواتین ، کمسن طالبات ، مزدور طبقے کی خواتین ، یہاں تک کہ مشہور شخصیات کو بھی نشانہ بنایا گیا ہے۔
ان میں سے بیشتر واقعات کی اطلاع نہیں ملتی ہے کیونکہ مجرموں کے خلاف زیادہ ثبوت موجود نہیں ہیں۔ خوش قسمتی سے اسلام آباد میں ایک خاتون کے لئے ، مجرم کیمرے میں پکڑا گیا۔
حال ہی میں ، اسلام آباد کے علاقے ایف -10 میں ایک بینک منیجر نے ایک خاتون کو پریشان کرتے دیکھا۔ اس واقعے کی سی سی ٹی وی فوٹیج کو گرفت میں لیا گیا اور اسے سوشل میڈیا پر اپ لوڈ کیا گیا۔ یہ ویڈیو وائرل ہوئی ہے ، جس کی وجہ سے آئی جی پی اسلام آباد محمد عامر ذوالفقار نے ڈی آئی جی (آپریشنز) وقار الدین سید کو منیجر کے خلاف کارروائی کرنے کا حکم دیا۔
شالیمار کے اسسٹنٹ سپرنٹنڈنٹ رانا عبدالوہاب نے واقعے کی تحقیقات کے لئے ایک ٹیم تشکیل دی۔ پولیس نے ملزم کو گرفتار کرلیا ہے کیونکہ قانونی کارروائی جاری ہے۔