According to Wikipedia, Engin Altan and Esra Bilgic are the parents of Pakistani showbiz star Yasir Hussain.
Due to Wiki page edits the controversial stars appear to be facing the heat for their frequent taunts of Turkish stars and their growing fan following in Pakistan. According to news Yasir Husain's Wiki page was edited by unknown sources in the past weeks.
The changes in the star's wiki page shows Esra Bilgiç as Yasir Hussain's mother, Engin Altan Düzyatan as Yasir's father, and Marvi Sirmed, Aziz Mian Qawwal and Dani Daniels as his spouse.
After being updated, the Google is showing the same information and still are seen unchanged.
On the irresponsive updates on Wiki page Yasir Husain responded as:
"I don't know what is wrong with people and I don't believe in pages like Wikipedia where you can go and change data according to your mental health I don't know what is it on about you or anyone else it is not that important I think for me … These controversies don't bother me."
Remember that Yasir Husain, previously, targeted the Turkish Stars and Turkish Dramas that are much liked in Pakistan. He criticized the Turkey Dramas and quoted in his post.
"Landy k kapray aur Turkey k dramay, dono hee local industry ko tabah kardein gay,"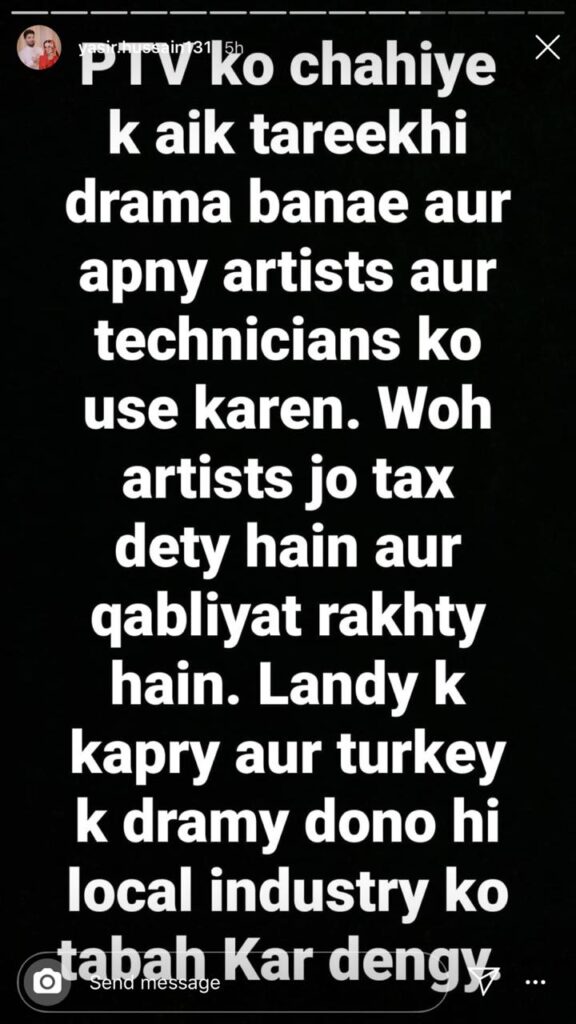 ویکی پیڈیا میں ایڈیٹنگ کے ذریعے انگن التان اور اسرا بلجیک کو یاسر حسین کے والدین کی حیثیت سے دکھائے جانے پر تنازع کھڑا ہو گیا
ویکی پیڈیا کے مطابق ، انگن التان اور اسرا بلجیک پاکستانی شوبز اسٹار یاسر حسین کے والدین ہیں۔
وکی پیج میں ایڈیٹ کی وجہ سے متنازعہ اداکار پاکستان میں اپنی ترک اداکاروں اور ان کی بڑھتی ہوئی مقبولیت کی وجہ سے غصے میں دکھائی دیتے ہیں۔ خبروں کے مطابق یاسر حسین کے وکی پیج کو گذشتہ ہفتوں میں نامعلوم ذرائع نے ایڈیٹ کیا تھا۔
اداکار کے وکی پیج میں ہونے والی تبدیلیوں میں اسرا بلجیک کو یاسر حسین کی والدہ ، انگن التان دویازدان کو یاسر کے والد کی حیثیت سے ، اور ماروی سرمد ، عزیز میاں قوال اور دانی ڈینیئلز کو ان کی شریک حیات کے طور پر دکھایا گیا ہے۔
اپ ڈیٹ ہونے کے بعد ، گوگل وہی معلومات دکھا رہا ہے اور اب بھی وہی نظر آتا ہے۔
وکی پیج پر غیر ذمہ دارانہ اپ ڈیٹس پر یاسر حسین نے کہا
مجھے نہیں معلوم کہ لوگوں کو کیا مسلہ ہے اور میں ویکی پیڈیا جیسے صفحات پر یقین نہیں کرتا جہاں آپ جا سکتے ہیں اور اپنے ذہن کے مطابق ڈیٹا تبدیل کر سکتے ہیں مجھے نہیں معلوم کہ یہ آپ یا کسی اور کے بارے میں کیا ہے۔ یہ میرے لئے اہم ہے۔ یہ تنازعات مجھے پریشان نہیں کرتے ہیں۔
یاد رہے کہ یاسر حسین ، اس سے قبل ، ترک اداکاروں اور ترکی ڈراموں کو نشانہ بناتے تھے جو پاکستان میں کافی پسند کیے جاتے ہیں۔ انہوں نے ترکی ڈراموں کو تنقید کا نشانہ بنایا اور اپنی پوسٹ میں حوالہ دیا۔
"لنڈے کے کپڑے اور ترکی کے ڈرامے ، دونوں ہی لوکل انڈسٹری کو تبا کاردیں گے "