What is KIOSK?
NADRA has developed its own E-commerce platform, which is designed to provide the online payment and collection facility to the people and organizations through its outlets. The people can get the benefit of the convenient, low cost alternative to bill payments and for other electronic transactions, when they extend the customer convenience. What is NADRA KIOSK Reporting?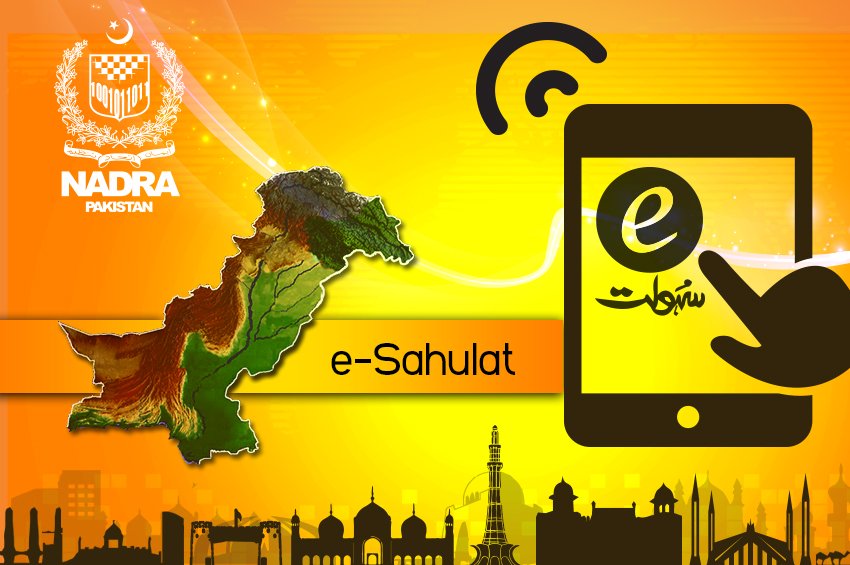 People want to know what is the NADRA KIOSK reporting, which is the government services portal and it is designed to manage the bill payments, business dealings, money transfer and other options easily and conveniently. At this time, NADRA is providing the facilitations of KIOSK in Multan, Lahore, Rawalpindi, Karachi, Faisalabad, Islamabad and Hyderabad. The government is making plan to provide the NADRA KIOSK all over the country
NADRA KIOSK / Features
NADRA KIOSK has following preferences and features, which have been incorporated in application to ensure the system and transactional security.
Personalized security settings for transaction according to requirements of users.
Developed on ISO 8583 standards
Bio-metric and personal identification number level security.
Encryption algorithm for every transaction.
Almost all of the national utility service providers and the telecom operators are attached with NADRA e-Sahulat to make it viable commercially and reliable network operationally. You can check the brief account of the Services & Products, which are offered now:
Bill Payments:
Utility Companies, Electricity, water, Phone, Gas
Payment of banks by account holders
Cash Disbursement
Disbursement of fund for projects of e-Government
Other Devices
Verification of Computerized National Identity card
e-Governance

NADRA KIOSK / Motivation
NADRA has developed the e-commerce platform and it is designed in such way to provide the online payment and collection facility for the people and organizations through its different outlets. NADRA has established its outlets at different public places through the franchise network and they are connected to the National Data Warehouse of NADRA through the provision of safe internet connections. The high level encryption makes sure the safety of the data of the individuals, which is transmitted to warehouse to carry out the verification. This system offers the low cost and convenient alternative to the bill payments and other electronic transactions at the time of providing the customer convenience.
The Main Page / KIOSK Login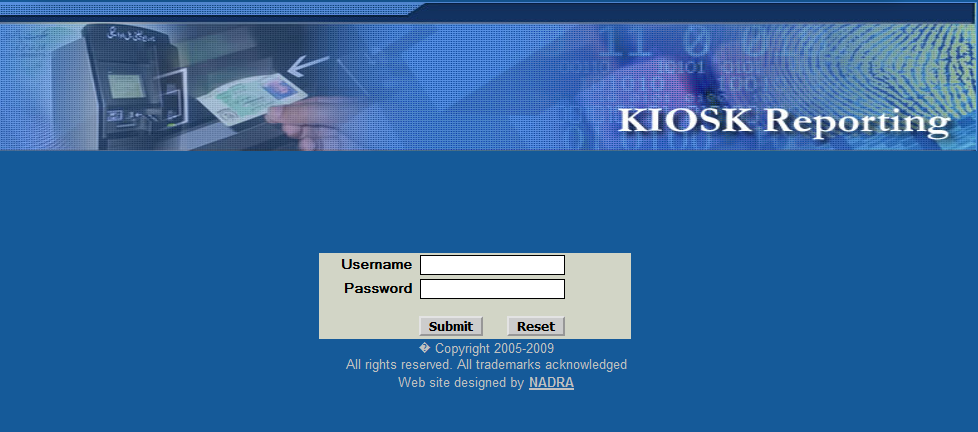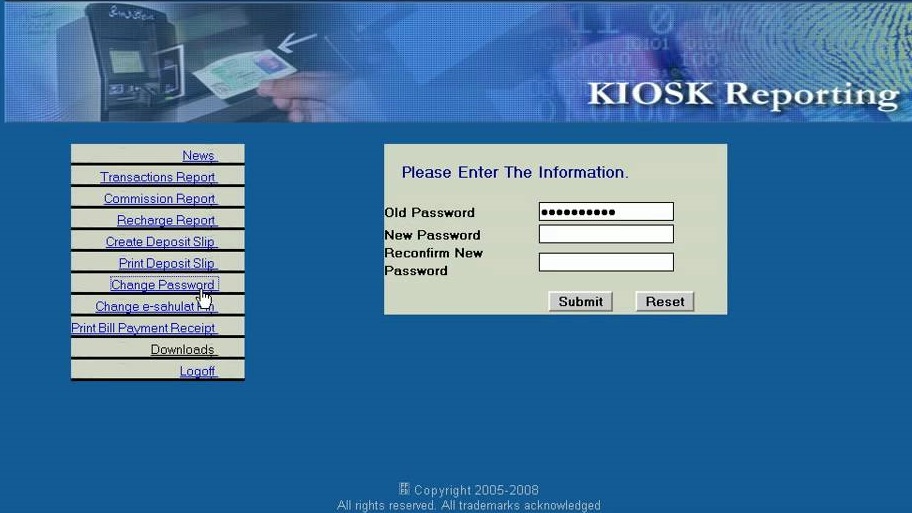 First of all, you will have to sign up and after that you will find the page showing details of old password, new password and reconfirm new password. This portal is used to manage different types of the activities associating to the social standing. Now you will be able to monitor the progress, asset allocation, salary slip deposit cycles, financial schematics and other options, which are provided in the printable format.
نادرا کیوسک رپورٹنگ کیا ہے؟
نادرا کیوسک رپورٹنگ کیا ہے؟
نادرا نے اپنا ای کامرس پلیٹ فارم تیار کیا ہے ، جو اپنے سیسٹم ذریعے لوگوں اور تنظیموں کو آن لائن ادائیگی اور جمع کرنے کی سہولت مہیا کرنے کے لئے ڈیزائن کیا گیا ہے۔ جب وہ صارفین کی سہولت میں توسیع کرتے ہیں ، لوگوں کو بل کی ادائیگی کے لیے آسان اور کم لاگت متبادل اور دیگر الیکٹرانک لین دین کا فائدہ حاصل ہوسکتا ہے۔ نادرا کیوسک رپورٹنگ کیا ہے؟
لوگ یہ جاننا چاہتے ہیں کہ نادرا کیوسک رپورٹنگ کیا ہے ، جو سرکاری خدمات کا پورٹل ہے اور اسے بل کی ادائیگی ، کاروباری معاملات ، رقم کی منتقلی اور دیگر آپشن آسانی سے اور آسانی سے سنبھالنے کے لئے ڈیزائن کیا گیا ہے۔ اس وقت ، نادرا ملتان ، لاہور ، راولپنڈی ، کراچی ، فیصل آباد ، اسلام آباد اور حیدرآباد میں کیوسس کی سہولیات مہیا کررہی ہے۔ حکومت پورے ملک میں نادرا کیوسک فراہم کرنے کا منصوبہ بنا رہی ہے
نادرا کیوسک / خصوصیات
نادرا کیوسک کی مندرجہ ذیل ترجیحات اور خصوصیات ہیں ، جو نظام اور لین دین کی حفاظت کو یقینی بنانے کے لئے درخواست میں شامل کی گئیں ہیں۔
صارفین کی ضروریات کے مطابق لین دین کے لئے ذاتی نوعیت کی حفاظتی ترتیبات۔
آئی ایس او 8583 معیار پر تیار ہوا
• بائیو میٹرک اور ذاتی شناخت نمبر کی سطح کی حفاظت۔
ہر لین دین کے لئے خفیہ کاری الگورتھم۔ تجارتی اور قابل اعتماد نیٹ ورک کو عملی طور پر قابل عمل بنانے کے لے تقریبا تمام قومی یوٹیلیٹی سروس پرووائڈرز اور ٹیلی کام آپریٹرز نادرا ای سہولت کے ساتھ منسلک ہیں۔ آپ سروسز اینڈ پروڈکٹ کا مختصر اکاؤنٹ چیک کرسکتے ہیں ، جو اب پیش کیے جاتے ہیں:
بل کی ادائیگی
یوٹیلیٹی کمپنیاں ، بجلی ، پانی ، فون ، گیس
اکاؤنٹ ہولڈرز کے ذریعہ بینکوں کی ادائیگی نقد رقم کی فراہمی
ای گورنمنٹ کے منصوبوں کے لئے فنڈ کی فراہمی
دیگر آلات
کمپیوٹرائزڈ قومی شناختی کارڈ کی تصدیق
شناخت کا انتظام
ای گورننس
آئی این جی او رجسٹریشن
محفوظ شہ
کیوسک اور ای سہولات
انٹیگریٹڈ بارڈر مینجمنٹ سسٹم
انتخابی فہرستیں
گاڑی رجسٹریشن کارڈ ای ٹی او – اسلام آباد
ای ٹول جمع کرنے کا نظام
افغان قومی رجسٹریشن
فرنٹیئر کور کارڈز کی تیاری
نادرا کیوسک / محرکات
نادرا نے ای کامرس پلیٹ فارم تیار کیا ہے اور اسے اس طرح سے ڈیزائن کیا گیا ہے کہ وہ اپنے مختلف دکانوں کے ذریعہ لوگوں اور تنظیموں کو آن لائن ادائیگی اور جمع کرنے کی سہولت مہیا کرے۔ نادرا نے فرنچائز نیٹ ورک کے ذریعہ مختلف عوامی مقامات پر اپنے آؤٹ لیٹس قائم کیے ہیں اور وہ نادرا کے نیشنل ڈیٹا گودام سے محفوظ انٹرنیٹ رابطوں کی فراہمی کے ذریعے جڑے ہوئے ہیں۔ اعلی سطح کا خفیہ کاری ان افراد کے ڈیٹا کی حفاظت کو یقینی بناتا ہے ، جو تصدیق کو انجام دینے کے لئے گودام میں منتقل ہوتا ہے۔ یہ سسٹم صارفین کو سہولت فراہم کرنے کے وقت بل کی ادائیگیوں اور دیگر الیکٹرانک لین دین کے لئے کم قیمت اور آسان متبادل پیش کرتا ہے۔
مین صفحہ / کیاسک لاگ ان
سب سے پہلے تو ، آپ کو سائن اپ کرنا پڑے گا اور اس کے بعد آپ کو ایسا صفحہ ملے گا جس میں پرانے پاس ورڈ ، نئے پاس ورڈ کی تفصیلات اور نئے پاس ورڈ کی دوبارہ تصدیق کرنا ہوگی۔ اس پورٹل کا استعمال معاشرتی موقف سے وابستہ مختلف قسم کی سرگرمیوں کے انتظام کے لئے کیا جاتا ہے۔ اب آپ اس پیشرفت ، اثاثہ کی مختص رقم ، تنخواہ کی پرچی جمع کرنے کے چکروں ، مالی اسکیمیات اور دیگر آپشنز کی نگرانی کرنے کے اہل ہوں گے ، جو پرنٹ ایبل فارمیٹ میں فراہم کی گئی ہیں۔