Vivo today introduced the new V19 in Pakistan through an online kick-off event. This new smartphone focuses on important functions such as Super Night Mode, the Dual iView Display and the Aura Screen Light.
V19 combines exceptional camera features, cutting-edge technology and fashionable elegance to offer consumers a truly innovative mobile experience at an affordable price of Rs. 59,999.
vivo is committed to consumer innovation, and V19 reflects our deep understanding of consumer needs. With industry-leading selfie technology, beautiful design and strong performance, V19 is perfect for young consumers interested in camera and entertainment features, "said Zohair Chohan, brand manager for vivo in Pakistan. "V19 is a future-oriented smartphone that complements the lifestyle of young consumers."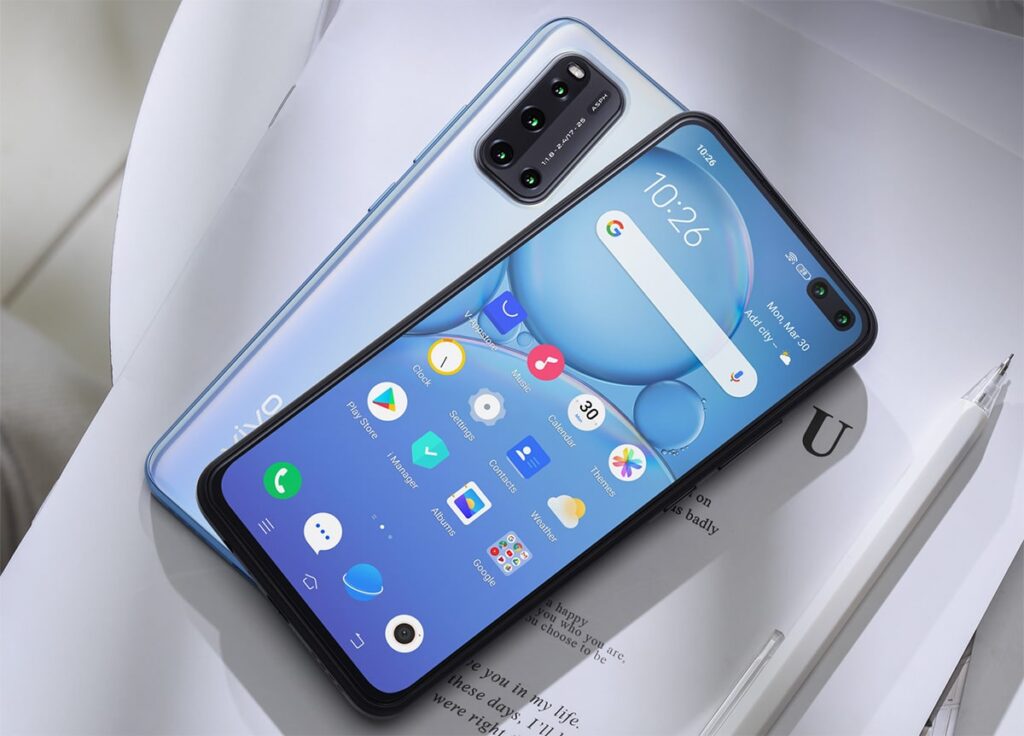 vivo recently announced Fahad Mustafa and Hania Amir as brand ambassadors in Pakistan.
Cutting-Edge Super Night Mode Camera and Beautiful Selfies
V19's dual-front camera with a 32-megapixel main camera and an 8-megapixel super wide-angle camera helps users take their best selfie no matter where and when.
The front camera supports a wide-angle selfie of up to 105 degrees with an integrated AI algorithm, with which wide-angle distortions between foreground and background can be corrected independently of one another in order to achieve authentic and dazzling pictures. The front camera is also equipped with Ultra Stable Selfie Video, which gives wide-angle selfie videos a new level of stability.
V19 has a powerful AI quad camera on the back with a 48 megapixel main camera, an 8 megapixel super wide-angle camera, a 2 megapixel macro camera and a 2 megapixel bokeh camera. In addition to Ultra Stable Video, V19 offers numerous AI image and video functions, including AI video filter and AI video editor for professional yet simple editing.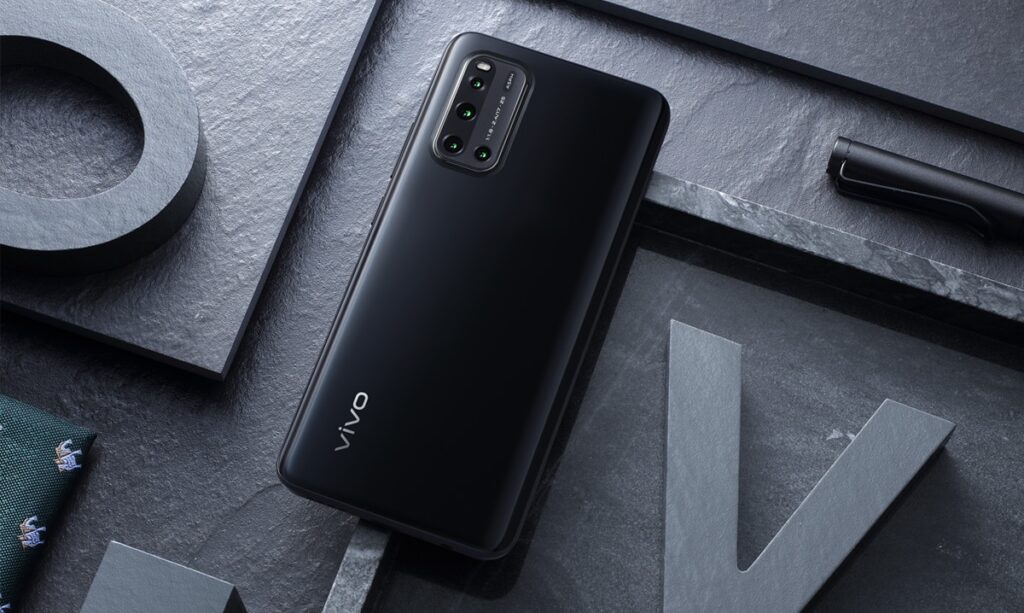 Both the front and rear cameras are equipped with special modes to take breathtaking photos at night.
The front camera's Super Night Selfie mode – with layer-based beautification, spatial merging of noise removal and multiple exposure – allows users to take clear and beautiful selfies against the backdrop of a night city skyline or the starry landscape.
With the Super Night Portrait mode of the rear view camera – with multi-frame screening, temporal alignment and spatial merging of noise suppression – users can also take high-resolution photos of all the wonders of life at night.
Innovative Display and Design for a Distinctive Style
The V19 features an elegant 6.44-inch Super AMOLED FHD + Dual iView display, which consists of a superior E3 OLED and supports 100% DCI-P3 color gamut, bringing vivid colors to life. The brightness of the display automatically adapts to the ambient light and filters 42 percent more blue light than the E2 OLED, resulting in a healthier user experience.
V19 is designed for both comfort and style and reinforces vivo's commitment to user-oriented design. With ergonomically designed 3D curves, V19 fits the palms of users perfectly, while the Corning Gorilla Glass 6 offers elegance and sophistication.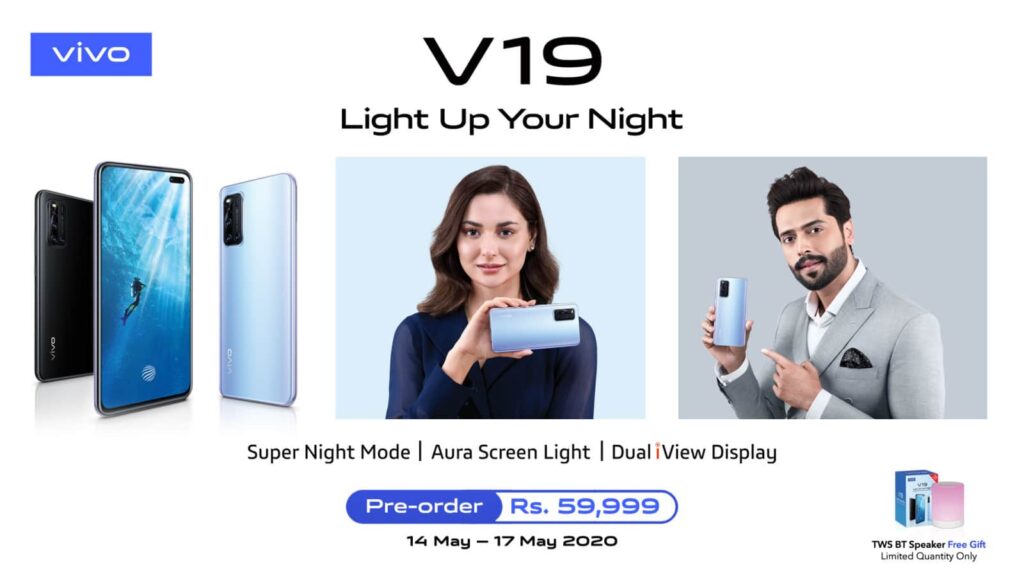 Strong Performance Empowers All-Day Usage for Fast-Moving Consumers
In addition to industry-leading selfie features and a sleek design, V19 offers premium performance and high battery efficiency. A super capacity of 4500 mAh offers a long lifespan, while the 33W vivo FlashCharge 2.0 technology enables 70 percent charging in just 40 minutes and offers comfort for fast-moving consumers.
V19 is powered by the Qualcomm Snapdragon Octa-Core 712 processor and has a fast interface and maximum computing power.
To support the high energy consumption of its AI-enabled camera functions, the V19 is equipped with copper pipe liquid cooling, which guarantees a longer CPU life, more reliable phone performance and smooth multitasking. V19 is equipped with 8 GB of RAM + 128 GB of storage, so users can store everything they need to work, rest and play.
V19 also offers an enhanced gaming experience with Multi-Turbo 3.0 to optimize touch controls and FPS stability, as well as an ultra-game mode with functions such as fast screen capture, screen recording and game vibration.
Vivo V19 Key Specifications:
6.44-inch Super AMOLED FHD+ Dual iView Display
32MP Dual Front Camera with Super Night Selfie and Aura Screen Light (105-degree wide Selfie) Image Stabilization for Selfie Video
Rear 48MP main camera, 8MP super Wide-Angle Camera, 2MP macro camera and 2MP bokeh camera. Super Night Portrait, Art Portrait. Featuring Ultra Stable Video and Art Video Modes for Live Bokeh and Color Change.
Qualcomm Snapdragon 712 2.3GHz octa-core SoC,
8GB RAM, 128GB UFS 2.1 Fastest Storage, up to 512GB microSD card support,
Triple SIM slot.
33W vivo FlashCharge 2.0 & 4500mAh (70% Charge in 40 minutes), Type-C port
In-Display Fingerprint Scanning, Dual 4G LTE, Bluetooth 5.0
Copper Tube Liquid Cooling, Multi-Turbo 3.0 with Ultra Game Mode
AI Noise Cancelling for Video & Voice Calls
Funtouch OS 10 based on Android 10
Pricing & Availability:
The suggested retail price for vivo V19 in Pakistan is Rs. 59,999 and the phone is currently available to pre-order from May 14 through May 17, 2020. V19 is available in two different color schemes: Sleek Silver & Gleam Black.
Official sales begin on May 18, 2020 and vivo V19 offers a one-year warranty with 15 days of free replacement and 6 months of accessories.
The vivo V19 is duly approved by the Pakistan Telecommunications Authority and supports all cellular networks in Pakistan on both SIM slots in 4G LTE, 3G and 2G mode.
Zong customers can also get 12 GB of free mobile Internet with their 4G SIM card in slot 1 (2 GB of Internet / month for 6 months).
ویوو نے ڈوئل آئی ویو ڈسپلے اور سپر نائٹ موڈ کے ساتھ وی 19 لانچ کر دیا
ویوو نے آج پاکستان میں آن لائن لانچ ایونٹ کے ذریعے نیا V19 لانچ کیا۔ یہ نیا اسمارٹ فون کلیدی خصوصیات پر مرکوز ہے جس میں سپر نائٹ موڈ ، ڈوئل آئی ویو ڈسپلے اور آورا اسکرین لائٹ شامل ہیں۔
وی 19 صارفین کے لئے ایک قابل قدر جدید تجربہ فراہم کرنے کے لیے غیر معمولی کیمرے کی صلاحیتوں ، جدید ٹیکنالوجی اور فیشن کی خوبصورتی کو ایک ساتھ لاتا ہے ، جو صارفین کو ایک سو پچاس ہزار روپے سستی قیمت پر مہیا کیا جاسکتا ہے۔
ویوو نے حال ہی میں فہد مصطفی اور ہانیہ عامر کو پاکستان میں برینڈ ایمبیسڈر کے طور پر اعلان کیا ہے۔
کٹنگ ایج سپر نائٹ موڈ کیمرا اور خوبصورت سیلفیز
مین کیمرا 32 ایم پی اور 8 ایم پی کا سپر وسیع زاویہ والا کیمرا V19 کا ڈبل ​​فرنٹ کیمرا صارفین کو وقت اور جگہ سے قطع نظر اپنی بہترین سیلفی لینے میں مدد کرتا ہے۔
سامنے والا کیمرا 105 ڈگری تک کے وسیع زاویہ سیلفی کی حمایت کرتا ہے ، جس میں ایک بلٹ میں الگورتھم ہے جو مستند اور شاندار شاٹس کیلئے پیش منظر اور پس منظر کے مابین وسیع زاویہ کی مسخ کو آزادانہ طور پر درست کرسکتا ہے۔ فرنٹ کیمرا الٹرا اسٹیبل سیلفی ویڈیو سے بھی لیس ہے ، جس سے وسیع زاویہ والے سیلفی ویڈیوز میں استحکام کی ایک نئی سطح آتی ہے۔
ایک مخصوص انداز کے لئے جدید ڈسپلے اور ڈیزائن
وی 19 میں ایک چیکنا 6.44 انچ کا سپر دوہری آئی ویو ڈسپلے ہے ، جو اعلی اور رنگ پہلوؤں کی حمایت کرتا ہے ، جس سے متحرک رنگ زندگی میں آجاتے ہیں۔ ڈسپلے کی چمک خودکش روشنی کی سطح کے مطابق ہوتی ہے
مضبوط کارکردگی تیزی سے چلنے والے صارفین کے لئے پورے دن کے استعمال کو تقویت دیتی ہے
صنعت کی معروف سیلفی صلاحیتوں اور چیکنا ڈیزائن کے علاوہ ، وی 19 میں اشرافیہ کی کارکردگی اور بیٹری کی اعلی کارکردگی ہے۔ 4500 ایم ای ایچ بیٹری کی ایک اعلی صلاحیت دیرپا استحکام فراہم کرتی ہے ، جبکہ 33 ڈبلیو وایو فلیشچارج 2.0 ٹکنالوجی صرف 40 منٹ میں 70 فیصد چارج کے قابل بناتی ہے ، جو تیز رفتار حرکت پذیر صارفین کو سہولت کی پیش کش کرتی ہے۔
کوالکوم اسنیپ ڈریگن آکٹہ کور 712 پروسیسر کے ذریعہ تقویت یافتہ ، وی 19 میں تیز رفتار انٹرفیس اور ٹاپ کمپیوٹنگ کی کارکردگی ہے۔
اس کی طاقت سے چلنے والی کیمرے کی صلاحیتوں کے اعلی توانائی کی کھپت کی حمایت کرنے کے لئے ، وی 19 کوپر ٹیوب مائع کولنگ کے ساتھ بنایا گیا ہے ، جو طویل سی پی یو کی زندگی ، زیادہ قابل اعتماد فون کی کارکردگی ، اور ہموار ملٹی ٹاسکنگ کی ضمانت دیتا ہے۔ وی 19 8 جی بی ریم + 128 جی بی اسٹوریج سے لیس ہے ، جس سے صارفین کو کام ، آرام اور کھیل کے لئے اپنی ضرورت کی ہر چیز محفوظ رکھ سکتی ہے۔