Vivo has launched one of the cheapest 5G-capable smartphones in China under the name Vivo iQOO Z1x 5http://www.mobile-phone.pk/vivo_iqoo_z1x-10625/G. The best thing about it is that the aggressive pricing does not deviate from the first-class specification for which the iQOO range is known.
Design and Display
The 5G-compatible mid-range smartphone follows the camera's rectangular aisle that most Vivo phones, including Vivo V17, Vivo V19, and Vivo Y30, follow.
The smartphone is equipped with a triple sensor rear view camera that is aligned vertically at the top left. The fingerprint sensor is attached on the right and available in three colors: Sea Azure, Sharp Cool Black and Water White.
The Vivo iQOO Z1x is based on a 6.57-inch IPS LCD panel with a resolution of 1080p, a high aspect ratio of 20: 9, an HDR10-compatible screen and support for the P3 color gamut with a refresh rate of rich 120 Hz.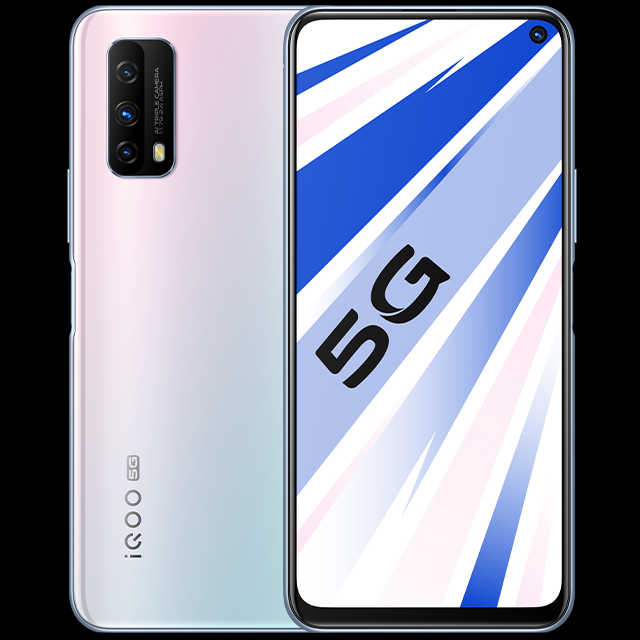 Internals and Storage
The smartphone is powered by the latest Snapdragon 765G, which supports dual-mode 5G (SA / NSA). The SoC is equipped with 6 GB or 8 GB LPDDR4x RAM and 128 GB or 256 GB onboard memory. This is the first smartphone in the product line to offer less than a processor from the SD 800 series.
The software front is managed by iQOO UI-based Android 10.
Cameras
The smartphone has a triple sensor rear view camera with a 48 MP main shooter with a 1: 1.79 aperture, a 2 MP macro lens with a 1: 2.4 aperture and a 2 MP depth sensor with 1: 2.4 aperture. The rear view camera offers modes such as portrait mode, night view, panorama, time-lapse, slow-motion video recordings with up to 1080p and up to 4K video recordings.
A 16 MP snapper is supplied in the hole for selfies.
Battery and Pricing
The Vivo iQOO Z1x 5G contains a 5000 mAh battery with 33 W quick charge support. According to the company, the battery can rise from 0 to 100 in 60 minutes.
The handset is currently available for sale in China using the following price tags.
 GB RAM + 64 GB storage ~$228
6 GB RAM + 128 GB storage ~$257
8 GB RAM + 128 GB storage ~$286
8 GB RAM + 256 GB storage ~$329
Vivo iQOO Z1x specifications
CPU: Octa-core (1×2.4 GHz Kryo 475 Prime & 1×2.2 GHz Kryo 475 Gold & 6×1.8 GHz Kryo 475 Silver)
GPU: Adreno 620
Chipset: Qualcomm SDM765 Snapdragon 765G (7 nm)
OS: Android 10.0, iQOO UI 1.0
Networks: 2G, 3G, 4G LTE, 5G;
Display:
LCD capacitive touchscreen, 6.57 inches, 1080 x 2400 pixels resolution, 20:9 aspect ratio
Memory:
RAM: 6 GB, 8 GB
Internal: 64 GB, 128 GB, 256 GB
Camera:
Primary: 48 MP + 2 MP + 2 MP
Secondary: 16 MP
Connectivity: LTE, GPS, Wi-Fi, Bluetooth 5.0, USB Type-C, 3.5 mm headphone jack
Fingerprint scanner: Yes (Side-mounted)
Battery: 5000 mAh
Price:
6 GB RAM + 64 GB storage ~$228
6 GB RAM + 128 GB storage ~$257
8 GB RAM + 128 GB storage ~$286
8 GB RAM + 256 GB storage ~$329
ویو آئی کیو اواوزیڈ ون ایکس 5 جی 230 ڈالر میں سب سے زبردست فون
ویوو نے آئی کیو اواوزیڈ ون ایکس 5 جی کے تحت چین میں ایک سب سے سستا 5G تیار سمارٹ فون لانچ کیا ہے۔ سب سے اچھی بات یہ ہے کہ ، اس کی جارحانہ قیمتوں سے متعلق اعلٰی تصریح سے دور نہیں ہوتا ہے جس کے لئے آئی کیو لائن اپ جانا جاتا ہے۔
ڈیزائن اور ڈسپلے
5 جی ہم آہنگ وسط رینج اسمارٹ فون آئتاکار کیمرا آئل ٹرینڈ کی پیروی کرتا ہے جس میں زیادہ تر ویوو فونز بشمول ویوو 17 ، ویوو وی 19 ، اور ویوو وئ 30 شامل ہیں۔
اسمارٹ فون ایک ٹرپل سینسر ریئر کیمرہ کے ساتھ آتا ہے جو عمودی طور پر اوپر بائیں طرف سیدھا جاتا ہے۔ فنگر پرنٹ سینسر دائیں طرف لگا ہوا ہے ، اور یہ تین رنگوں میں دستیاب ہے: سی ایور ، شارپ ٹھنڈا سیاہ ، اور واٹر وائٹ۔
اندرونی اور ذخیرہ
اسمارٹ فون کو جدید ترین اسنیپ ڈریگن 765 جی سے چلتا ہے جو ڈوئل موڈ 5 جی کی حمایت کے ساتھ آتا ہے۔ ایس او سی 6 جی بی یا 8 جی بی ایل پی ڈی ڈی آر 4 ایکس ریم اور 128 جی بی ، یا 256 جی بی جہاز والے اسٹوریج کے ساتھ سرفہرست ہے۔ لائن اپ کا یہ پہلا اسمارٹ فون ہے جو کسی بھی ایس ڈی 800 سیریز پروسیسر سے کم کسی بھی کھیل کو کھیلتا ہے۔
کیمرے
اسمارٹ فون ایف / 1.79 یپرچر 48 ایم پی کے مرکزی شوٹر کے ساتھ ٹرپل سینسر کا پیچھے والا کیمرا کھیلتا ہے ، جس میں ایف / 2.4 یپرچر 2 ایم پی میکرو لینس ، اور ایف / 2.4 یپرچر 2 ایم پی گہرائی کا سینسر شامل ہوتا ہے۔ پیچھے والا کیمرہ پورٹریٹ وضع ، نائٹ ویو ، پینورما ، وقت گزر جانے ، 1080 پی سست موشن ویڈیو شوٹنگ ، اور 4 کے تک ویڈیو ریکارڈنگ جیسے موڈز پیش کرتا ہے۔