While the current year has been pretty bad for the local auto industry due to the corona virus pandemic, there might be some good news if pictures of a new Toyota Corolla going viral on the road in Pakistan are going viral. This happens shortly after the company launched the Yaris on the local market.
It is the new 12th generation model. The new model is based on TNGA's global platform, "Toyota New Global Architecture".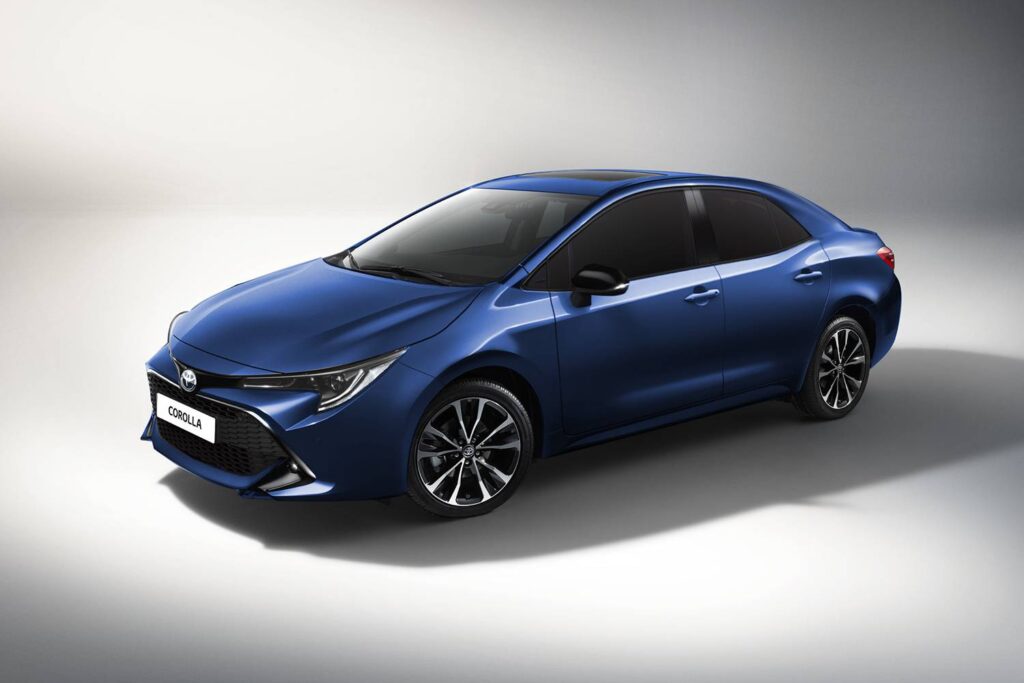 It is very likely that the new model will have the same design as in the Asian market, but the headlights may vary with the projector headlights by default, but the headlight has a double or triple DRL wrap around the case.
Apart from that, some minor changes are made, e.g. B. curved bottom edges to give the car a sportier look, and the side mirrors can have integrated indicators. On the back, we may see new LED taillights and bumpers.
Expect more or less the same design inside, minus the characteristics for the regions. It will likely have a 7-inch digital cluster and with the ability to switch between the analog and digital speedometers. However, it is too early to say what kind of layout we will get.
Apart from that, the top variant may have digital automatic air conditioning and an electronic parking brake. While the basic models with knobs for climate control and levers for the parking brake must be sufficient. Depending on the equipment variant, it offers various other functions such as cruise control, power driver's seat, sunroof and push button start.
It will have two engine variants with a 1.8-liter 4-cylinder engine (2ZR-FAE) like the last generation or a 1ZR-FE engine with 1.6 liters. Both variants are petrol-powered.
Rumor has it it will hit the market in the second half of this year and will cost over Rs. 4 million.
ٹویوٹا پاکستان میں نئی ​​12 ویں جنریشن کرولا لانچ کرے گا
اگرچہ موجودہ سال کورونا وائرس وبائی امراض کی وجہ سے مقامی آٹو انڈسٹری کے لئے کافی خراب رہا ہے ، لیکن اس میں ایسی کوئی اچھی خبر ہوسکتی ہے جس میں پاکستان میں ایک نیا ٹویوٹا کرولا سڑک کنارے آزمایا جارہا ہے۔ کمپنی کے یاریوں کو مقامی مارکیٹ میں لانچ کرنے کے فورا بعد یہ بات سامنے آئی ہے۔
یہ 12 ویں جنریشن کا نیا ماڈل ہے۔ نیا ماڈل کمپنی کے عالمی پلیٹ فارم پر مبنی ہے جس کو ٹویوٹا نیو گلوبل آرکیٹیکچر ۔کہا جاتا ہے
یہ بہت امکان ہے کہ نیا ماڈل اسی طرز کی پیروی کرے گا جس طرح ایشین مارکیٹ میں پایا جاتا ہے لیکن پروجیکٹر ہیڈ لیمپ کے ساتھ ہیڈلائٹ مختلف ہوسکتی ہیں لیکن معیاری کے مطابق ہیڈلائٹ دوہری یا ٹرپل ڈی آر ایل لپیٹ رہی ہے۔
اس کے علاوہ ، کچھ معمولی تبدیلیاں آئیں گی جیسے کار کو زیادہ اسپورٹ لِک دینے کے لیے مڑے ہوئے نچلے کناروں اور سائڈ آئینے میں باری کے اشارے مربوط ہوسکتے ہیں۔ پچھلے حصے میں ، ہم شاید ایل ای ڈی کی نئی ٹیل لائٹس اور بمپر دیکھ سکتے ہیں۔
اس کے علاوہ ، ٹاپ ویرینٹ میں ڈیجیٹل خودکار آب و ہوا کا کنٹرول ہوسکتا ہے اور اس میں الیکٹرانک پارکنگ بریک بھی ہوسکتی ہے۔ جبکہ بیس ماڈلز کو آب و ہوا پر قابو پانے اور پارکنگ کے وقفے کے لیے لیور کے لئے کافی ہونا پڑے گا۔ ٹرم لیول پر منحصر ہے ، یہ مختلف خصوصیات میں جیسے کروز کنٹرول ، پاور ڈرائیور سیٹ ، سنروف ، اور دوسروں کے درمیان پش بٹن اسٹارٹ کرے گی۔