Sadaf Kanwal has reached a million followers on Instagram and Shahroze Sabzwari was one of the first to congratulate her.
The Bisaat-e-Dil actor posted a screenshot of Sadaf Kanwal's Instagram feed with the followers identified as the Insta story. He gave the story a title;
"Congratulations Sadaf Kanwal."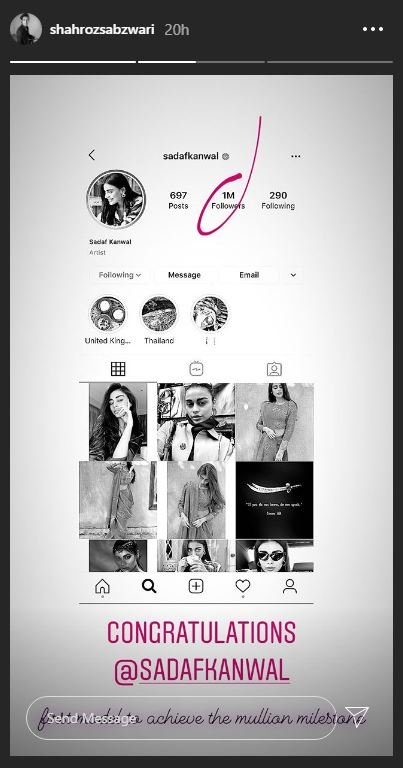 With all the rumors about the two of them, they certainly won't remain inconspicuous. According to the Dilruba actor, he met Sadaf at the International Pakistan Prestige Awards (IPPA 2019) in Oslo, Norway.
The two have come pretty close since then. Especially when Sadaf describes Safina Beroze as "mom" in a birthday request.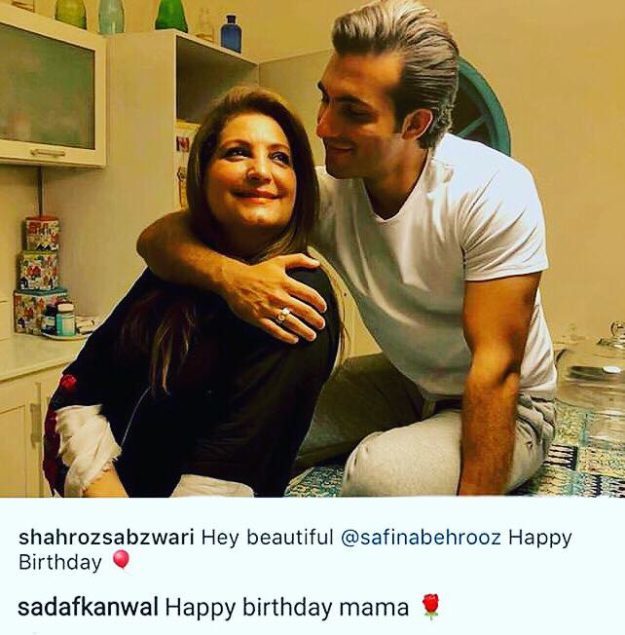 The comment sparked rumors again that the actor and model were together and how this might have played a role in Shahroze's breakup with his former wife Syra Yousuf. The couple was Pakistan's favorite, and fans still haven't gotten over the divorce.
Although Zara Noor Abbas came to her rescue in this area, rumors that the two are dating are not entirely extinct. No wonder they are lit again at the slightest development.
In the meantime, both Shahroze Sabzwari and Sadaf Kanwal have claimed that they are "just friends".
شہروز سبزواری کی صدف کنول کو 1 ملین فالورز پر مبارکباد
صدف کنول نے انسٹاگرام پر ایک ملین فالوورز کے حدف کو عبور کر لیا اور شہروز سبزواری انھیں مبارکباد دینے والے پہلے لوگوں میں شامل ہیں۔
بیسات دل کے اداکار نے صدف کنول کے انسٹاگرام فیڈ کا اسکرین شاٹ شائقین کے ساتھ انسٹا سٹوری پر شیئر کیا۔
ان دونوں کے ارد گرد کی تمام افواہوں کے ساتھ ، وہ یقینی طور پر کوئی کم پروفائل نہیں رکھے ہوئے ہیں۔ دلروبا اداکار کے مطابق ، انہوں نے ناروے کے شہر اوسلو میں انٹرنیشنل پاکستان پریسٹج ایوارڈ (آئی پی پی اے 2019) میں صدف سے ملاقات کی۔
اس کے بعد سے دونوں کافی قریب بڑھ گئے ہیں۔ خاص طور پر صدف نے سالگرہ کی خواہش میں سفینہ بیروز کو 'ماما' لکھ کر مبارکباد دی۔
ادھر ، شاہروز سبزواری اور صدف کنول دونوں نے زور دے کر کہا ہے کہ وہ 'صرف دوست' ہیں۔