The Korean Tech Giant, Samsung is soon going to hold the Unpacked event and there a lot of renders and leaks about the upcoming flagship S21 series are surfacing around. The series has already been uncovered in various unofficial leaks. For now, a detailed leak is surfaced show the design and detailed specification of the Samsung Galaxy S21 Ultra.
The leakstar, WinFuture, has released the images of the upcoming Galaxy S21 Ultra. The images reveal that the phone has two tone design in the Phantom Silver color. The design of the device in the image of this detailed is similar to that of previous leaks.
According to this detailed leak, the Samsung Galaxy S21 Ultra will come with a 6.8 inch display and curved edges. The rear panel is also flat. The S21 Ultra has a same size like S20. On display side, the Smasung Galaxy S21 Ultra will have a dynamic AMOLED panel. They display will also have a 2K resolution and a refresh rate of 120Hz. The body will be made up of Gorrila Glass and its peak brightness will be 1600 nits.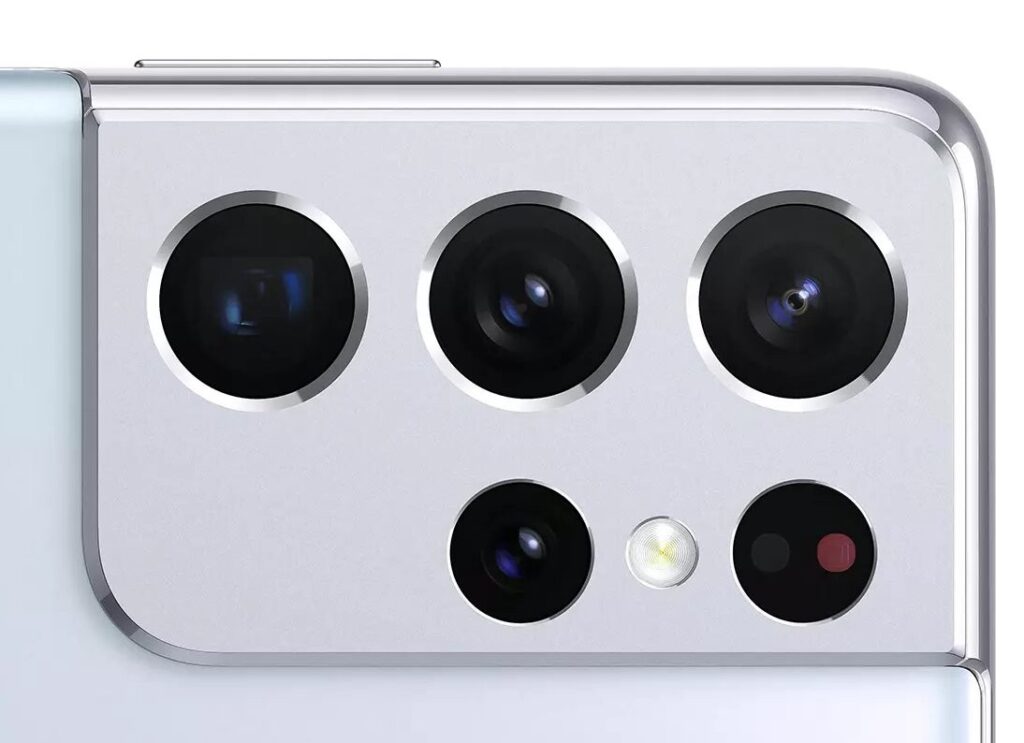 As far as the camera is concerned, the Samsung galaxy S21 Ultar will be housed with a rear camera having four lenses and it will have a 108MP main sensor and additionally featured with Laser AF. It will have an ultrawide lens of 12MP and two telephoto cameras as well. One camera will be a periscope lens with a 10x Zoom capability. The other will have 3x Zoom traditional telephoto lens. Both of them will be 10MP. The S21 Ultra will be equipped with a selfie shooter of 40MP housed in the punch hole cutout.
As far the internals, some regions will get Samsung owned Exynos 2100 chip, while it will be powered by Snapdragon 888 for other markets. The storage variations of the device will be 12GB RAM and 128GB/256GB and 512GB without expandable storage. S pen support is yet to be confirmed. The Samsung Galaxy S21 Ultra will be powered by a 4,500mAh battry with a support of fast charging feature as well. On the price side, the Galaxy S21 Ultra is expected to come around €1400 and the smartphone will be available for sale in mid January 2021.
کورین ٹیک کمپنی ، سیمسنگ جلد ہی ان پیکڈ ایونٹ کا انعقاد کرنے جارہا ہے اور آئندہ فلیگ شپ ایس 21 سیریز کے بارے میں بہت سارے افواہیں گردش کررہی ہیں۔ اس سلسلے کو پہلے ہی مختلف غیر رسمی لیکس سے بے نقاب کیا جا چکا ہے۔ ابھی کے لئے ، سیمسنگ گلیکسی ایس 21 الٹرا کے ڈیزائن اور اسکی تفصیلات کو ظاہر کرتے ہوئے ایک تفصیلی رساو سامنے آیا ہے۔
لیک اسٹار ، ون فیوچر نے آئندہ گلیکسی ایس 21 الٹرا کی تصاویر جاری کی ہیں۔ تصاویر سے پتہ چلتا ہے کہ فون میں فینٹم سلور رنگ میں دو ٹن ڈیزائن ہیں۔ اس تفصیل کی شبیہہ میں ڈیوائس کا ڈیزائن پچھلے لیک کی طرح ہے۔
اس تفصیلی لیک کے مطابق ، سام سنگ گلیکسی ایس 21 الٹرا 6.8 انچ ڈسپلے اور منحنی خطوط کے ساتھ آئے گا۔ پچھلا پینل بھی فلیٹ ہے۔ ایس 21 الٹرا کا سائز ایس 21 کی طرح ہے۔ ڈسپلے کی طرف ، سماسنگ گلیکسی ایس 21 الٹرا میں ایک متحرک ایمولڈ پینل ہوگا۔ ان کے ڈسپلے میں دو کے ریزولوشن اور ایک سو بیس Hz کی ریفریش ریٹ بھی ہوگا۔ ڈیوائس گورریلا گلاس سے بنا ہوگا اور اس کی چمک 1600 نائٹ ہوگی۔
جہاں تک کیمرے کا تعلق ہے تو ، سام سنگ ایس 21 الٹرا میں پیچھے والے کیمرے کے ساتھ چار لینز لگائے جائیں گے اور اس میں 108 ایم پی کا مین سینسر ہوگا اور اس کے علاوہ لیزر اے ایف کے ساتھ بھی اس کی خصوصیات ہوگی۔ اس میں 12 MP کا الٹرا وائیڈ لینس اور دو ٹیلی فوٹو کیمرے بھی ہوں گے۔ ایک کیمرہ پیرسکوپ لینس میں ہوگا جس میں دس ایکس زوم صلاحیت ہوگی۔ دوسرے میں تھری ایکس زوم کے روایتی ٹیلی فوٹو لینس ہوں گے۔ یہ دونوں دس ایم پی ہوں گے۔ ایس 21 الٹرا کارٹون ہول کٹ آؤٹ میں واقع 40 ایم پی کے سیلفی شوٹر سے لیس ہوگا۔
جہاں تک انٹرنلز ہیں ، کچھ علاقوں کو سام سنگ کی ملکیت میں ایکسینوس 2100 چپ ملے گی ، جبکہ اس کو اسنیپ ڈریگن 888 کے ذریعہ پاور دی جائے گی۔ ڈیوائس کی اسٹوریج کی مختلف حالتیں 12 جی بی ریم اور 128 جی بی / 256 جی بی اور 512 جی بی بغیر کسی قابل توسیع اسٹوریج کے ہوں گی۔ ایس پن سپورٹ کی حمایت کی تصدیق ابھی باقی ہے۔ سیمسنگ گلیکسی ایس 21 الٹرا میں 4،500 ایم اے ایچ کی بیٹری دی جائے گی جس میں فاسٹ چارجنگ فیچر کی بھی حمایت ہوگی۔ قیمت کے معاملے میں ، گلیکسی S21 الٹرا 1400 یورو کے قریب آنے کی توقع ہے اور یہ اسمارٹ فون 2021 کے وسط میں فروخت کے لئے دستیاب ہوگا۔