A cheaper version of the Samsung Galaxy Fold is reportedly in the works. Many had expected it to be called Galaxy Fold Lite, but a new leak suggested a different name and some other details.
Industry insider Ross Young has announced that the upcoming Galaxy Fold will instead be referred to as the Galaxy Fold Special Edition. The Galaxy Fold Special Edition costs $ 1099 and is not only the cheapest Galaxy Fold, but also the cheapest foldable smartphone overall.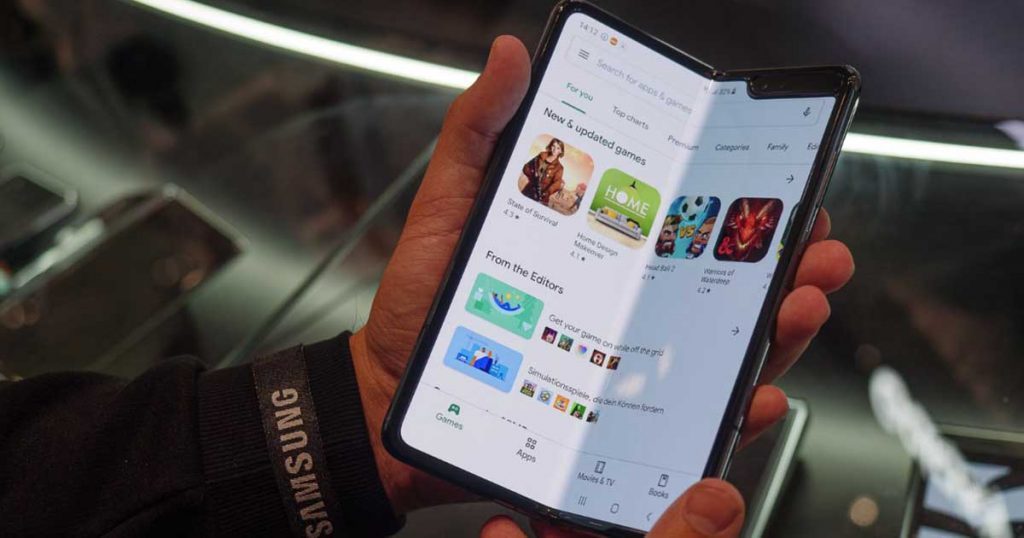 It seems that the cheaper foldable is Samsung's move to clear out the remaining vanilla galaxy fold inventory before the flagship galaxy fold 2 comes out. Young added that the device will be launched in July with a limited inventory of around 55,000 units.
Although it will be a Lite device, it is expected to ship with the flagship Snapdragon 865 SoC with 4G and 5G variants. It will be made of glass and aluminum and will be available in the colors mirror black and purple.
Samsung is also working on the Galaxy Fold 2, a first-class device with a 120 Hz display, S-Pen support, hole cutout and a triple camera on the back.
As far as the Galaxy Fold Special Edition is concerned, we will learn more about it by June as an official release is expected in July. This device may make leaflets mainstream as it costs less than some of Samsung's flagships.
سیمسنگ کا سب سے سستا فولڈ ایبل فون
اطلاعات کے مطابق سیمسنگ گلیکسی فولڈ کا ایک سستا ورژن کام کر رہا ہے۔ بہت سے لوگ توقع کر رہے تھے کہ اسے گلیکسی فولڈ لائٹ کہا جائے گا لیکن ایک نئی لیک نے کچھ دوسری تفصیلات کے ساتھ ہی ایک مختلف نام تجویز کیا ہے۔
انڈسٹری کے اندرونی راس ینگ نے انکشاف کیا ہے کہ آنے والے گلیکسی فولڈ کو اس کی بجائے گلیکسی فولڈ اسپیشل ایڈیشن کہا جائے گا۔ 1099 ڈالر کی لاگت سے ، گلیکسی فولڈ اسپیشل ایڈیشن نہ صرف سستا ترین گلیکسی فولڈ بلکہ مجموعی طور پر سب سے سستا فولڈیبل اسمارٹ فون بھی ہوگا۔
ایسا لگتا ہے کہ فلیگ شپ گلیکسی فولڈ 2 کے سامنے آنے سے پہلے ہی یہ سب سے سستا فولڈبل سیمسنگ کا اقدام ہے جو وینیلا گلیکسی فولڈ کے لئے باقی انوینٹری کو صاف کرے گا۔ ینگ نے یہ بھی شامل کیا کہ یہ آلہ جولائی میں تقریبا 55،000 یونٹوں کے محدود اسٹاک کے ساتھ لانچ ہوگا۔
اگرچہ یہ ایک لائٹ ڈیوائس بننے جا رہا ہے ، توقع کی جارہی ہے کہ اس میں فلیگ شپ اسنیپ ڈریگن 865 ایس سی کے ساتھ 4 جی اور 5 جی کی مختلف حالتیں ہوں گی۔ یہ شیشے اور ایلومینیم سے بنا ہوگا ، اور آئینہ بلیک اور جامنی رنگ کے آپشن میں آئے گا۔
سام سنگ گلیکسی فولڈ 2 پر بھی کام کر رہا ہے ، جو ایک 120 ہ ہرٹز ڈسپلے ، ایس پین سپورٹ ، پنچ ہول کٹ آؤٹ ، اور پچھلے طرف ایک ٹرپل کیمرا کے ساتھ لائن ڈیوائس میں ٹاپ ہوگا۔
جہاں تک گلیکسی فولڈ اسپیشل ایڈیشن کی بات ہے ، ہمیں جون تک اس پر مزید باتیں سننے کو ملیں گی کیونکہ جولائی میں سرکاری رہائی متوقع ہے۔ یہ آلہ فولڈلیز کو مرکزی دھارے میں لائے گا کیونکہ اس کی قیمت سیمسنگ کے اپنے پرچم بردار پرچموں سے بھی کم ہوگی۔