At realme we often ask ourselves what is included in their portfolio and where new models fit into the existing product range. With the X3 SuperZoom it is now a bit more – As the name suggests, the main selling point of the X3 SuperZoom is the optically stabilized 8MP periscope module, which offers a 5x optical zoom and up to 60x hybrid range.
There is also an 8MP ultrawide and 64MP main shooter, as well as a 2MP macro camera, which offers a varied selection of shooters for every occasion. Will is here to walk you through what the X3 SuperZoom has to offer.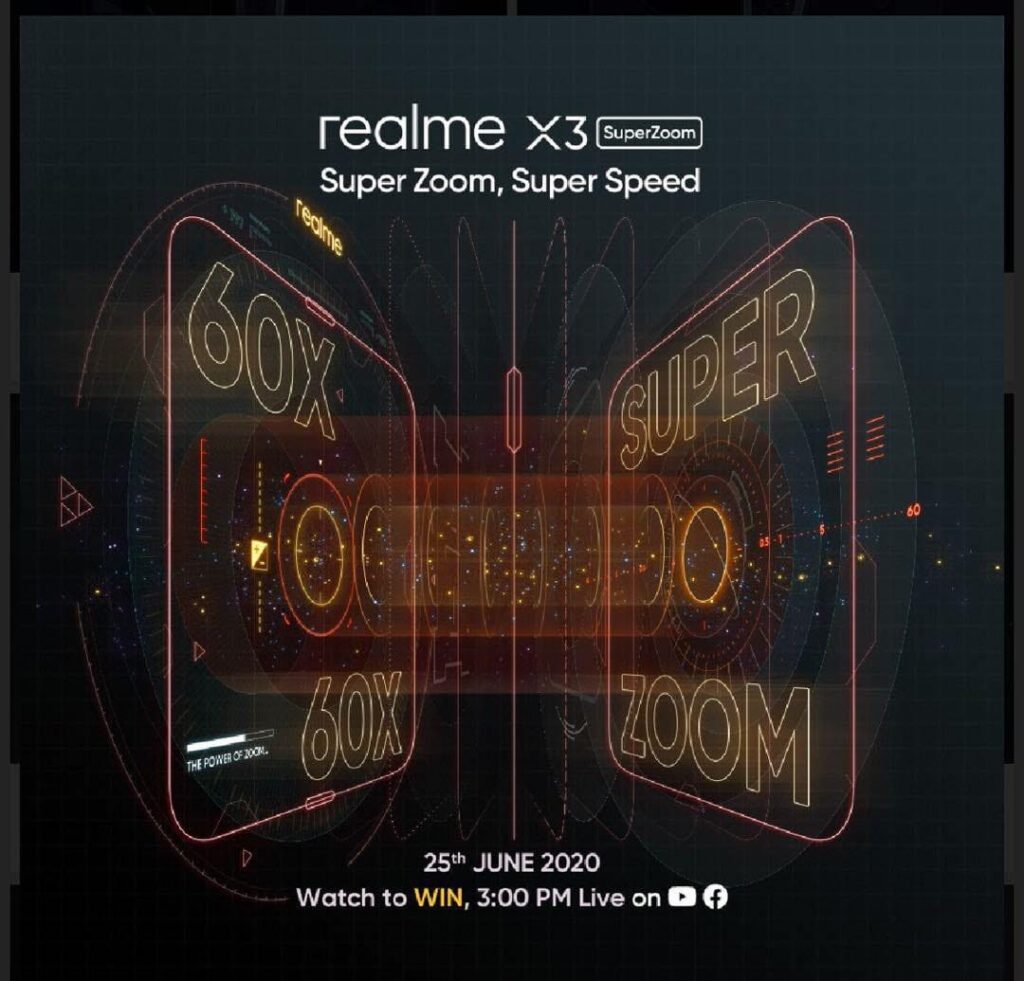 Let's start with this SuperZoom. The moniker is inspired by the phone's telephoto camera, and the periscope lens with five times the zoom distinguishes it from all other areas, only a few of which have a telephoto camera. An outstanding function then guarantees an outstanding nickname. The periscope makes the phone unique in the realme list
The X3 SuperZoom has six cameras, two in the front and a quad camera array in the rear. The front cameras are 32 MP 1: 2.5 wide angle (80.4 °) and 8 MP 1: 2.2 ultra wide angle (105 °). It may sound overkill to have two front cameras, but the ultra wide-angle option is actually quite useful for group shots or when you want to frame one or more people against a background.
The quad camera array on the back is as follows: 64 MP 1: 1.8 wide angle (78.6 °); 8 MP f / 2.3 ultra wide angle (119 °); 2MP f / 2.4 macro (4 cm focus distance); and 8MP 1: 3.4 periscope telephoto (5x optical zoom).
The 64 megapixel Samsung GW1 sensor offers up to 16 megapixel images and does an excellent job as a main shooter. Daytime photos are very even, with no crazy saturation or hard HDR effects. The dynamic range is good and the details are great 1x and 2x. The 64MP mode is also available if you want even more details in good lighting.
The camera app from realme offers zoom options for 0.5x, 1x, 2x, 5x and 10x with the option of digitally zooming up to 60x. With a special lens for 0.5x, 1x and 5x you will of course achieve the best results.
The realme X3 SuperZoom camera also has a variety of night modes. There is a regular night mode and a tripod mode for 50-second exposures to detect light trails and the like. Star mode improves your astrophotography. There are also AI-supported super and ultra night modes.
All of this means that you have several manual and automatic low light options for better photos. You need these modes if you want a good shot in low light.
The X3 SuperZoom has proven to be competitive. All you have to do is look for a good main sensor and an optical zoom. With high technical data and 60x SuperZooming is a very powerful smartphone for your money.
The official launch of realme X3 SuperZoom takes place live on the official Facebook page of realme Pakistan on June 25th, 3:30 p.m. Tune in to win exciting giveaways.
ریئل می ایکس 3 سپر زوم 25 جون کو لانچ کیا جائے گا
ریئل می اکثر ہمیں حیرت میں ڈال دیتا ہے کہ اس کے پورٹ فولیو میں کیا ہے اور موجودہ لائن اپ میں نئے ماڈل کس جگہ فٹ ہیں۔ یہ اب ایکس 3 سوپر زوم کے ساتھ کچھ زیادہ ہی ہے۔ جیسا کہ نام سے پتہ چلتا ہے ، ایکس 3 سپر زوم کا اصل فروخت نقطہ اس کا 8 ایم پی آپٹیکل اسٹیبلائزڈ پیرسکوپ ماڈیول ہے جو ۵ ایکس آپٹیکل زوم اور 60 ایکس ہائبرڈ تک رسائ پیش کرتا ہے۔
ایک 8 ایم پی الٹراویڈ اور 64 ایم پی مین شوٹر نیز 2 ایم پی میکرو کیمرا بھی ہے ، جو کسی بھی موقع کے لئے شوٹروں کے متنوع سیٹ کو تیار کرتا ہے۔ ایکس 3 سوپر زوم نے جو پیش کش کی ہے اس پر آپ کو چلنے کے لئے وِل یہاں ہے۔
آئیے اس سپر زوم سے شروع کرتے ہیں۔ مانیکر فون کے ٹیلی فوٹو کیمرہ سے متاثر ہوتا ہے ، اور یہ پانچ مرتبہ زوم پیرسکپ لینس ہے جو اسے دوسرے تمام دائروں سے الگ رکھتا ہے۔ جن میں سے کچھ ہی میں ٹیلی کیم کیمرا ہوتا ہے ، وہ ایک معیاری 2 ایکس یونٹ پر قائم رہتا ہے۔ اس کے بعد ایک اسٹینڈ آؤٹ فیچر اسٹینڈ آؤٹ مانیکر کی ضمانت دیتا ہے۔ پیرسکوپ فون کو ریئلیم روسٹر میں منفرد بناتا ہے
ایکس 3 سپر زوم میں چھ کیمرے ہیں ، سامنے میں دو ، اور پیچھے میں کواڈ کیمرا کی صف ہے۔ سامنے والے کیمرے 32 ایم پی ایف / 2.5 وسیع زاویہ اور 8 ایم پی ایف / 2.2 الٹرا وسیع زاویہہیں۔ ڈوئل فرنٹ کیمرا رکھنے کی وجہ سے یہ اوورکیل کی طرح محسوس ہوسکتا ہے ، لیکن الٹرا وائیڈ اینگل آپشن دراصل گروپ شاٹس کے لیے بہت مفید ہے ، یا جب آپ بیک ڈراپ کے خلاف ایک یا ایک سے زیادہ لوگوں کا فریم بنانا چاہتے ہیں۔
ایک 64 ایم پی سیمسنگ جی ڈبلیو 1 سینسر 16 ایم پی کی تصاویر سے منسلک ہے اور بنیادی شوٹر کی حیثیت سے قابل تعریف کام کرتا ہے۔ دن کے وقت کی تصاویر کسی پاگل سنترپتی یا بھاری ہاتھ والے ایچ ڈی آر اثرات کے ساتھ بہت ہی ہمہ وقت ہوتی ہیں۔ متحرک حد اچھی ہے اور 1 ایکس اور 2 ایکس دونوں میں تفصیل بہت عمدہ ہے۔ جب آپ اچھی روشنی میں مزید تفصیل چاہتے ہو تو اس کے لئے بھی 64 ایم پی موڈ دستیاب ہوتا ہے۔
ریئل میی ایکس 3 سوپر زوم کیمرا بھی رات کے طریقوں کے پورے میزبان کے ساتھ آتا ہے۔ ہلکے پگڈنڈی اور اس طرح کی گرفتاری کے لیے 50 50 سیکنڈ کی نمائش کیلئے ایک باقاعدہ نائٹ موڈ کے ساتھ ساتھ ایک تپائی وضع بھی ہے۔ تارامی انداز آپ کی فلکیات پر گائے کا گوشت بناتا ہے۔ یہاں اے ون کی مدد سے تیار کردہ سپر اور نائٹ نائٹ موڈیز بھی ہیں۔
ریئلمی ایکس 3 سوپر زوم کا باضابطہ آغاز 25 جون سپہر 3 بج کر 30 منٹ پر ریئل می پاکستان کے آفیشل فیس بک پیج پر براہ راست کیا جائے گا۔