Oppo launched its Reno smartphone series in April last year, which is now being updated with the Reno 4 and Reno 4 Pro. The main feature of the lineup is that the shark fin popup camera was thrown overboard some time ago. This also applies to the Reno 4 series, but it has 90 Hz AMOLED displays, 65 W quick charge and much more.
Design and Display
The Reno 4 and Reno 4 Pro have 6.4-inch and 6.55-inch FHD + AMOLED displays with built-in fingerprint sensors. Only the Pro model has a refresh rate of 90 Hz, a unique pinhole camera and much smaller frames. The Vanille Reno 4, on the other hand, has a pill-shaped camera with two front cameras and more distinctive surrounds.
Both phones have an identical design on the back with a vertical quad camera setup and large camera lenses in a rectangular cutout.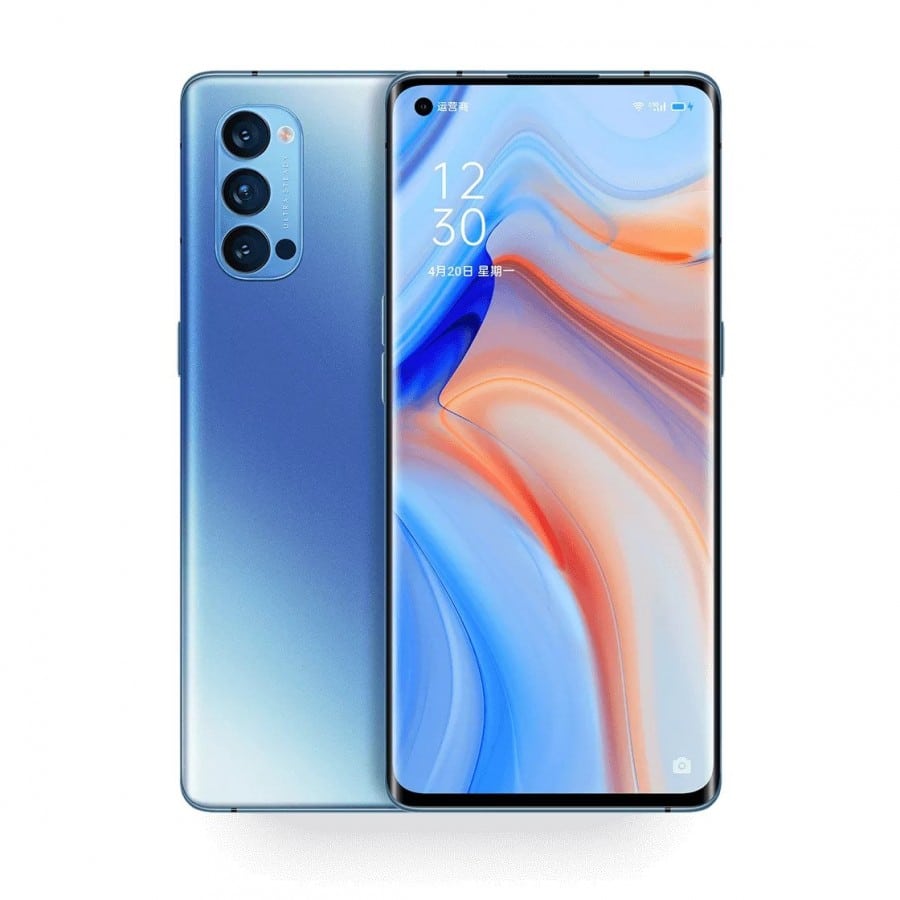 Internals and Storage
The game-oriented Snapdragon 765G supplies the two devices with power and also offers 5G compatibility. The SoC has a 2.4 GHz octa-core processor, up to 8 GB RAM and 256 GB UFS 2.1. The Reno 4 Pro also includes a 12 GB RAM variant, but none of the phones have a microSD card slot for expandable memory.
With the Reno 4 series you get the latest version of Oppos Color OS 7.2 on Android 10.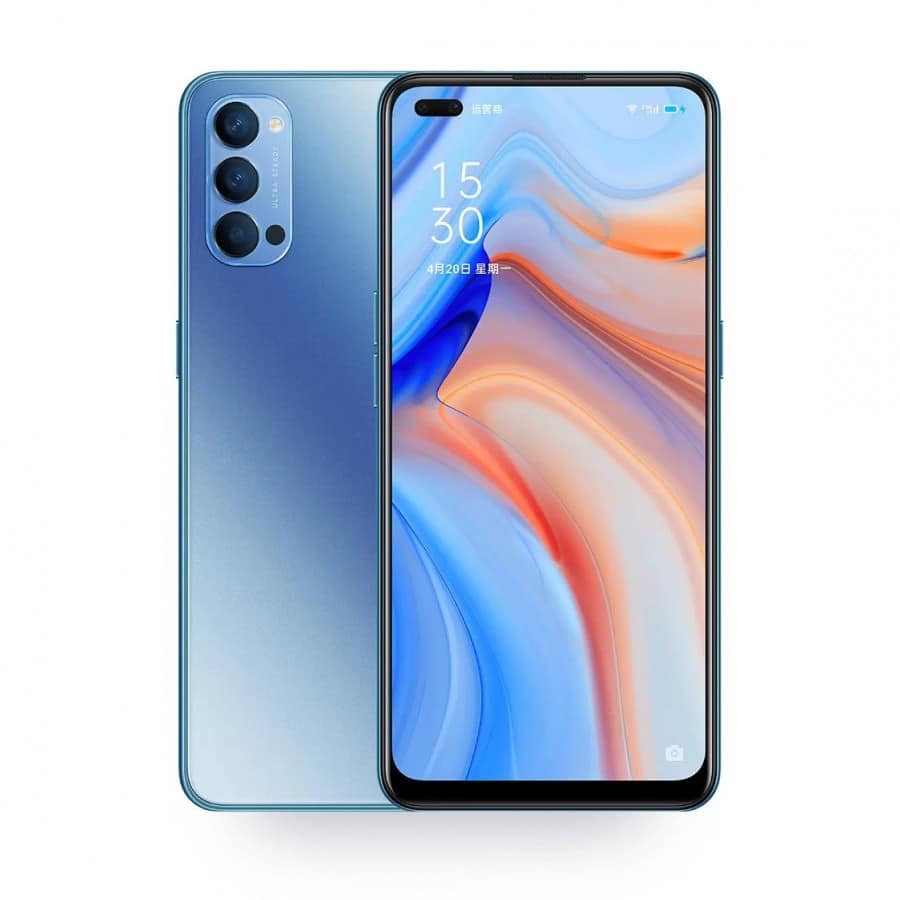 Cameras
The Reno 4 has a 48MP main sensor with OIS on the back, which is combined with an 8MP ultrawide sensor and a 2MP depth sensor for portraits. The Reno 4 Pro replaces the 8MP Ultrawide unit with a 13MP unit and receives an additional 13MP telephoto camera with 5x hybrid zoom and 20x optical zoom.
The Reno 4 Pro has a 32-megapixel front camera, while the basic Reno 4 has an additional 2-megapixel depth sensor in addition to the 32-megapixel snapper.
Battery and Pricing
The battery capacity of both phones is 4,000 mAh, paired with Oppo's signature 65W SuperVOOC 2.0 quick charge, which is currently the fastest charging technology in the world. The 4,000 mAh battery can be charged from 0 to 60% in just 15 minutes.
The Oppo Reno 4 starts at $ 422 and the Reno 4 Pro will throw buyers back at $ 535. Both devices will be available for sale in China on June 12, and an international release will follow shortly thereafter.
Specifications
| | |
| --- | --- |
| Oppo Reno 4 5G | Oppo Reno 4 Pro 5G |
Chipset
Qualcomm Snapdragon 765G
Qualcomm Snapdragon 765G
CPU
Octa-core (1×2.4 GHz Kryo 475 Prime & 1×2.2 GHz Kryo 475 Gold & 6×1.8 GHz Kryo 475 Silver)
Octa-core (1×2.4 GHz Kryo 475 Prime & 1×2.2 GHz Kryo 475 Gold & 6×1.8 GHz Kryo 475 Silver)
GPU
Adreno 620
Adreno 620
OS
Android 10.0, Color OS 7.2
Android 10.0, Color OS 7.2
Supported Networks
2G, 3G, 4G LTE, 5G
2G, 3G, 4G LTE, 5G
Display
6.43″ AMOLED, 1080 x 2400 pixels, 402 ppi
6.55″ AMOLED, 1080 x 2400 pixels, 402 ppi
RAM
8GB
8GB, 12GB
Storage
128GB, 256GB
128GB, 256GB
Card Slot
No
No
Main Camera
48MP, f/1.7, 26mm (wide), 1/2.0″, 0.8µm, PDAF
8 MP, f/2.2, 119˚ (ultrawide), 1/4.0″, 1.12µm
2 MP, f/2.4, (depth)
48 MP, f/1.7, 26mm (wide), 1/2.0″, 0.8µm, PDAF, Laser AF, OIS
13 MP, f/2.4, 52mm (telephoto), 1/3.4″, 1.0µm, PDAF, 2x optical zoom
12 MP, f/2.2, 120˚ (ultrawide), 1/2.43″, 1.4µm, AF (dedicated video camera)
Front Camera
32MP + 2MP
32MP
Fingerprint Sensor
In-display
In-display
Colors
Black, Blue, Purple
Black, Blue, Green, Pink, White
Battery
4,000 mAh, 65W fast charging
4,000 mAh, 65W fast charging
Price
$422
$535
اوپو رینو 4 اور رینو 4 پرو گیمنگ سی پی یو 5 جی
اوپو نے اپنے رینو سیریز اسمارٹ فونز کا آغاز گذشتہ سال اپریل میں کیا تھا ، جسے اب رینو 4 اور رینو 4 پرو کے ساتھ اپ ڈیٹ کیا جارہا ہے۔ لائن اپ کی وضاحت کرنے والی خصوصیت ، شارک پن پاپ اپ کیمرہ کچھ عرصہ پہلے کھینچا گیا تھا اور رینو 4 سیریز کا بھی ایسا ہی حال ہے لیکن ان میں 90 ایچ زیڈ ڈسپلے ، 65 واٹ فاسٹ چارجنگ اور بہت کچھ ہے۔
ڈیزائن اور ڈسپلے
رینو 4 اور رینو 4 پرو میں بالترتیب 6.4 ″ اور 6.55 ″ ایف ایچ ڈی ڈسپلے ان ڈسپلے فنگر پرنٹ سینسر کے ساتھ ہوتا ہے۔ صرف پرو ماڈل ایک 90 ایچ زیڈ ریفریش ریٹ ، ایک واحد پنچ ہول کیمرا ، اور بہت چھوٹا بیزلز کے ساتھ آتا ہے۔ دوسری طرف ، ونیلا رینو 4 میں گولی کی طرح ڈوئل فرنٹ کیمرا سیٹ اپ ہے اور آس پاس کے نمایاں بیزلز ہیں۔
انٹرنل سٹوریج
گیمنگ پر مبنی اسنیپ ڈریگن 765 جی ان دو آلات کو طاقت دیتا ہے اور 5 جی مطابقت بھی لاتا ہے۔ ایس او سی میں 2. آکٹک کور پروسیسر ، 8 جی بی ریم ، اور 256 جی بی یو ایف ایس 2.1 شامل ہے۔ رینو 4 پرو میں 12 جی بی ریم کی مختلف حالت بھی شامل ہے لیکن کسی بھی فون میں توسیع پذیر اسٹوریج کے لئے مائیکرو ایسڈی کارڈ سلاٹ نہیں ہے۔
کیمرے
رینو 4 کے پاس پیچھے میں او ائی آیس کے ساتھ 48 ایم پی کا مین سینسر ہے جو پورٹریٹ شاٹس کے لئے 8 ایم پی الٹرا وائیڈ سینسر اور 2 ایم پی گہرائی کے سینسر کے ساتھ جوڑ ہے۔ رینو 4 پرو 13 ایم پی یونٹ کے ساتھ 8 ایم پی الٹرا وائیڈ یونٹ کو تبدیل کرتا ہے اور اس میں 5 ایکس ہائبرڈ زوم اور 20 ایکس آپٹیکل زوم کے ساتھ ایک اضافی 13 ایم پی ٹیلی فوٹو فوٹو مل جاتا ہے۔
بیٹری اور قیمتوں کا تعین
دونوں فونوں پر بیٹری کی گنجائش اوپیپو کے دستخط 65 واٹ سپر وی او سی 2.0 فاسٹ چارجنگ کے ساتھ 4،000 ایم اے ایچ کی جوڑی کی ہے ، جو اس وقت بھی دنیا کی تیز ترین چارجنگ ٹیکنالوجی ہے۔ یہ صرف 15 منٹ میں 4،000 ایم اے ایچ کی بیٹری 0 سے 60٪ تک چارج کرسکتی ہے۔
اوپو رینو 4 422 ڈالر سے شروع ہوگا اور رینو 4 پرو خریداروں کو 535 ڈالر کی مدد سے ملے گا۔ یہ دونوں آلات 12 جون کو چین میں فروخت ہوں گے اور اس کے فورا بعد ہی ایک بین الاقوامی ریلیز جاری ہوگی۔