Recently, HMD-backed Nokia signed StreamView to launch new Nokia Smart TVs and Android Streaming Boxes on the European market. The Nokia Streaming Box 8000 was released in November this year. Now the company has introduced seven new Smart LED TV models, including 32-inch full HD, 43-inch, 50-inch, 55-inch, 58-inch and 65-inch models. Inch and 75 inch 4K Ultra HD models.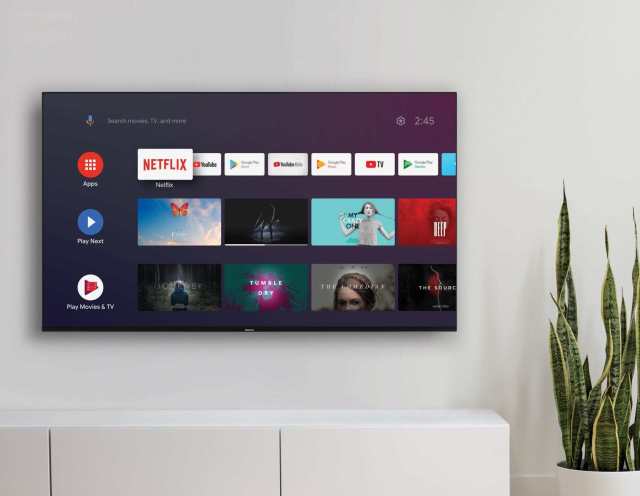 The smallest LED in the lot, i. H. 32 inches, has a full HD display with 1920 x 1080 pixels and a viewing angle of 178 degrees. The 43-inch, 50-inch, 55-inch, 58-inch, 65-inch and 75-inch models have a 4K resolution of 3840 × 2160 pixels, a viewing angle of 178 degrees and Dolby Vision.
The innards are powered by the ARM CA55 quad-core processor with Mali 470 MP3 GPU. In terms of storage, all models except the 32-inch Smart LED come with 1.5 GB of RAM and 8 GB of onboard storage. The weaker 32-inch TV offers 1 GB of RAM.
The software front is managed by the Android TV 9.0 operating system. For connectivity, all models support Wi-Fi 802.11 ac (2.4 GHz), Bluetooth 4.2 and have four HDMI ports (1 HDMI port supports ARC), two USB 2.0 ports and an Ethernet port.
Pricing and Availability
32-inch model ~ €399
43-inch model ~ €549
50-inch model ~ €699
55-inch model ~ €699
58-inch model ~ €799
65-inch model ~ €899
75-inch model ~ €1,399
حال ہی میں ، ایچ ایم ڈی کی حمایت یافتہ نوکیا نے یورپین مارکیٹ میں نوکیا سمارٹ ٹی وی اور اینڈرائڈ اسٹریمنگ باکس متعارف کروانے کے لئے اسٹریم ویو کے ساتھ لائسنس پر دستخط کیے۔ نوکیا اسٹریمنگ باکس 8000 رواں سال نومبر میں جاری کیا گیا تھا ، اور اب کمپنی نے سات نئے سمارٹ ایل ای ڈی ٹی وی ماڈل متعارف کروائے ہیں جن میں 32 انچ فل ایچ ڈی ، 43 انچ ، 50 انچ ، 55 انچ ، 58 انچ ، 65- انچ ، اور 75 انچ الٹرا ایچ ڈی ماڈل۔
لاٹ کی سب سے چھوٹی ایل ای ڈی ، یعنی 32 انچ ، ایک 1920 ایکس 1080 پکسلز فل ایچ ڈی ڈسپلے کے ساتھ آرہی ہے جس میں 178 ڈگری دیکھنے کا زاویہ ہے۔ 43 انچ ، 50 انچ ، 55 انچ ، 58 انچ ، 65 انچ ، اور 75 انچ ماڈلز کی 4 کے ریزولیوشن 3840 کراس 2160 پکسلز ہے ، جس میں 178 ڈگری دیکھنے کا زاویہ اور ڈولبی وژن ہے۔
جہاں تک اندرونی علاقوں کی بات کی جا رہی ہے تو ، ماڈلز کو آرمی سی اے 55 کواڈ کور پروسیسر نے طاقت دی ہے جو مالی 470 ایم پی 3 جی پی یو کے ساتھ سرفہرست ہے۔ اسٹوریج کے لحاظ سے ، 32 انچ سمارٹ ایل ای ڈی کے علاوہ تمام ماڈلز 1.5 جی بی ریم اور 8 جی بی جہاز والے اسٹوریج سے لیس ہیں۔ ٹونڈ ڈاون 32 انچ ٹی وی 1 جی بی ریم پیک کرتا ہے۔