Many solemn events and colorful events take place at Pakistani weddings. Although Desi wedding celebrations are often filled with many exciting surprises, we definitely didn't see them coming. In a dramatic turn, a mother-in-law presented her son-in-law with an unlikely gift.
The following video, which has now gone viral on social media, shows the lady congratulating the groom and hugging him. Then she took out a Kalashnikov assault rifle and handed it to the groom. The bride subtly giggles at her mother's gesture.
The AK-47 (also known as the Kalashnikov after its Russian inventor) is a gas-powered rifle that was first developed during World War II. And the number "47" stands for the year in which it was finally ready for use. It is one of the most popular weapons due to its simplicity – the AK-47 is one of the easiest weapons to use.
The public had mixed reactions to this gesture by the mother of the bride. While some were joking, others were outraged.
Public Reactions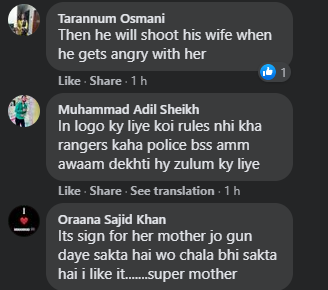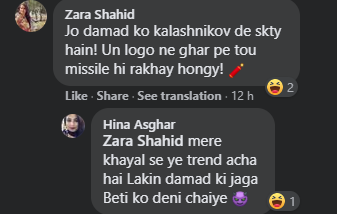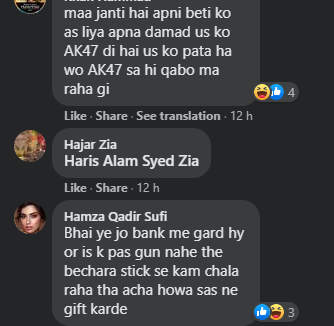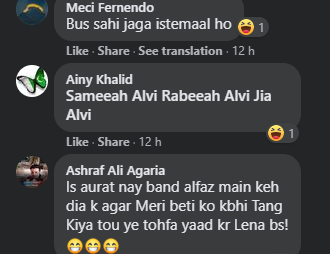 پاکستانی شادیوں میں بہت سارے جشن منانے والے فنکشنز اور رنگا رنگ تقریبات سے بھر پور ہوتے ہیں۔ اگرچہ دیسی شادی کے افسران اکثر بہت سارے حیرت انگیز حیرتوں سے بھر جاتے ہیں ، لیکن ہم یقینی طور پر اس کو آتے ہوئے نہیں دیکھتے ہیں۔ ایک ساس نے ، واقعات کے ڈرامائی موڑ میں ، اپنے داماد کو غیر متوقع تحفہ پیش کیا۔
مندرجہ ذیل ویڈیو ، جو اب سوشل میڈیا پر وائرل ہوئی ہے ، اس میں دکھایا گیا ہے کہ خاتون نے دولہا کو مبارکباد دی اور اسے گلے لگایا۔ اس کے بعد وہ کلاشنکوف حملہ رائفل نکالنے کے لئے آگے بڑھی اور اسے دولہے کے سامنے پیش کیا۔ دلہن کو اپنی ماں کے اشارے پر پوری طرح ہنستے ہوئے دیکھا جاسکتا ہے۔
اے کے 47 (متبادل طور پر اپنے روسی موجد کے بعد کلاشنکوف کے نام سے جانا جاتا ہے) گیس سے چلنے والی رائفل ہے ، جو پہلی بار دوسری جنگ عظیم کے دوران تیار کی گئی تھی۔ اور '47' نمبر اس سال کی نمائندگی کرتا ہے جو آخر میں اسے استعمال کرنے کے لئے تیار تھا۔ یہ اپنی سادگی کی وجہ سے سب سے زیادہ مقبول گنوں میں سے ایک ہے – اے کے 47 استعمال کرنے میں سب سے آسان بندوق ہے۔