Microsoft has announced a Plus version of the 2-in-1 Surface Pro 7 for corporate customers and students. In terms of design, it's exactly the same as the Surface Pro 7, but there are some notable improvements to the specs.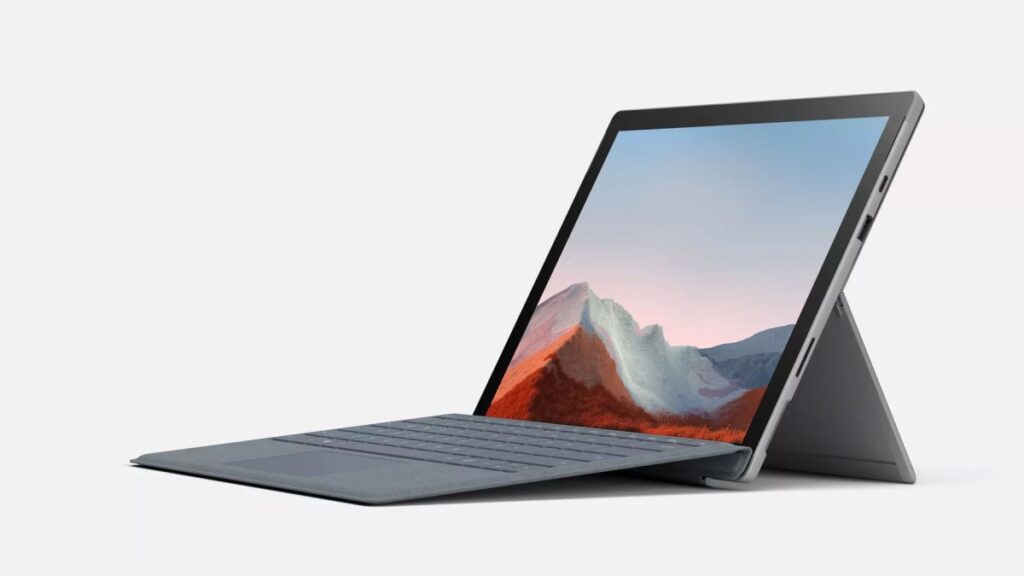 The main headline is that the Surface Pro 7 Plus comes with new processors, more memory, an LTE option, and a bigger battery. It offers 11th generation Intel processors with Core i3, i5 and i7 options that vary between WiFi and LTE variants. The Core i3 model has 8 GB of RAM and 128 GB SSD, and the Core i5 variant is the only one with LTE. It has Qualcomm's Snapdragon X20 LTE modem, which means there is no 5G support.
After all, the Core i7 Edition is the maximum with 32 GB of RAM and 1 TB of SSD. All WiFi models also have a microSD card slot, while the LTE versions have a nano SD card slot.
The battery life has been improved to 15 hours thanks to a larger 50.4 Wh battery and better energy efficiency thanks to new Intel Core processors. Otherwise, you get the same package as before, including a 12.3-inch PixelSense display and the same I / O options. This includes a single USB C port, a USB A port, a 3.5mm headphone jack, and a Surface Connect port.
The Surface Pro 7 Plus is currently only available to corporate and education customers, and it is unclear when it will be released to the general public. The Core i3 (1115G4) model starts at 899 US dollars, the Core i5 (1135G7) model costs 1149 US dollars, and the i7 model costs 2799 US dollars.
مائیکرو سافٹ نے انٹرپرائز صارفین اور طلباء کے لئے 1 ان سرفیس پرو 7 ون 2 کے "پلس" ورژن کا اعلان کیا ہے۔ ڈیزائن کے لحاظ سے ، یہ بالکل ویسا ہی ہے جیسا کہ سرفس پرو 7 ، لیکن خصوصیات میں چند قابل ذکر اپ گریڈ ہیں۔
اصل سرخی یہ ہے کہ سرفیس پرو 7 پلس نئے پروسیسرز ، زیادہ اسٹوریج ، ایل ٹی ای آپشن اور بڑی بیٹری کے ساتھ آتا ہے۔ یہ کور آی 3 ، آی 5 ، اور آی 7 اختیارات کے ساتھ انٹیل پروسیسرز کی 11 ویں جنریشن لاتا ہے جس میں وائی فائی اور ایل ٹی ای مختلف حالتوں میں فرق ہوتا ہے۔ کور آئی 3 ماڈل میں 8 جی بی ریم اور 128 جی بی ایس ایس ڈی ملتا ہے اور کور آئی 5 ایڈیشن صرف ایل ٹی ای کے ساتھ ملتا ہے۔ اس میں کوالکوم کا اسنیپ ڈریگن ایکس 20 ایل ٹی ای موڈیم ہے ، یعنی کوئی 5 جی سپورٹ نہیں ہے۔
آخر میں ، کور آئی 7 ایڈیشن 32 جی بی ریم اور 1 ٹی بی ایس ایس ڈی کے ساتھ زیادہ سے زیادہ ہوجاتا ہے۔ تمام وائی فائی ماڈلز اور مائکرو ایس ڈی کارڈ سلاٹ بھی ملتا ہے ، جبکہ ایل ٹی ای ورژن میں نانو ایسڈی کارڈ سلاٹ ملتا ہے۔
نئے انٹیل کور پروسیسروں کی وجہ سے 05.4 ڈبلیو ایچ کی بڑی بیٹری اور بجلی کی بہتر کارکردگی کی بدولت بیٹری کی زندگی کو 15 گھنٹے میں بہتر کیا گیا ہے۔ اس کے علاوہ ، آپ کو وہی پیکیج ملتا ہے جس میں پہلے کی طرح 12.3 انچ کا پکسل سینس ڈسپلے اور وہی اختیارات شامل ہیں۔ اس میں ایک سنگل یو ایس بی سی پورٹ ، ایک یو ایس بی اے پورٹ ، ایک 3.5 ملی میٹر کا ہیڈ فون جیک ، اور ایک سرفیس کنیکٹ پورٹ شامل ہے۔