The Toyota has launched two recent and updates versions of their vehicles, Toyota Fortuner and Toyota Hilux in high facelifts. The vehicles of Toyota are popular among the people and these two vehicles are modern and reliable and most of the people in Pakistan can afford to buy these ultimate SUV. Launching of Toyota Fortuner & Hilux Revolution Facelifts.
Toyota Hilux (Revo) Facelift:
Toyota has introduced the new and latest version of the Toyota Hilux and has the angrier front end with the new front bumper design and has the front bumper design, bigger front grille, sharper and modern headlights and optional fog lights. There is nothing but rear headlights are changed but they are similar in design and has the darker red tint to give aggressive look. The bumper of the vehicle has been blackened to add the overall ruggedness or maybe the cost cutting measure. You do not find the photo of interior and it is being reported already that it is identical to current version of Revo but there are some minor visual updates of this vehicle.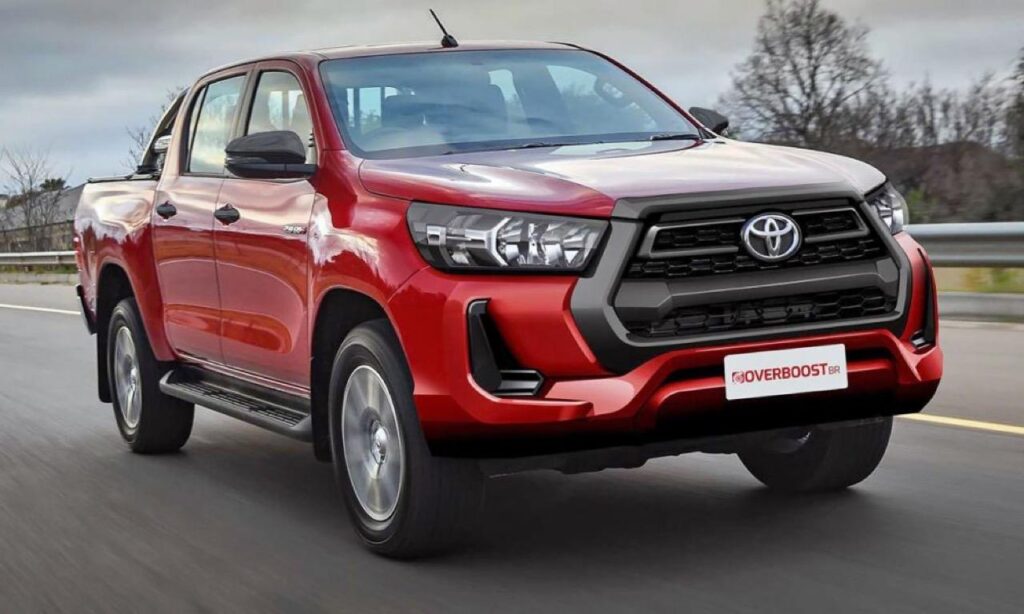 Toyota Fortuner:
The Toyota Fortuner is coming at the middle heavy weight category and it has been popular among the family oriented audience. This vehicle is the seven seat family hauler with the cosmetic changed including front bumper, sharper headlights with DRLs and sleeker front grill and also has the blinding optional fog lights. Nothing much changes have been made on rear side and there is little bit dark tint around edges of tail light, more detailed rear bumper and quite large chiseled L-shaped reflectors on both corners. The black color is used on rood and pillars to give the slightly updated overall appearance to the vehicle.
ٹویوٹا فارچیونر اور ہلکس ریولوشن فیلی لفٹوں کا آغاز
ٹویوٹا نے اپنی گاڑیوں کے دو حالیہ اور تازہ ترین ورژن ، ٹویوٹا فارچیونر اور ٹویوٹا ہلکس کو اعلی فیل لفٹوں میں لانچ کیا ہے۔ ٹویوٹا کی گاڑیاں لوگوں میں مقبول ہیں اور یہ دونوں گاڑیاں جدید اور قابل اعتماد ہیں اور پاکستان میں زیادہ تر لوگ ان حتمی ایس یو وی خریدنے کے متحمل ہوسکتے ہیں۔
ٹویوٹا ہلکس (ریوو) چہرہ:
ٹویوٹا نے ٹویوٹا ہلکس کا نیا اور جدید ترین ورژن متعارف کرایا ہے اور اس کا اینجریئر فرنٹ اینڈ نئے فرنٹ بمپر ڈیزائن کے ساتھ ہے اور اس میں فرنٹ بمپر ڈیزائن ، بڑی فرنٹ گریل ، تیز اور جدید ہیڈلائٹس اور اختیاری فوگ لائٹس ہیں۔ پیچھے کی ہیڈلائٹ کو تبدیل کرنے کے سوا کچھ نہیں ہے لیکن وہ ڈیزائن میں یکساں ہیں اور جارحانہ شکل دینے کے لئے گہری سرخ رنگ ہے۔ مجموعی ناہمواریاں یا شاید لاگت میں کٹوتی کے اقدام کو شامل کرنے کے لئے گاڑی کا بمپر سیاہ کردیا گیا ہے۔ آپ کو داخلہ کی تصویر نہیں مل پائی اور پہلے ہی یہ اطلاع دی جارہی ہے کہ یہ ریوو کے موجودہ ورژن کی طرح ہے لیکن اس گاڑی کے بارے میں کچھ معمولی بصری تازہ کارییں ہیں۔
ٹویوٹا فارچیونر:
ٹویوٹا فارچیونر درمیانے بھاری وزن کے زمرے میں آرہا ہے اور یہ خاندانی پر مبنی سامعین میں مقبول رہا ہے۔ یہ گاڑی سات سیٹ والی فیملی ہولر ہے جس میں کاسمیٹک تبدیل کیا گیا ہے جس میں فرنٹ بمپر ، ڈی آر ایل کے ساتھ تیز ہیڈلائٹ اور چیکر فرنٹ گرل شامل ہیں اور اس میں اندھی آنکھوں سے چلنے والی اختیاری فوگ لائٹس بھی ہیں۔ عقب کی طرف کچھ زیادہ تبدیلیاں نہیں کی گئیں ہیں اور نہ ہی دم کی روشنی کے کناروں کے آس پاس تھوڑا سا تاریک رنگ ہے ، دونوں کونوں پر زیادہ تفصیلی عقبی بمپر اور کافی بڑے چھینی والے ایل کے سائز والے عکاس ہیں۔ سیاہ رنگ کو چھڑی اور ستونوں پر استعمال کیا جاتا ہے تاکہ گاڑی کو تھوڑا سا تازہ ترین شکل دی جا سکے