According to a statement from the Directorate for Higher Education Khyber Pakhtunkhwa, two-year Bachelor of Arts (BA) and Bachelor of Science (B.Sc.) programs at the Khyber Pakhtunkhwa colleges have been abolished.
The communication states that new admissions should be made in the 4-year BS program. After completing the 2-year BA and BSc programs, a 4-year BS program was started at 128 provincial colleges.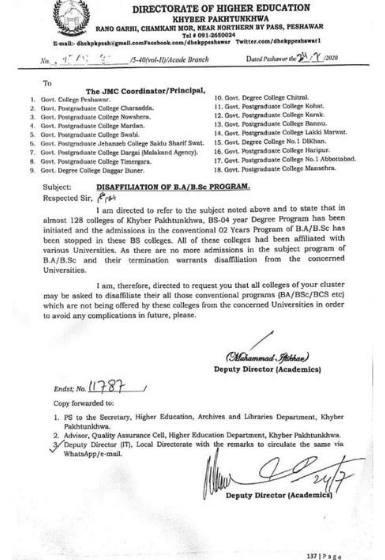 The University Commission has decided to end two-year courses across the country by 2020. In line with the vision of the university commission, the Punjab education department abolished two-year BA and BSc programs last year. They replaced the degrees with a new and updated 2-year associate degree. In the associate degree, students can replace specialist subjects and must complete practical training.
کے پی حکومت کا 2 سالہ بی اے اور بی ایس سی پروگرام ختم کرنے کا اعلان
خیبر پختونخوا کے کالجز میں بیچلر آف آرٹس (بی اے) اور بیچلر آف سائنس (بی ایس سی) کے 2 سالہ پروگراموں کو ڈائریکٹوریٹ ہائر ایجوکیشن خیبر پختون خوا کی جانب سے جاری کردہ نوٹیفکیشن کے مطابق ختم کردیا گیا ہے۔
نوٹیفکیشن میں کہا گیا ہے کہ 4 سالہ بی ایس پروگرام میں نئے داخلے دیئے جائیں ، 2 سالہ بی اے اور بی ایس سی پروگرام ختم ہونے کے بعد صوبے کے 128 کالجوں میں 4 سالہ بی ایس پروگرام شروع کیا گیا ہے۔
ہائیر ایجوکیشن کمیشن نے 2020 تک ملک بھر میں 2 سالہ ڈگری پروگرام ختم کرنے کا فیصلہ کیا ہے۔ ہائیر ایجوکیشن کمیشن کے وژن کو مدنظر رکھتے ہوئے ، محکمہ تعلیم پنجاب نے گذشتہ سال 2 سالہ بی اے اور بی ایس سی پروگراموں کو ختم کردیا۔ انھوں نے ڈگریوں کی جگہ نئی اور تازہ ترین 2 سالہ ایسوسی ایٹ ڈگری حاصل کی۔ ایسوسی ایٹ ڈگری میں ، طلبا خصوصی مضامین کی جگہ لے سکیں گے اور انہیں عملی تربیت حاصل کرنی ہوگی۔