Kia Picanto has been released in the market and this vehicle, also known as Kia Morning is the latest version, which is popular in automotive industry and it has the bold designs and cutting edge features. KIA Sporty Euro Spec Picanto Facelift Reveals.
GT-Line Variant
The new vehicle of Picanto GT-Line has the subtle and smart looking red accents around the body and it is provided with the side skirts and there is tiger nose grille on either side. The outline of the grille has the feature of textured finish and it has the restyled headlamps, which is a design quirk to make the look of the car planted and wide.
There is refreshed grille and front bumper design on the front and the car has the features of sharper looking projector headlamps. Kia is fitted with the headlights with 4 DRLs, which surrounds the beam. There is bumper design on rear design with the new taillights, dual exhaust tips and smaller fog lights.
X-Line Variant
This car has the slightly lifted body and scuff plate inspired silver accents on front and on the rear side, you will find slight restyle bumper, X-line logo and it appears to be improved and adventurous alter ego of the base version.
Base Variant
This version has received the few styling refreshes like front grille, newly designed headlights and taillights in this base version and the buyers can choose from the wide selection of exterior colors and new alloy wheel designs to give the personalized look to the car.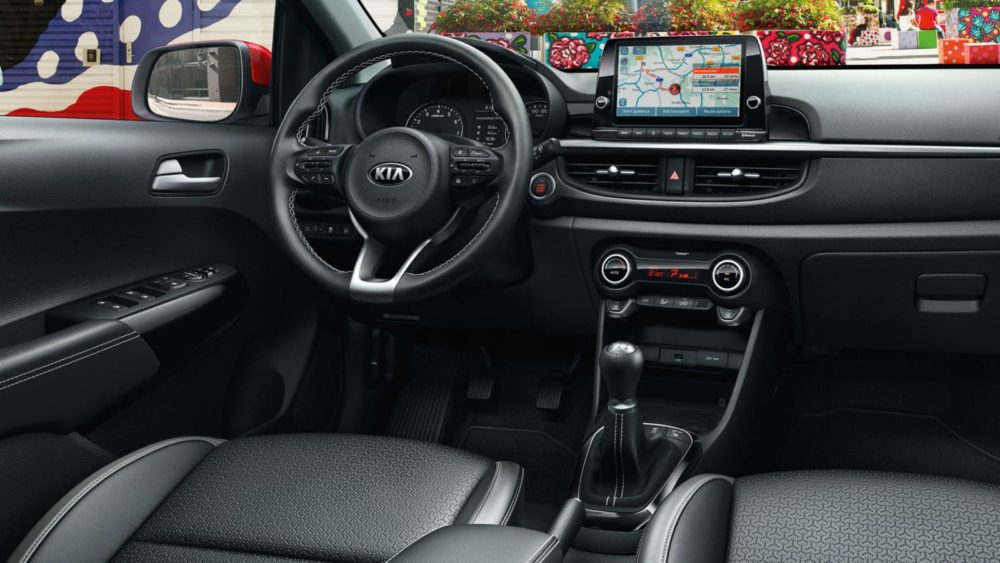 Interior
There is 8.0 inches floating touch screen head unit and 4.2 inch digital display in gauge cluster on the inside of Picanto. It is offered with black fabric or synthetic leather seats with new upholstery textures in the base variant. You can also find the sat-nav/infotainment system with the Bluetooth multi connectivity, which allow the passenger to connect the two smart devices at same time. There are also Apple CarPlay and Android Auto.
Tech Features
Kia Picanto has UVO system and it gives the real time traffic information to drivers, fuel prices, weather forecasts, points of interest and parking details. You can also find the features of the new advanced driver assistance system, which is included as Blind-Spot Collision-Avoidance Assist (BCA), Vehicle Stability Management (VSM), Lane Following Assist (LFA), Forward Collision-Avoidance Assist (FCA), ABS with Electronic Break-force Distribution & Brake Assist, 7 airbags, Driver Attention Warning (DAW), Lane Keeping Assist (LKA), Rear Cross-Traffic Collision-Avoidance Assist (RCCA) and Hill-start Assist Control (HAC).
کے آئی اے اسپورٹی یورو اسپیکس پیکانٹو فیس لِفٹ کا انکشاف
کیا پیکانٹو کو مارکیٹ میں جاری کیا گیا ہے اور یہ گاڑی ، جسے کنگ مارننگ بھی کہا جاتا ہے ، جدید ترین ورژن ہے ، جو آٹوموٹو انڈسٹری میں مقبول ہے اور اس میں جرات مندانہ ڈیزائن اور جدید خصوصیات ہیں۔
جی ٹی لائن متغیر
پکنٹو جی ٹی لائن کی نئی گاڑی کے جسم کے ارد گرد ٹھیک ٹھیک اور سمارٹ نظر آنے والے سرخ لہجے ہیں اور اس کو سائیڈ اسکرٹس مہیا کیا گیا ہے اور دونوں طرف شیر ناک کی گرل ہے۔ گرل کا خاکہ ٹیکسٹورڈ فنش کی خصوصیت رکھتا ہے اور اس میں آرام سے چلنے والا ہیڈ لیمپ ہوتا ہے ، جو لگائی گئی اور چوڑی کار کی نظر بنانے کے لئے ڈیزائن ڈیزائن ہے۔
فرنٹ پر ریفریشڈ گرل اور فرنٹ بمپر ڈیزائن ہے اور اس کار میں تیز لچ پروجیکٹر ہیڈ لیمپس کی خصوصیات ہیں۔ کییا 4 DRLs کے ساتھ ہیڈلائٹس کے ساتھ لیس ہے ، جو بیم کے چاروں طرف ہے۔ نئے ٹیل لائٹس ، ڈوئل ایگزسٹ ٹپس اور چھوٹی فوگ لائٹس کے ساتھ ریئر ڈیزائن پر بمپر ڈیزائن موجود ہے۔
ایکس لائن متغیر
اس کار میں تھوڑا سا اٹھا ہوا جسم اور سکف پلیٹ سے متاثر ہوکر چاندی کے تلفظ سامنے اور عقبی سمت پر ہے ، آپ کو ہلکی سی ری اسٹائل بمپر ، ایکس لائن لوگو مل جائے گا اور یہ بیس ورژن کی بہتر اور بہادر تبدیل کرنے والی انا کی شکل میں نظر آتا ہے۔
بیس متغیر
اس ورژن کو اس بیس ورژن میں فرنٹ گریل ، نئے ڈیزائن کردہ ہیڈلائٹس اور ٹیل لائٹس جیسی اسٹائل کی کچھ تازگییں موصول ہوئی ہیں اور خریدار بیرونی رنگوں اور وسیع انتخاب سے لے کر کار کو ذاتی نوعیت کا نظارہ کرنے کے لئے نئے ایلائی وہیل ڈیزائن کا انتخاب کرسکتے ہیں۔
داخلہ
پکنٹو کے اندر اندر 8.0 انچ فلوٹنگ ٹچ اسکرین ہیڈ یونٹ اور گیج کلسٹر میں 4.2 انچ ڈیجیٹل ڈسپلے ہے۔ یہ بلیک فیبرک یا مصنوعی چمڑے کی نشستوں کے ساتھ بیس ایڈیشن میں نئی ​​upholstery بناوٹ کے ساتھ پیش کیا جاتا ہے۔ آپ بلوٹوتھ ملٹی رابطہ کے ساتھ سیٹ-نیوی / انفوٹینمنٹ سسٹم بھی ڈھونڈ سکتے ہیں ، جو مسافر کو بیک وقت دونوں اسمارٹ آلات کو مربوط کرنے کی اجازت دیتا ہے۔ ایپل کارپلے اور Android آٹو بھی ہیں۔
ٹیک خصوصیات
کیا پیکانٹو میں یوویو سسٹم ہے اور یہ ڈرائیوروں ، ایندھن کی قیمتوں ، موسم کی پیشن گوئی ، دلچسپی کے مقامات اور پارکنگ کی تفصیلات کے لئے ٹریفک کی اصل معلومات دیتا ہے۔ آپ نئے جدید ڈرائیور امدادی نظام کی خصوصیات بھی ڈھونڈ سکتے ہیں ، جس میں بلائنڈ اسپاٹ کولیشن-ایووڈنس اسسٹ (بی سی اے) ، وہیکل اسٹیبلٹی مینجمنٹ (وی ایس ایم) ، لین فلوٹنگ اسسٹ (ایل ایف اے) ، فارورڈ کولیشن-ایونڈنس اسسٹ (ایف سی اے) شامل ہیں۔ ) ، الیکٹرانک بریک فورس ڈسٹری بیوشن اینڈ بریک اسسٹ ، 7 ائیر بیگ ، ڈرائیور اٹنٹ وارننگ (ڈی اے ڈبلیو) ، لین کیپنگ اسسٹ (ایل کے اے) ، ریئر کراس ٹریفک تصادم سے بچنے والے اسسٹ (آر سی سی اے) اور ہل اسٹارٹ اسسٹ کنٹرول (ایچ اے سی) کے ساتھ اے بی ایس۔ .