According to recent reports from various auto journalists in Pakistan, Kia Cerato is expected to launch in Pakistan later this year. Cerato is a medium-sized family sedan that competes against Honda Civic, Toyota Corolla and Hyundai Elantra.
Cerato is reported to have a 1.6-liter in-line 4-cylinder petrol engine that delivers 123 hp and 154 Newton / meter torque and can be combined with a 6-speed manual and a 6-speed automatic transmission. In addition, it is believed that Kia Lucky Motors has brought several Cerato units for testing.
4th generation Cerato, also known as Kia Forte in the North American market or Kia K3 in the Chinese and Korean market, was unveiled at the 2018 North American International Auto Show in Detroit, Michigan in January 2018. The car borrows its design from references from its flagship, the large sedan, the Kia Stinger.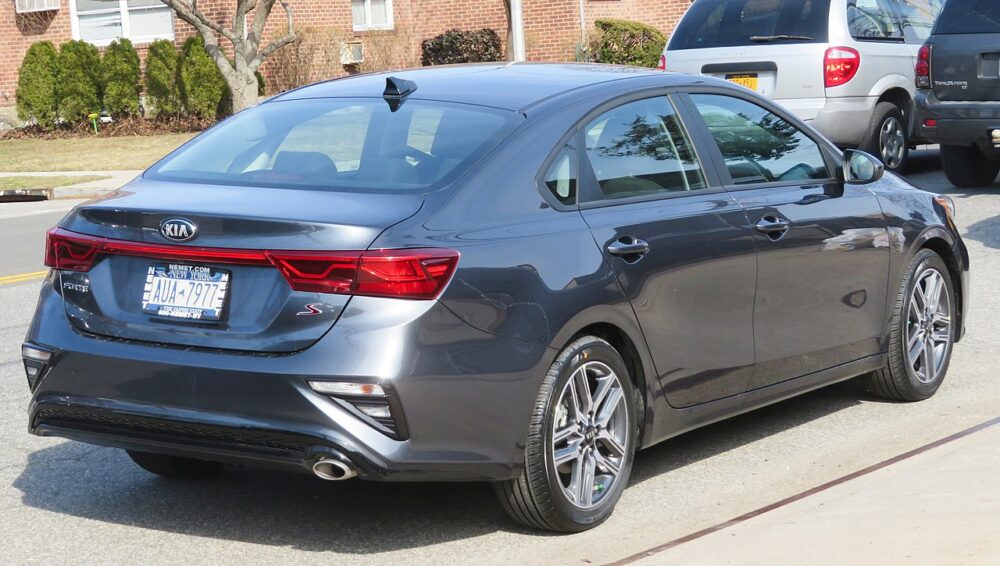 Kia Cerato from international markets is equipped with technical features for its base model that other competing cars offer as options. These include:
Automatic front headlights
Tilt and telescopic steering column
Rear trunk light
Dual-zone automatic climate control
Rear seat heat ducts
Eight-inch touchscreen infotainment system with Apple CarPlay and Android Auto
Steering wheel-mounted volume controls
Cruise control
Forward Collision-Avoidance (FCA)
Lane Departure Warning (LDW)
Lane Keeping Assist (LKA).
Optional Features in Kia Cerato:
LED interior lighting
10-way power-adjustable front driver's seat with lumbar support
Heated and ventilated dual front bucket seats
Soft-touch interior surfaces
Harman Kardon 320-watt eight-speaker premium amplified audio system
Wireless device charging
Drive mode Selection
Adaptive Cruise Control
The car is believed to be priced by Rs. 3.1 to 3.7 million, depending on the equipment variant and extras.
The fast-paced mid-size sedan market is indeed a good sign for Pakistan. Healthy competition between multiple automakers is likely to affect not only the marketing strategy, but also pricing and quality control. In addition, competition can cause automakers to finally give us the characteristics of cars that justify their price tags.
کیا سیراٹو 2020 کے آخر تک پاکستان میں لانچ کر دی جائے گی
پاکستان میں آٹوموٹو صحافیوں کی حالیہ اطلاعات کے مطابق ، کیا اس سال کے آخر تک پاکستان میں سیراٹو لانچ کرنے کے لئے تیار ہے۔ سیراٹو ایک متوسط ​​فیملی سیڈان ہے جو ہونڈا سوک ، ٹویوٹا کرولا اور ہنڈئ ایلینٹرا کی پسند کا مقابلہ کرے گی۔
اطلاعات کے مطابق ، سیراٹو میں 1.6 لیٹر ان لائن 4 سلنڈر پیٹرول انجن پیش کیا جائے گا جو 123 ہارس پاور اور 154 نیوٹن / میٹر ٹارک بناتا ہے اور اس کو 6 اسپیڈ دستی اور 6 اسپیڈ آٹومیٹک گیئر باکس سے جوڑا جاسکتا ہے۔ مزید برآں ، یہ خیال کیا جاتا ہے کہ کیا لکی موٹرز پہلے ہی متعدد سیراٹو یونٹوں کو جانچ کے لیے لایا ہے۔
چوتھی نسل کے سیراٹو ، جو شمالی امریکہ کی مارکیٹ میں کِیا فیٹور کے نام سے بھی جانا جاتا ہے ، یا چینی اور کورین مارکیٹوں میں کِا کے 3 ، جنوری 2018 میں ڈیجیٹ ، مشی گن میں منعقدہ شمالی امریکہ کے بین الاقوامی آٹو شو میں 2018 میں انکشاف کیا گیا تھا۔ کار اس کے اسٹائل سے مستعار ہے۔ ان کے پرچم بردار ، پورے سائز کے پالکی ، کیا اسٹنگر سے اشارے۔
خیال کیا جارہا ہے کہ اس کار کی قیمت ٹرم لیول اور ایکسٹراس پر انحصار کرتے ہوئے 3.1 ملین سے 3.7 ملین تک ہو سکتی ہے۔
درمیانے سائز پالکی منڈی میں تیزی لانا پاکستان کے لئے واقعی ایک اچھی علامت ہے۔ متعدد آٹومیکرز کے مابین سخت مقابلہ نہ صرف مارکیٹنگ کی حکمت عملی پر بلکہ قیمتوں کا تعین اور کوالٹی کنٹرول پر بھی اثر انداز ہوتا ہے۔ مزید برآں ، مقابلہ خود کار سازوں کو کاروں میں ایسی خصوصیات پیش کرنے کے لئے بھی حوصلہ افزائی کرسکتا ہے جو ان کی قیمتوں کو درست ثابت کرتی ہیں۔