We came across a fairly detailed leak about entry-level Huawei Y6p and Y5p smartphones today, and now, without much fanfare, Huawei has officially launched both phones alongside the MatePad T8 tablet in Romania.
Huawei Y6p
The Y6p is based on a 6.3-inch IPS panel with HD + resolution and water drops for its 8-megapixel selfie camera. On the back we find a 13MP main camera next to a 5MP Ultrawide module and a 2MP depth assistant. There is also a capacitive fingerprint scanner.
Under the hood, the Y6p brings the Helio P22 chipset together with 3 GB of RAM and 64 GB of memory, which is expandable. The phone also has a powerful 5,000 mAh battery, which is charged via the dated micro USB port. On the software side, we have EMUI 10.1 on Android 10 without Google Mobile Services (GMS) in favor of Huawei's own HMS suite.
Huawei Y5p
The Y5p has a 5.45-inch TFT LCD with classic upper and lower bezels and an aspect ratio of 18: 9. There is a single 8-megapixel camera with LED flash on the back, a 5 on the front -Megapixel selfie shooter.
The phone is operated with the same Helio P22 chipset as the Y6p with 2 GB RAM and 32 GB memory, which in turn can be expanded via microSD cards. However, the battery has only 3,020 mAh and is charged via the micro USB connection. The phone starts EMUI 10.1 with Android 10, but without GMS.
Huawei MatePad T8
The MatePad T8 is a budget tablet with an 8-inch LCD panel with a resolution of 800p (1280 x 800 pixels). There is a 5 megapixel main camera on the back and a 2 megapixel selfie shooter on the front.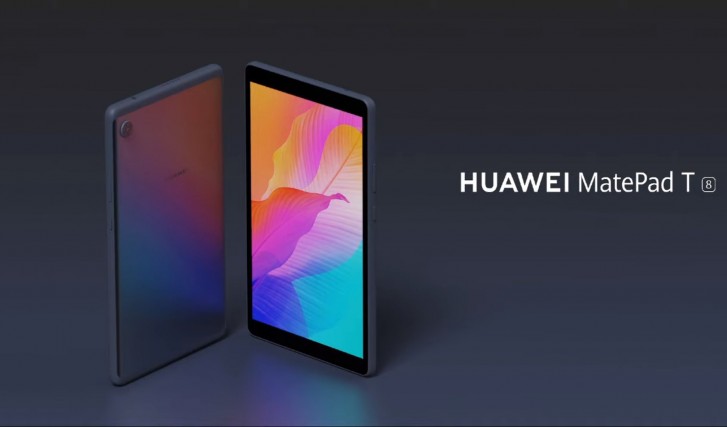 Under the hood are the MTK8768 chipset with eight cores, 2 GB RAM and 16/32 GB internal memory, which can be expanded via the microSD slot. The battery comes with 5,100 mAh. The Slate boots EMUI 10.0.1 on Android 10 and also skims GMS services.
ہواوے نے میٹ پیڈ ٹی 8 ٹیبلٹ کے ساتھ ساتھ وائی 6 پی اور وائی 5 پی انٹری لیول فون لانچ کر دیا
ہواوے نے باضابطہ طور پر رومانیا میں میٹ پیڈ ٹی 8 ٹیبلٹ کے ساتھ ہی دونوں فونز کی نقاب کشائی کردی۔
Huawei Y6p
ہواوے واے 6پی 6.3 انچ کے ائی پی ایس پینل کے ارد گرد بنایا گیا ہے جس میں ایچ ڈی پلس ریزولوشن اور واٹرڈروپ نوچ اپنی 8 ایم پی سیلفی کیمرے کیلئے ہے۔ پچھلے حصے میں ، ہمیں 5 ایم پی کا الٹرا وائیڈ ماڈیول اور 2 ایم پی گہرائی کا مددگار کے ساتھ ایک 13 ایم پی کا کیمرا نظر آتا ہے۔ یہاں ایک کپیسیٹیو فنگر پرنٹ اسکینر بھی ہے۔
Huawei Y5p
واے 5پی 5.45 انچ کا ایل سی ڈی لاتا ہے جس میں کلاسک ٹاپ نچلے حصے اور ایک 18: 9 پہلو تناسب ہے۔ بیک میں ایک 8 ایم پی کیمرہ ہے جس میں ایل ای ڈی فلیش ہے جبکہ سامنے 5 ایم پی کا سیلفی شوٹر پیک کرتا ہے۔
Huawei MatePad T8
میٹ پیڈ ٹی 8 بجٹ والا ہے جس میں 8 انچ کا ایل سی ڈی پینل ریزولوشن ہے۔ پیچھے کے آس پاس ، یہ 5 ایم پی پرائمری کیمرا لاتا ہے جبکہ سامنے والا 2 ایم پی سیلفی شوٹر پیک کرتا ہے۔