When the people of Pakistan want to get the computerized identity card, they had to go the offices of NADRA and stand in the long queues to get the documents verified, which pertain to their identity. Now you can use the online portal of NADRA to get the verification of their identity documents without any issue. Verification of CNIC with NADRA Online.
Why Use NADRA Online Services?
NADRA has provided the online service, which is quick and easy and people living in Pakistan and abroad, they can use this system to get their ID card or they  can obtain other identification documents at their doorsteps.
How it Works?
This is the online portal system and you can create an account to get different services of NADRA like applying for the child registration certificate or the family registration certificate. You need to verify CNIC with online service of NADRA in order to create the account on the website.
Pak Identity Registration
Open the link https://id.nadra.gov.pk/e-id/authenticate of NADRA
Click on the 'Create New Account'
Fill out application forms and provide detailed information including name, mobile number and date of birth.
Click on save and continue
You will receive the verification code through SMS or email
Enter code and click on 'Verify'
You will be asked to login the page.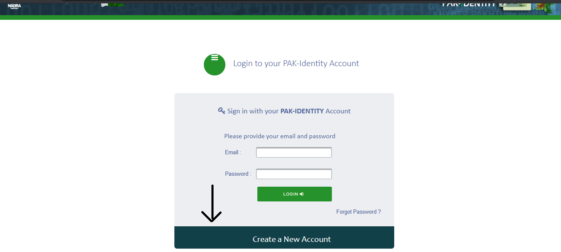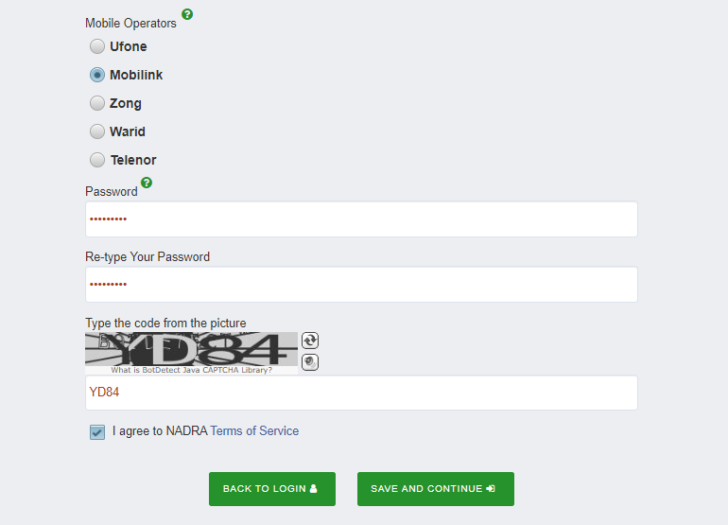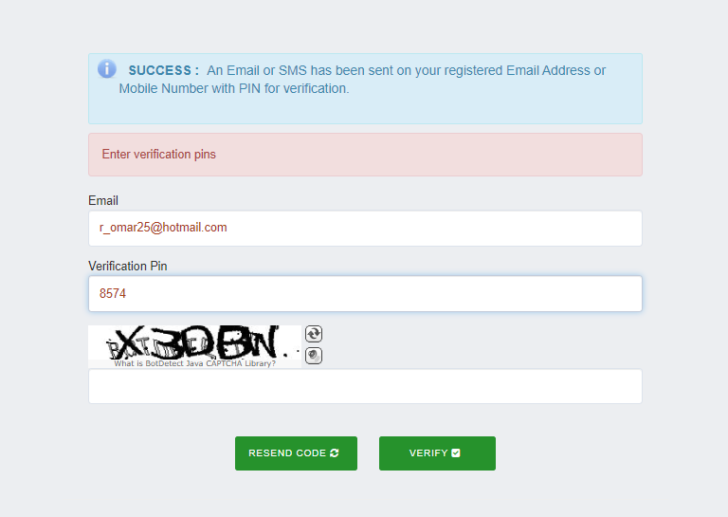 When the registration process is completed, you have to login to your account to get the online services. Enter the email and password and click on 'login'.
Verifying your CNIC
When you login, accept the terms and conditions of the service. Select 'I have read and accepted the terms and conditions' box by clicking on it.
Click on 'Accept and continue'.
You will see different options on screen like applying for CNIC online, family registration certificate and Verisys services.
Click on 'Verisys services'
Top up your account with the use of credit / debit card or use the e-Sahulat service of NADRA.
When you pay the fee with your debit or credit card, you will fill the required details.
You will have to sign the declaration
When you complete this process, you will be able to watch the desired information.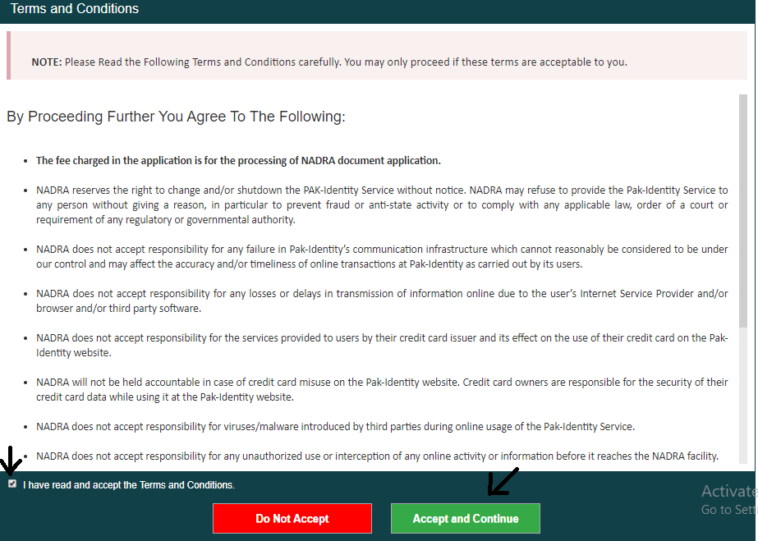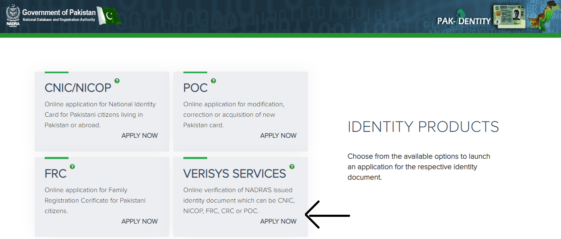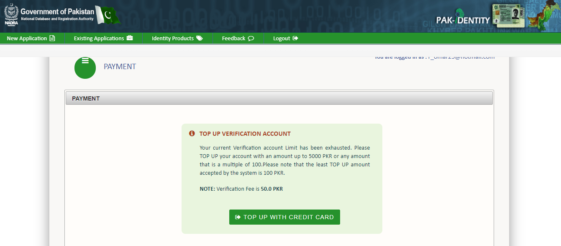 نادرا آن لائن سے اپنے شناختی کارڈ کی توثیق کیسے کریں
جب پاکستانی عوام کمپیوٹرائزڈ شناختی کارڈ لینا چاہتے ہیں تو انہیں دستاویزات کی تصدیق کے لئے نادرا کے دفاتر میں جاکر لمبی لمبی قطار میں کھڑے ہونا پڑا جو ان کی شناخت سے متعلق ہیں۔ اب آپ نادرا کے آن لائن پورٹل کو بغیر کسی مسئلے کے ان کی شناختی دستاویزات کی تصدیق کے لیے استعمال کرسکتے ہیں۔ سی این آئی سی کی نادرا آن لائن سے تصدیق۔
نادرا آن لائن خدمات کیوں استعمال کریں؟
نادرا نے آن لائن سروس فراہم کی ہے ، جو تیز اور آسان ہے اور پاکستان اور بیرون ملک مقیم افراد ، وہ اپنا شناختی کارڈ حاصل کرنے کے لئے اس نظام کو استعمال کرسکتے ہیں یا وہ شناخت کے دیگر دستاویزات اپنے دروازوں پر حاصل کرسکتے ہیں۔
یہ کیسے کام کرتا ہے؟
یہ آن لائن پورٹل سسٹم ہے اور آپ نادرا کی مختلف خدمات حاصل کرنے کے لیے ایک اکاؤنٹ بنا سکتے ہیں جیسے بچوں کے اندراج کے سرٹیفکیٹ یا خاندانی اندراج کے سرٹیفکیٹ کے لئے درخواست دینا۔ ویب سائٹ پر اکاؤنٹ بنانے کے لیے آپ کو نادرا کی آن لائن سروس کے ساتھ شناختی کارڈ کی توثیق کرنے کی ضرورت ہے۔
پاک شناختی رجسٹریشن
نادرا کا لنک کھولیں
'نیا اکاؤنٹ بنائیں' پر کلک کریں
درخواست فارم پُر کریں اور تفصیلی معلومات فراہم کریں جس میں نام ، موبائل نمبر اور تاریخ پیدائش شامل ہیں۔
محفوظ کریں اور جاری رکھیں پر کلک کریں
آپ کو ایس ایم ایس یا ای میل کے ذریعے توثیقی کوڈ ملے گا
کوڈ درج کریں اور 'تصدیق کریں' پر کلک کریں
آپ کو پیج پر لاگ ان کرنے کے لئے کہا جائے گا۔
جب رجسٹریشن کا عمل مکمل ہوجائے تو ، آن لائن خدمات حاصل کرنے کے لیے آپ کو اپنے اکاؤنٹ میں لاگ ان کرنا پڑے گا۔ ای میل اور پاس ورڈ درج کریں اور 'لاگ ان' پر کلک کریں۔
اپنے شناختی کارڈ کی تصدیق کریں
جب آپ لاگ ان ہوں تو ، خدمت کی شرائط و ضوابط کو قبول کریں۔ اس پر کلک کرکے 'میں نے شرائط و ضوابط کو پڑھا اور قبول کرلیا ہے' کے باکس کو منتخب کریں۔
'قبول کریں اور جاری رکھیں' پر کلک کریں۔
آپ کو اسکرین پر مختلف اختیارات نظر آئیں گے جیسے سی این آئی سی آن لائن کے لئے درخواست دینا ، فیملی رجسٹریشن سرٹیفکیٹ اور ویریز سروسز۔
'ویریزس سروسز' پر کلک کریں
کریڈٹ / ڈیبٹ کارڈ کے استعمال سے اپنے اکاؤنٹ کو اوپر رکھیں یا نادرا کی ای سہولت خدمت استعمال کریں۔
جب آپ اپنے ڈیبٹ یا کریڈٹ کارڈ کے ذریعہ فیس ادا کرتے ہیں تو ، آپ مطلوبہ تفصیلات پر کریں گے۔
آپ کو اعلامیہ پر دستخط کرنے ہوں گے
جب آپ یہ عمل مکمل کریں گے ، تو آپ مطلوبہ معلومات کو دیکھنے کے قابل ہوں گے۔