Almost all people of Pakistan use the electricity whether they live in any city, town or village. The Water and Power Development Authority has provided the basic facility of power to all nationals of Pakistan through different private sector electric companies. At the end of the each month, the users receive the electricity bills, which they have to pay through the banks, NADRA outlets. How to Check Your Bills Online / WAPDA, SSGC, IESCO, KESC, SNGC etc Bills Online.
Check Your Bill / WAPDA
The users can watch their electric bills online and they need to know the procedure to check or download the electricity bill, which is mentioned below: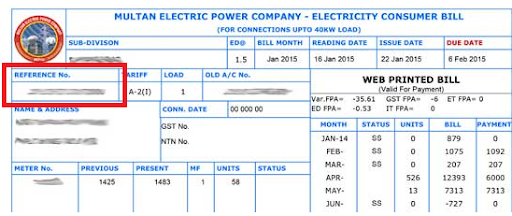 Check the reference number. When you check for online bills, you must have reference number, may be obtained from previous bills.
Enter the 14 digit numerical reference number in the given box.
Double check reference number for any discrepancies to avoid any mistake or you cannot be able to locate the bill timely.
After entering the reference number correctly, click on the submit button.
The system generates the current electricity bill automatically.
Get your bill printed.
Some reference numbers are revised so you need to enter full 14 digit reference number to avoid any problem.
List of distribution companies in Pakistan. Subsidiaries of WAPDA, each company is responsible for specific regions in which electricity is being provided by them:
Sukkur Electric Power Company (SEPCO)
Multan Electric Power Company (MEPCO)
Gujranwala Electric Power Company (GEPCO)
Islamabad Electric Supply Company (IESCO)
Peshawar Electric Power Company (PESCO)
Lahore Electric Supply Company (LESCO)
Faisalabad Electric Supply Company (FESCO)
Hyderabad Electric Supply Company (HESCO)
K-Electric (formerly KESC)
Quetta Electric Supply Company (QESCO)
Tribal Electric Supply Company (TESCO)
When you want to check the bill, you need to visit Google, type name of the electricity distribution company, which is responsible for your provision of electric power to your district and add online bill. Then press the search button and visit the first link and see that the links are SEO-optimized and you will see the name of the provider of electricity, which is written there.
اپنے بل آن لائن / واپڈا ، ایس ایس جی سی ، آئیسکو ، کے ای ایس سی ، ایس این جی سی وغیرہ بلوں کی جانچ کیسے کریں۔
پاکستان کے تقریبا تمام لوگ بجلی کا استعمال کرتے ہیں چاہے وہ کسی شہر ، قصبے یا گاؤں میں رہتے ہوں۔ واٹر اینڈ پاور ڈویلپمنٹ اتھارٹی نے مختلف نجی شعبے کی برقی کمپنیوں کے ذریعے پاکستان کے تمام شہریوں کو بجلی کی بنیادی سہولت فراہم کی ہے۔ ہر مہینے کے آخر میں ، صارفین بجلی کے بل وصول کرتے ہیں ، جو انہیں بینکوں ، نادرا کے آؤٹ لیٹس کے ذریعے ادا کرنا پڑتا ہے۔ اپنے بل آن لائن / واپڈا ، ایس ایس جی سی ، آئیسکو ، کے ای ایس سی ، ایس این جی سی وغیرہ بلوں کی جانچ کیسے کریں۔
اپنا واپڈا کا بل چیک کریں
صارفین اپنے بجلی کے بل آن لائن دیکھ سکتے ہیں اور انہیں بجلی کے بل کو چیک کرنے یا ڈاؤن لوڈ کرنے کا طریقہ کار جاننے کی ضرورت ہے ، جس کا ذیل میں ذکر کیا گیا ہے
حوالہ نمبر دیکھیں۔ جب آپ آن لائن بلوں کی جانچ کرتے ہیں تو آپ کے پاس حوالہ نمبر ہونا ضروری ہے ، پچھلے بلوں سے حاصل کیا جاسکتا ہے۔
دیئے گئے خانے میں 14 عددی حوالہ نمبر درج کریں۔
کسی بھی غلطی سے بچنے کے لئے کسی بھی تضادات کے لئے حوالہ نمبر کو دو بار چیک کریں یا آپ بل کو بروقت تلاش نہیں کرسکیں گے۔
حوالہ نمبر کو صحیح طریقے سے داخل کرنے کے بعد ، بٹن پر کلک کریں۔
نظام خود بخود موجودہ بجلی کا بل تیار کرتا ہے۔
اپنا بل پرنٹ کروائیں۔
کچھ حوالوں کی تعداد میں ترمیم کی جاتی ہے لہذا آپ کو کسی بھی پریشانی سے بچنے کے لئے پورا 14 ہندسوں کا حوالہ نمبر درج کرنے کی ضرورت ہے۔
جب آپ بل کی جانچ کرنا چاہتے ہیں تو آپ کو گوگل پر جانے کی ضرورت ہے ، بجلی کی تقسیم کار کمپنی کا نام ٹائپ کریں ، جو آپ کے ضلع میں بجلی کی فراہمی کے ذمہ دار ہے اور آن لائن بل شامل کریں۔ اس کے بعد سرچ بٹن دبائیں اور پہلے لنک پر جائیں اور دیکھیں کہ لنکس آپ مرضی کے مطابق ہیں اور آپ بجلی فراہم کرنے والے کا نام دیکھیں گے ، جو وہاں لکھا ہوا ہے۔