Almost all people in Pakistan use electricity, whether they live in a city or a village. The Water and Power Development Agency has provided basic electricity to all of Pakistan's citizens through various private electricity companies. How to Check Your TESCO Bill Online.
WAPDA | TESCO | Tribal Electric Supply Company
To check your online electricity bill for the tribal area up north-west, visit TESCO's official site: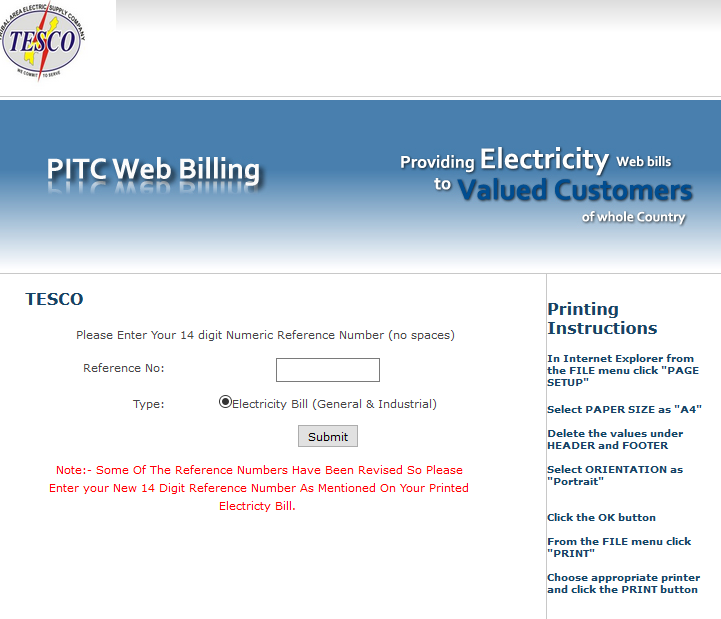 Please insert your 14-digit reference number and click on Submit button. You will get your bill there!
واپڈا ٹیسکو قبائلی ایریا الیکٹرک پاور کمپنی الیکٹرک بل آن لائن کو کیسے چیک کریں
پاکستان میں تقریبا تمام لوگ بجلی کا استعمال کرتے ہیں ، خواہ وہ شہر میں ہوں یا گاؤں میں۔ واٹر اینڈ پاور ڈویلپمنٹ ایجنسی نے پاکستان کے تمام شہریوں کو مختلف نجی بجلی کمپنیوں کے ذریعے بنیادی بجلی فراہم کی ہے۔ اپنے ٹیسکو بل آن لائن کو کیسے چیک کریں۔
واپڈا | ٹیسکو | قبائلی بجلی فراہم کرنے والی کمپنی
شمال مغرب میں واقع قبائلی علاقے کے لئے آپ کے بجلی کا آن لائن بل چیک کرنے کے لئے ، ٹیسکو کی سرکاری ویب سائٹ ملاحظہ کریں
براہ کرم اپنا 14 ہندسوں کا حوالہ نمبر داخل کریں اور جمع کریں کے بٹن پر کلک کریں۔ آپ کو اپنا بل وہاں مل جائے گا