Everyone in Pakistan use electricity, whether they live in a city, town or a village. The Water and Power Development Agency has provided basic electricity to all of Pakistan's citizens through various private electricity companies. How to Check Your PESCO Bill Online.
WAPDA | PESCO | Peshawar Electric Power Company
Visit PESCO's official bill checking site and read the instructions carefully and follow them.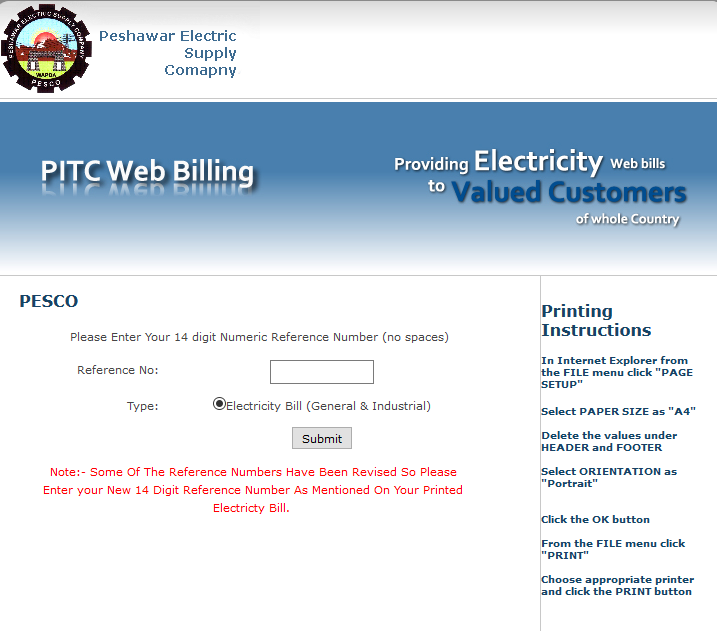 Type your 14 digit reference number, and then click on Submit button. You'll be redirected to a bill similar to the image given below: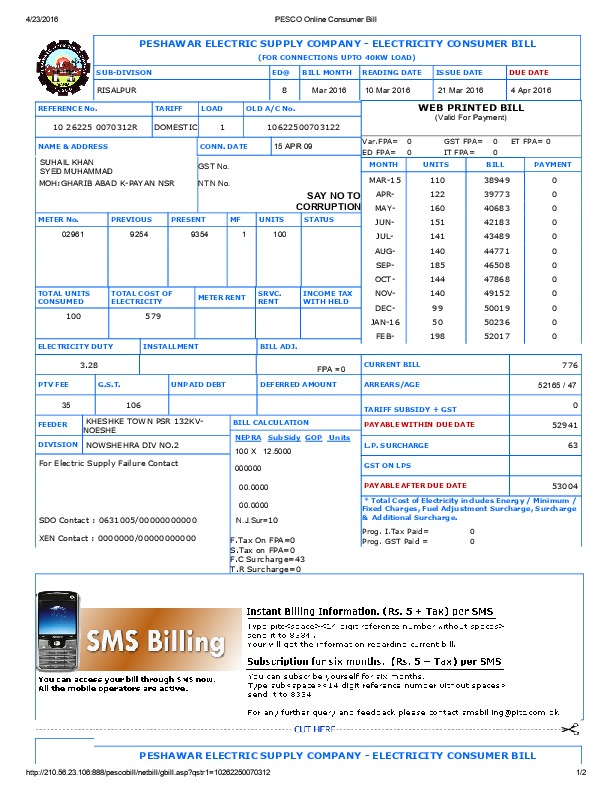 واپڈا پیسکو پشاور الیکٹرک پاور کمپنی الیکٹرک بل آن لائن کو کیسے چیک کریں
پاکستان میں ہر کوئی بجلی استعمال کرتا ہے ، خواہ وہ شہر ، قصبے یا گاؤں میں رہتا ہو۔ واٹر اینڈ پاور ڈویلپمنٹ ایجنسی نے پاکستان کے تمام شہریوں کو مختلف نجی بجلی کمپنیوں کے ذریعے بنیادی بجلی فراہم کی ہے۔ اپنے پیسکو بل آن لائن کو کیسے چیک کریں۔
واپڈا | پیسکو | پشاور الیکٹرک پاور کمپنی
پیسکو کی سرکاری بل چیکنگ سائٹ دیکھیں اور ہدایات احتیاط سے پڑھیں اور ان پر عمل کریں۔
اپنا 14 ہندسوں کا حوالہ نمبر ٹائپ کریں ، اور پھر جمع کریں کے بٹن پر کلک کریں۔ آپ کو اوپر دیئے گئے امیج جیسے بل پر ری ڈائریکٹ کیا جائے گا