Pakistan's liquid currency reserves, which have continued to build up over the past few weeks with the steady inflow of foreign currency through loans or other income, now amount to over US $ 20 billion.
The State Bank of Pakistan's reserves increased to $ 12.93 billion as of November 13, 2020. This is the highest level since February 2, 2018.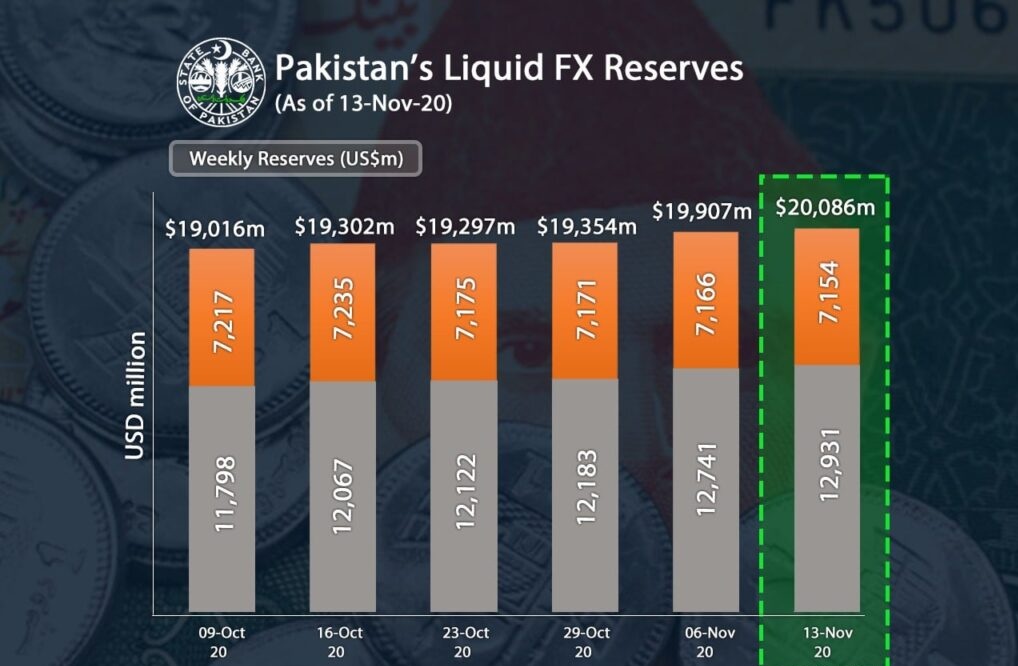 Commercial banks' reserves were $ 7.15 billion. The country's total liquid currency reserves rose to $ 20.08 billion, according to the State Bank of Pakistan (SBP).
A.A.H Soomro, Managing Director at Khadim Ali Shah Bukhari, tweeted:
پاکستان کے مائع غیر ملکی ذخائر ، جو قرضوں یا دیگر وصولیوں کے ذریعہ گذشتہ دو ہفتوں میں مسلسل غیر ملکی زرمبادلہ کی آمد کے ساتھ جاری ہے ، اب 20 بلین ڈالر سے زیادہ ہے۔
اسٹیٹ بینک آف پاکستان کے ذخائر 13 نومبر 2020 تک بڑھ کر 12.93 بلین ڈالر ہوگئے جو 2 فروری 2018 کے بعد کی بلند ترین سطح ہے۔
تجارتی بینکوں کے زیر انتظام ذخائر 7.15 بلین ڈالر ہیں۔ اسٹیٹ بینک آف پاکستان (ایس بی پی) کے مطابق ، ملک کے پاس موجود مائع غیر ملکی ذخائر بڑھ کر 20.08 بلین ڈالر ہوگئے۔