According to reports, England will tour Pakistan January 15-20 for a three-game T20I series. The Pakistan Cricket Board (PCB) has had ongoing talks with the England & Wales Cricket Board (ECB) about the possibility of a short tour at the turn of the year and the talks seem to be heading in a positive direction.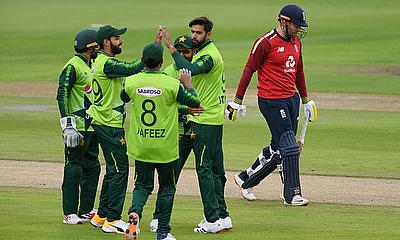 PCB CEO Wasim Khan is currently on a ten-day vacation in Birmingham, England and is expected to meet ECB CEO Tom Harrison on the subject. The English cricket team is on a tight schedule at the time, but sources have claimed the ECB will accept the offer to tour Pakistan for a short T20I series.
Pakistan recently toured England for three tests and three T20Is played in a bio-safe bubble due to the ongoing Covid-19 pandemic, and England is likely to reciprocate the gesture through a tour of Pakistan.
According to several English publications, England's Pakistan tour is very likely and England will accept the offer regardless of its tight schedule.
This is England's first Pakistan tour since 2005. As of 2009, Pakistan has hosted the United Arab Emirates only.
It is also reported that PCB will host English counties for their pre-season tours. Wasim Khan invited his former Warwickshire county club to tour Pakistan for pre-season training, an offer Warwickshire is strongly considering.
انگلینڈ کا دورہ پاکستان کا متوقع شیڈول
اطلاعات کے مطابق انگلینڈ 15 جنوری سے تین میچوں کی ٹی ٹونٹی سیریز کے لئے پاکستان کا دورہ کرے گا۔ پاکستان کرکٹ بورڈ (پی سی بی) سال کے اختتام پر مختصر دورے کے امکان کے لئے انگلینڈ اینڈ ویلز کرکٹ بورڈ (ای سی بی) سے مستقل بات چیت کر رہا ہے اور ایسا لگتا ہے کہ بات چیت ایک مثبت سمت جارہی ہے۔
پی سی بی کے سی ای او وسیم خان ، اس وقت انگلینڈ کے برمنگھم میں دس دن کی چھٹی پر ہیں اور توقع ہے کہ اس سلسلے میں ای سی بی کے سی ای او ، ٹام ہیریسن سے ملاقات کریں گے۔ اس وقت انگلینڈ کی کرکٹ ٹیم کا سخت شیڈول ہے ، لیکن ذرائع نے دعوی کیا ہے کہ ای سی بی مختصر ٹی ٹونٹی سیریز کے لئے پاکستان کے دورے کی پیش کش قبول کرے گا۔
پاکستان نے حالیہ تین ٹیسٹ اور تین ٹی ٹونٹی میچوں کے لئے انگلینڈ کا دورہ کیا ، یہ جاری کورونا وبائی امراض کی وجہ سے ایک بایو سیفٹ بلبلے میں کھیلا گیا تھا اور ممکن ہے کہ انگلینڈ کا دورہ پاکستان کے اشارے سے ہو گا۔
متعدد انگریزی اشاعتوں کے مطابق ، انگلینڈ کے دورہ پاکستان کا بہت امکان ہے ، اور انگلینڈ ان کے سخت شیڈول سے قطع نظر اس پیش کش کو قبول کرے گا۔
یہ 2005 کے بعد سے انگلینڈ کا پہلا دورہ پاکستان ہوگا۔ 2009 سے پاکستان صرف متحدہ عرب امارات میں انگلینڈ کی میزبانی کر رہا ہے۔