Ramiz Raja, former Pakistani captain and current cricket commentator, has had his YouTube channel hacked. Ramiz's channel, Ramiz Speaks, was one of the most famous cricket channels on YouTube and has gained over 1.8 million subscribers.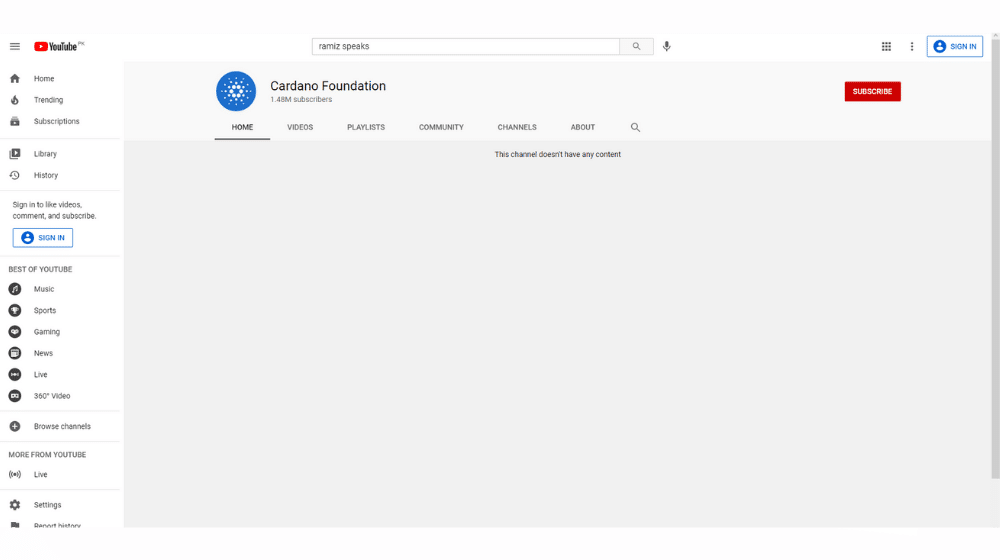 Ramiz confirmed the news on his Twitter account. Ramiz tweeted, "I m working on restoring my YouTube channel, which has unfortunately been compromised. Bear it with me Thank you."
All Ramiz Speaks videos have been deleted and the name of the channel has been changed to "The Cardano Foundation". The number of subscribers was also reduced from 1.8 million to 1.48 million.
The famous commentator's YouTube channel was one of the most famous cricket channels in Pakistan, behind Shoaib Akhtar's YouTube channel. Ramiz has been known to give his opinion on cricket topics around the world and his channel has been a great source for keeping up with the latest on the world of cricket.
The former opener who won the World Cup retired from international cricket in 1997. He has since been the voice of cricket commentary in Pakistan and one of the most respected cricket commentators in the world.
He is one of the most successful openers in the history of Pakistan. In a career spanning over 13 years, he has scored over 2,000 test runs and over 5,000 ODI runs for Pakistan.
رمیز راجہ کا یوٹیوب چینل ہیک ہوگیا
پاکستان کے سابق کپتان اور موجودہ کرکٹ کمنٹیٹر رمیز راجہ کا یوٹیوب چینل ہیک ہوگیا ہے۔ رمیز کا چینل ، رمیز اسپیکس ، یوٹیوب پر کرکٹ سے وابستہ مشہور چینلز میں سے ایک تھا جس نے 1.8 ملین سے زیادہ صارفین کو حاصل کیا تھا۔
رمیز نے اپنے ٹویٹر اکاؤنٹ پر اس خبر کی تصدیق کی ہے۔ رمیز نے ٹویٹ کیا ، "میرے یوٹیوب چینل کو بحال کرنے کے لئے کام کر رہا ہے جس پر افسوس کی بات ہے کہ سمجھوتہ کیا گیا ہے۔ میرے ساتھ برداشت کرو۔ شکریہ۔
مشہور مبصر کا یوٹیوب چینل شعیب اختر کے یوٹیوب چینل کے پیچھے ، پاکستان کا ایک مشہور کرکٹ چینل تھا۔ رمیز کو دنیا بھر میں کریکٹنگ سے متعلق امور پر اپنی رائے دینے کے لئے جانا جاتا ہے ، اور اس کا چینل ایک بہت بڑا ذریعہ تھا کہ اپنے آپ کو کرکیٹنگ کی دنیا کے ساتھ تازہ رکھے۔
سابق ورلڈ کپ جیتنے والے اوپنر نے 1997 میں انٹرنیشنل کرکٹ سے ریٹائرمنٹ لیا تھا۔ تب سے وہ پاکستان میں کرکٹ کمنٹری کی آواز رہے ہیں اور وہ دنیا کے معزز کرکٹ مبصرین میں سے ایک ہیں۔