It seems like the internet and social media have finally gotten the news when actress Hania Amir has denied rumors and speculation about an appointment with pop singer Asim Azhar.
The actress' announcement yesterday caused excitement on social media when both Hania and Asim Azhar became one of the most popular hashtags on Twitter.
What's even better is that the big announcement has spawned several fun memes about Asim Azhar.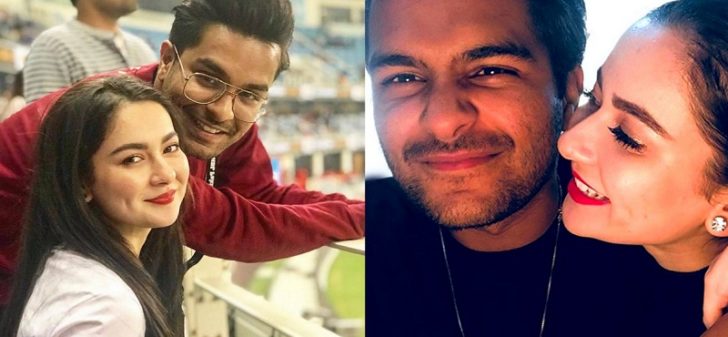 The popular Pakistani actress Hania Amir and the singer / songwriter Asim Azhar have long been speculated as prominent couples. The two are often seen together at different events and work together on different projects.
Both Asim and Hania are very close because they often interact on social media. However, this does not mean that they go out with each other. It just means they are good friends, which the Dil Ruba actress made clear in a live session with singer Aima Baig recently. Watch the video:
"We are friends, we are not together, we are not dating, and we are not a couple. As far as relationship is concerned, I'm not with anyone."
Memes on Asim Azhar
Since then, Hania's statement has set fire to social media because people can't help but laugh at Asim Azhar, who has become a meme. The "Tum Tum" singer is trolled on social media when he becomes the newest member of the dreaded "Friends Zone".
ہانیہ عامر کا عاصم اظہر سے ڈیٹینگ کی تردید کے بعد عوام نے سوشل میڈیا پر عاصم اظہر کو ٹرول کرنا شروع کر دیا
ایسا لگتا ہے کہ آخر کار انٹرنیٹ اور سوشل میڈیا کو یہ پیغام ملا جب اداکارہ ہانیہ عامر نے پاپ گلوکار عاصم اظہر کے ساتھ ڈیٹنگ کے بارے میں افواہوں اور قیاس آرائوں کو مسترد کردیا۔
اداکارہ کے اعلان نے کل ہی سوشل میڈیا پر دھوم مچا دی کیونکہ حانیہ اور عاصم اظہر دونوں ہی ٹویٹر پر ٹرینڈنگ کرنے والا ہیش ٹیگ بن گئے۔
اس سے بھی بہتر اور بڑی بات یہ ہے کہ اس بڑے اعلان نے عاصم اظہر کے بارے میں کئی مزاحیہ یادداشتوں کو جنم دیا۔
پاکستان کی مشہور اداکارہ ہانیہ عامر اور گلوکار / نغمہ نگار عاصم اظہر کی مشہور شخصیت کے جوڑے کے بارے میں طویل عرصے سے قیاس آرائیاں کی جارہی ہیں۔ ان دونوں کو اکثر مختلف پروگراموں میں ایک ساتھ دیکھا جاتا ہے ، نیز مختلف پروجیکٹس میں ایک ساتھ کام کرتے بھی دیکھآ گیا ہے۔
عاصم اور ہانیہ دونوں بہت قریب ہیں کیونکہ وہ اکثر سوشل میڈیا پر بات چیت کرتے ہیں۔ تاہم ، اس کا مطلب یہ نہیں ہے کہ وہ ڈیٹنگ کر رہے ہیں۔ اس کا مطلب صرف یہ ہے کہ اچھے دوست ہیں ، جسے دل روبا اداکارہ نے گلوکارہ ایما بیگ کے ساتھ حالیہ براہ راست سیشن میں واضح کیا۔