ISLAMABAD: The algorithm of Imperial College London creates the picture that Pakistan will reach its peak on August 10, 2020, at which around 80,000 deaths will occur.
The study is sponsored by the UK government, which shows the likely deaths from coronavirus in the event of closure or otherwise in various countries other than the United States and the United Kingdom. On the website it says about Pakistan: From February 27th to July 11th, H. For 135 days, a 32 percent ban is imposed, August 4th is the main day when 13,570,000 people are affected. The worst day for Pakistan in terms of corona deaths is expected on August 10, and the deaths are expected to reach 78,515. After that, the deaths will decrease.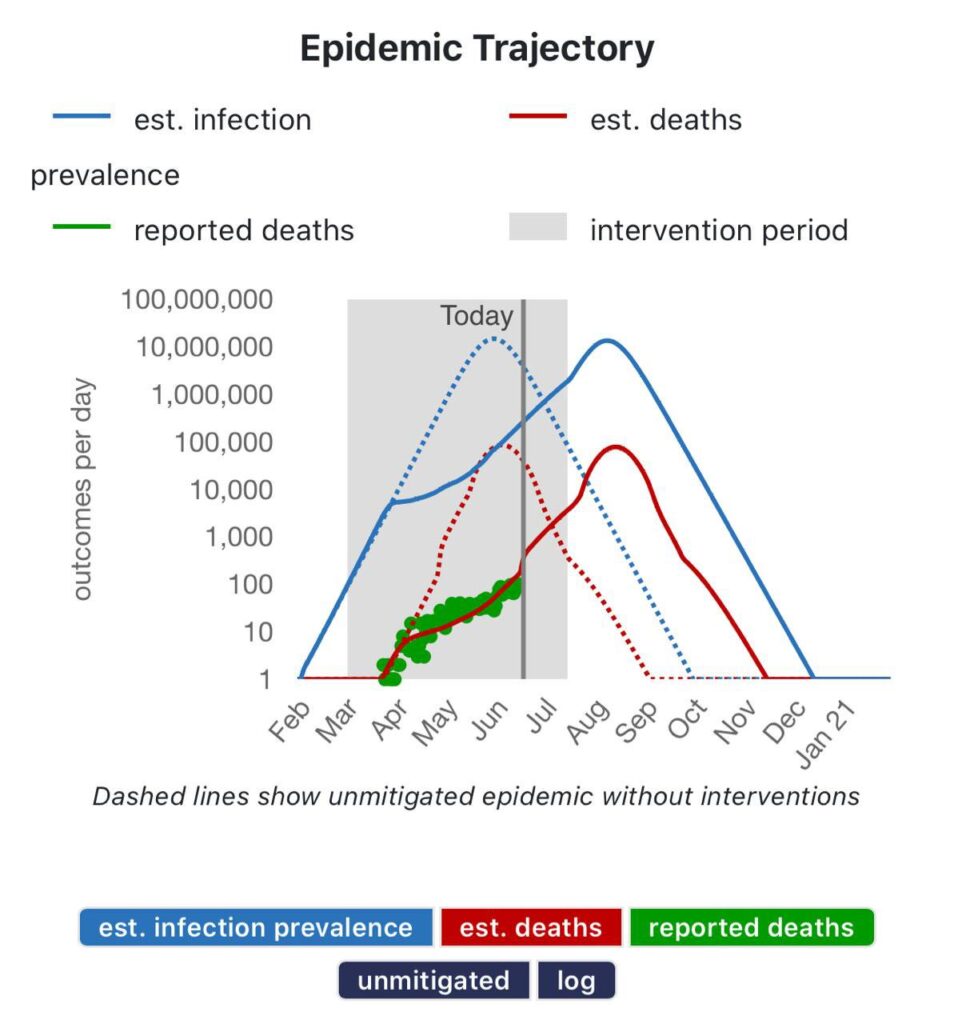 The website says the corona in Pakistan will end in January 2021, and on January 26, 2021 the total number of coronavirus deaths in Pakistan would be 2,132,617. If the ban has not been imposed, 2,229,000 deaths will be recorded in Pakistan by January 26, 2021. If a complete ban is immediately imposed in Pakistan, the death toll can be limited to approximately 10,200 by the end of the period.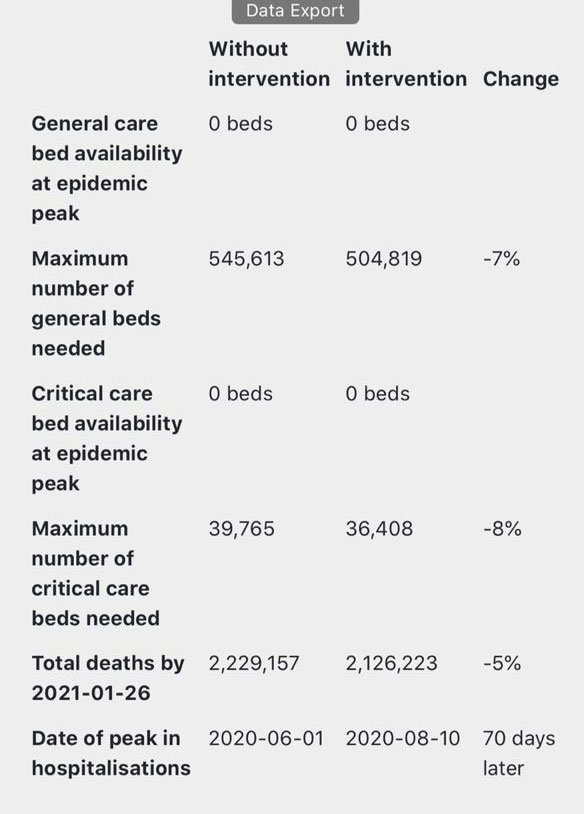 In India, deaths would be 14,244,379 without intervention by January 25, 2021, while would be 13,649,520 with intervention
By February 19, 2021, a total of 313,531 deaths would have been recorded in Afghanistan without intervention. During the intervention it would be 305,350.
In Brazil, total death by January 24, 2021 would be 2,926,348 without intervention and 1,519,453 with intervention. Imperial College numbers are a simulation and not a prediction.
اگر لاک ڈاؤن نافذ نہیں کیا گیا تو پاکستان میں 2.229 ملین افراد ہلاک ہوسکتے ہیں؟
اسلام آباد: امپیریل کالج لندن کے الگورتھم نے یہ تصویر بنائی ہے کہ 10 اگست 2020 کو پاکستان عروج پر پہنچے گا جس دن 80،000 کے قریب اموات ہوں گی۔
اس تحقیق کو برطانیہ کی حکومت نے سپانسر کیا ہے جس میں لاک ڈاؤن کی صورت میں یا دیگر ممالک میں امریکہ اور برطانیہ کے علاوہ مختلف ممالک میں کورونا وائرس سے ہونے والی متوقع اموات کو ظاہر کیا گیا ہے۔ ویب سائٹ پاکستان کے بارے میں کہتی ہے کہ اگر وہ 27 فروری سے 11 جولائی تک یعنی 135 دن کے لئے 32 فیصد لاک ڈاؤن نافذ کرتی ہے ، تو 04 اگست چوٹی کا دن ہوگا جس میں 13،570،000 افراد متاثر ہوں گے۔ پاکستان کے لیے بدترین دن 10 اگست کو متوقع ہے اور اموات 78،515 تک پہنچنے کا امکان ہے جس کے بعد اموات میں کمی واقع ہو گی۔
ویب سائٹ کے مطابق ، جنوری 2021 میں پاکستان میں کورونا کا خاتمہ ہوگا اور 26 جنوری 2021 کو پاکستان میں کورونا سے ہلاکتوں کی کل تعداد 2،132،617 ہوگی۔ اس میں کہا گیا تھا کہ اگر لاک ڈاؤن نافذ نہیں کیا گیا تو 26 جنوری 2021 تک پاکستان میں 2،229،000 اموات ہوسکیں گی۔ اگر فوری طور پر پاکستان میں لاک ڈاؤن نافذ کردیا گیا تو آخری مدت تک ہلاکتوں کی تعداد 10،200 تک محدود ہوسکتی ہے۔
ہندوستان میں ، 25 جنوری ، 2021 تک ، مجموعی طور پر اموات 14،244،379 ہوں گی ، بغیر مداخلت کے ، جبکہ مداخلت کے ساتھ یہ 13،649،520 ہوگی
افغانستان میں ، 19 فروری 2021 تک مجموعی طور پر اموات 313،531 ہو گی بغیر کسی مداخلت کے۔ جبکہ مداخلت کے ساتھ یہ تعداد 305،350 ہوگی۔
برازیل میں ، 24 جنوری 2021 تک بغیر کسی مداخلت کے اموات 2،926،348 اور مداخلت کے ساتھ 1،519،453 ہوں گی۔ امپیریل کالج نے جو اعدادوشمار پیش کیے ہیں وہ محض ایک نقالی ہیں ، اور پیش گوئی نہیں۔